1. With Manu, Parker Helps Spurs Run Like New
By Jesse Blanchard
ESPN TrueHoop
Not merely swept out of the playoffs by the Phoenix Suns last season, the San Antonio Spurs were made to look old and, quite frankly, done.
So how is it that a Spurs team whose only major free-agent signing (Tiago Splitter) has rarely seen the court, and whose only first-round draft pick (James Anderson) has been injured most of the season, been able to rush out to an NBA-best 22-3 record playing largely the same players who were written off over the summer?
While the Miami Heat and the New York Knicks grabbed most of the headlines for their roster moves, in the Western Conference the acquisition of the summer has been the Spurs quietly adding an All-Star point guard to the solid mix of Tim Duncan and Manu Ginobili.
Tony Parker, the All-Star version, is a major upgrade over the plantar fasciitis model that hobbled through most of last season, and it makes the Spurs a completely different team. If Duncan is the solid foundation of the team, and Ginobili its best and most valuable player, Parker is the catalyst.
With the Spurs struggling out of the gate on the wrong end of a back-to-back in Denver, it was Parker who led them back into the contest with an 18-point, seven-assist first half, zipping through a scrambling defense for floaters and layups while creating open looks and driving lanes for his teammates. Keeping the team afloat until Ginobili could win it.
Seemingly left behind in this burgeoning great point guard era during his injured season, Parker is often the forgotten man in the Paul/Rondo/Rose/Williams debate. That's not to say the 2007 Finals MVP is an equal or superior to Chris Paul, but he certainly merits being discussed among his elite peers.
Often critiqued for his "cardinal sin" of not being a traditional "pure" point guard, Parker is chastised by critics for a perceived inability to make his teammates better -- most likely for his historically singular pursuit of efficient scoring.
But just because he lacks the gaudy assist totals does not mean he doesn't raise his teammates' games.
While Ginobili is playing close to MVP levels this season, recognize that it is a healthy Parker relieving him of the burden (and wear and tear) of initiating the offense. Without Parker, Ginobili would have a difficult time sustaining his production for a full season.
Now starting next to Parker full-time, Ginobili is averaging a career high in minutes, points and 3-point attempts. His play is just as dominant as it was near the end of last season, but because defenses can no longer load up on him as the sole playmaker, the extended burn never seems as taxing as when he carried the Spurs through last spring.
And as much as Richard Jefferson struggled last season, it must be pointed out that he was completely miscast as a scorer. Between Jefferson and George Hill, the Spurs have two wings who can put up strong scoring numbers but are more finishers than scorers.
Each is fantastic at capitalizing on driving lanes, but poor at creating them for themselves. Therein lies the true value of Parker. While the Spurs lack the explosive athletes and dynamic scorers of other teams, they have a number of players smart enough to exploit advantages.
So while he might not ever be the do-it-all point guard Paul or Rondo is, by breaking down a defense with his initial penetration Parker offers his teammates everything they need: an opportunity to exploit a scrambling defense and another run at a championship.
Jesse Blanchard's work can be found at 48minutesofhell.com
Dimes past: Dec. 1 | 2 | 3 | 4-5 | 6 | 7 | 8 | 9 | 10 | 11-12 | 13 | 14 | 15 | 16
2. Duncan Soldiers On In Admiral's Path
By Jesse Blanchard
ESPN TrueHoop

Duncan
Asked before the season how much he had left in the tank, Tim Duncan responded that he was willing to go until the wheels fall off.
And while age and decline dictate that moment will come sooner rather than later, given his stature it was expected that there would be some nights of rekindled dominance left. Still, those nights weren't supposed to be on the wrong end of a back-to-back, coming off a masterful seven-block defensive performance against the Milwaukee Bucks.
But there Duncan was in a winning effort Thursday night in Denver, putting up a stat line (28 points, 16 rebounds, four blocks, four assists) that would do any of his previous NBA Finals performances proud.
The San Antonio Spurs have been one of the best stories of the season so far, yet much of the success has been attributed more to Duncan getting out of the way of his talented backcourt than carrying the team on his shoulders. It's a role that would have been incomprehensible just three years ago, but not one Duncan is completely unfamiliar with. After all, he was once on the other end of the same story.
Drafted 10 years after David Robinson, Duncan now finds himself in a transition similar to the one once undertaken by his now-retired fellow twin tower. Still the anchor of a defense for an elite team, Duncan's role in the offense has increasingly diminished. Now, looking back 10 years, his numbers are eerily similar to Robinson's at the same point in their careers (Duncan 2010-11, Robinson 2000-01):
Comparing Tim Duncan (2010-11) and David Robinson (2000-01)
| Player | Points | FG% | Rebounds | Blocks | Steals | Assists | Minutes |
| --- | --- | --- | --- | --- | --- | --- | --- |
| Duncan | 13.4 | 48.9 | 9.3 | 2.0 | 0.75 | 3.2 | 28.9 |
| Robinson | 14.4 | 48.6 | 8.6 | 2.5 | 1.0 | 1.5 | 29.6 |
For Robinson, it was the middle of a steady descent into retirement, the last of his All-NBA honors (third team that year), and final All-Star appearance. Two years later, the Admiral put up eight points and eight rebounds per night despite back problems on a farewell tour that culminated in an NBA championship.
Duncan has vowed to keep playing until the wheels fall off, but a reasonably similar two- to three-year window is fair enough to expect with this season being the most important of what's left. This fact is not meant to temper the enthusiasm of a great start, but as a reminder to enjoy it while we can .
Interestingly, it is in these fleeting moments that we might come to know Tim Duncan best. That the Spurs' longtime franchise player finally becomes relatable and personally interesting. For years, the general public has known so little of Duncan's personality aside from a couple of quirks that could just as easily have been made up by a public relations staff.
For years, Duncan has been called an emotionless robot. But he's not a robot; his parts are breaking down and can't be replaced. It's his efforts and struggles against his own mortality to remain near his peak to which we can finally relate.
So it is, on a cold night in Denver, with Ginobili likely getting all the end-of-the-game attention, that Duncan reminds us he's not ready to get out of the way just yet. And maybe we shouldn't be so quick to force him into retirement.
3. Never Considered Making It There
By Brian Windhorst
ESPN.com

James
MIAMI -- Only LeBron James knows what was truly in his heart and mind in July. But on the first day he became a free agent, the vibe was apparent:
The New York Knicks, the team that had eyed him for years, were already out.
James is in New York with the Miami Heat for the first time since spurning the Knicks' major recruitment pitch this summer. When the Heat play the Knicks on Friday (7 p.m. ET on ESPN), it will probably be the first time James comes to Madison Square Garden to actually play a meaningful game in his career. James and the Knicks have never been in the playoffs in the same season, much less played a game with postseason ramifications.
Over the past several seasons, his visits to New York have been little more than veiled flirtation from both parties followed by plenty of James dominating weak Knicks teams.
All of it was supposed to lead to fireworks come July 1, when the Knicks would have huge salary-cap space and the draw of Broadway. But all that buildup turned out to massively outsize the reality.
"I considered all the six teams that I had my free-agent meetings with," James said diplomatically Wednesday night. "It wasn't that New York wasn't the right fit, it just wasn't the best fit."
Read it this way: The Knicks were ultimately in the same boat as the Los Angeles Clippers.
James and his camp kept their cards relatively close in the days leading up to and during their week in the worldwide spotlight. After all, they were able to organize a primetime cable television show without his choice becoming public until less than 48 hours before the telecast.
But one piece of information was out there from numerous sources: The Knicks weren't even in James' top three. This was hard for many people, especially the Knicks themselves, to understand. But the word was out, loud and clear, just the same.
4. Daily Dime Live Recap
ESPN.com writers and TrueHoop Network bloggers chatted with fans and gave their in-game opinions throughout Thursday's games -- all in Daily Dime Live.
THURSDAY'S BEST

Ginobili
Manu Ginobili, Spurs: Snaking through a triple-team for the final go-ahead basket after his team appeared to snatch defeat from the jaws of victory? Check. Taking a charge to preserve the win? Check. Manu's Spurs are 22-3.
---
THURSDAY'S WORST

Smith
Josh Smith, Hawks: Scoreless from the field? And no blocks? Smith finished with one point (15 off his average) and missed all eight of his field goals in his second straight dirigible crash against the East champs.
---
TWEET OF THE NIGHT
Im waiting for the green light, but I won't push the trainer or the doctor. They are finding the best way for me to get back on the court3:44 p.m. Dec 15 via web
Yao Ming
YaoMing
---
QUOTE OF THE NIGHT
"He's the engine that stirs the drink."
-- TNT analyst Charles Barkley, (sort of) invoking a classic quote about Reggie Jackson in describing Rajon Rondo.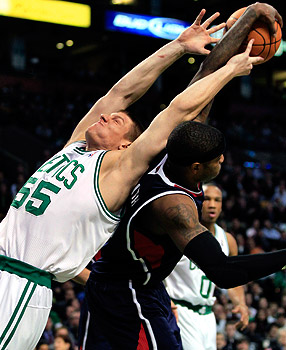 (AP Photo/Charles Krupa)
By Chris Broussard
ESPN the Magazine

Roy
It's no secret that playing alongside Andre Miller frustrates Brandon Roy. Miller keeps Roy from handling the ball as much as he wants and doesn't spread the floor enough for Roy's liking.
After Monday's loss to Memphis, Roy all but blamed his struggles this season on Miller, saying "I wasn't that slow until you put a guy who is kind of slow next to me. I've always been kind of slow. Not to be controversial at all, but I was slow my rookie year, and now it's …"
Roy, who has lacked the explosiveness we've seen from him in the past, apologized for his comments two days later, but his frustration remains. Wednesday's four-point performance in another L at Dallas certainly didn't improve his mindset.
But is Roy frustrated enough to leave Portland?
Depends on who you ask.
One plugged-in person with knowledge of Portland's inner workings told me Roy spoke with Blazers management less than two weeks ago about the need for Miller and him to part ways. While Roy did not issue a trade request, I'm told he said something to this effect:
This is not going to work, so you should trade one of us. Whether it's him or whether it's me, somebody needs to be traded because this is not going to work.
Portland general manager Rich Cho, as well as Roy's agent, Bob Myers, denied such a discussion ever happened.
"It's not true," Cho said Thursday.
Whether Roy made those comments or not, it's unlikely he'd be the player on the move, because Miller's trade value is much higher. Not only is Miller having another strong season, averaging 13.3 points and 7.4 assists, but there's a team option on the $7.8 million the Blazers owe him next season. Essentially, the 34-year-old point guard is on an expiring contract.
As for Roy, well, his trade value has never been lower.
Slowed by his bad knee, Roy is having the worst season of his five-year career, averaging a career-low 16.6 points on career-low 39.9 percent shooting. Drained of some of his athleticism, he's been turned largely into a jump-shooter.

Harris
Devin Harris scored a game-high 29 points to help the Nets end their eight-game losing streak with a 97-89 win over the Wizards. The Nets are 4-1 this season in games in which Harris has scored at least 25 points, and 3-18 in all other games.