1. Mavs Zone Out Heat Like A Wise Old Owl
By Brian Windhorst
ESPN.com
MIAMI -- John Chaney helped the Mavericks take down the Heat's 12-game win streak Monday night.
Well, indirectly. But if you trace the history, the Hall of Fame coach who honed his zone at Temple University had a fingerprint or two on Dallas' impressive 98-96 victory. Another impressive victory, that is.
The Mavericks have now broken two 12-game win streaks this season and did the deed on the road both times. Dallas killed the Spurs' big run a few weeks ago in San Antonio. They've also broken up the Hornets' eight-game win streak, the Jazz's seven-gamer and a host of others, including handing the Celtics one of their four losses this season.
They couldn't have done it without Chaney. Or at least not without the tenets of Chaney's legendary zone defense, which is the grandfather of the Mavericks' not-so-secret weapon this season.
When he calls for one of the most effective zones since the NBA legalized it after a 54-year prohibition in 2001, Mavericks assistant coach and defensive coordinator Dwane Casey thrusts a fist into the air. That fist is what descends from Chaney.
Casey learned the bones of the zone the Mavericks play starting in 2001 when he was on the SuperSonics' coaching staff with Dean Demopoulos, now a career NBA assistant working with the Clippers.
Demopoulos was brought to Seattle and later to Portland by coach Nate McMillan to help install the newly approved zone defense. The choice made a lot of sense, because Demopoulos spent 17 years working and learning the finer points of Chaney's historically effective zone at Temple.
There have been modifications since then, of course. Casey has the Mavericks playing more aggressively than Chaney usually had his Owls play, especially with added ball pressure and more trapping. Dallas has certain triggers when it will attack ball handlers. But zone is so relatively rare in the NBA that Chaney's basic architecture can still be highly effective.
The Heat became the latest team to fall to the zone's curse when they struggled to break its vise grip and its lingering effects. Miami shot just 41 percent Monday night, it worst mark since -- yes -- the last time it played the Mavericks exactly 13 games ago.
In those two losses to Dallas, the offense-laden Heat scored only 12 times on the 40 possessions they had to play against the zone. On Monday, the mixed looks -- the Mavericks routinely zip in and out of the package -- flustered the Heat and often froze their offense. The Heat launched a season-high 31 3-pointers, taking the bait.
Miami was so out of rhythm it forgot is most effective weapon, the fast break. The Heat managed only five fast-break points, their second-fewest of the season. Without easy baskets, the recently hot LeBron James and Dwyane Wade combined to shoot 14 of 34.
"They settled for a lot of 3s against our zone," said Dirk Nowitzki, who had 26 points. "We got a little lucky."
Luck may have had something to do with it. The Heat were playing their seventh game in 11 days and haven't had a practice in a week. Their preparation for seeing the zone was effectively Monday morning's shootaround.
"They keep you off-balance," said James, who had his first scoreless half in more than three years while getting caught staring at the zone in the first half. "They do a great job of not allowing you get into a flow offensively."
It isn't that James, Wade and Chris Bosh can't handle a zone. The three have plenty of experience playing against them and doing so together from their days on Team USA.
Teams have tossed zones at the Heat with some success during the season. Scouts and coaches will explain that, when it is operating correctly, the Celtics' defense turns into a zone.
But right now no team practices zone more or uses it as much as Dallas has been. In a copycat league in which the same five basic plays make up every offense and defensive styles are routinely mimicked, the Mavericks are ahead of the curve.
Dallas is starting to create a trend. The Raptors, for example, unveiled a zone that took the Lakers by surprise Sunday. The Blazers, where McMillan and Demopolous took the style, and the Clippers, Demopolous' current spot, use it to a degree now.
No team implements it or practices it like the Mavericks, and they've done it since training camp. During one preseason game, just for an exercise, Dallas was in zone defense on over 80 possessions.
For the most part, through, teams simply don't see it much, so most of the Mavericks' opponents find themselves underprepared.
Casey usually calls for the zone when backup center Brendan Haywood is in the game, though starter Tyson Chandler's athleticism and length make him a good fit for it as well. Sometimes Casey will call for it three or four possessions in a row. Sometimes he'll go an entire quarter without it.
There were other factors that fueled the Mavericks' win, especially Jason Terry's 19 points in the fourth quarter.
The zone, though, is what the Heat left AmericanAirlines Arena talking about. Somewhere John Chaney should have been smiling.
"We didn't know if they were in a [man-to-man defense] or zone [at times]," Bosh said. "It'll throw you off."


NBA Writer Brian Windhorst
• On Twitter @WindhorstESPN | On ESPN.com
• Follow ESPN's NBA coverage on Twitter | On Facebook | On Google+
Dimes past: Dec. 1 | 2 | 3 | 4-5 | 6 | 7 | 8 | 9 | 10 | 11-12 | 13 | 14 | 15 | 16 | 17-19 | 20
2. Suns Newcomers Ready To Rise
By Michael Schwartz
ESPN TrueHoop

PHOENIX -- The Phoenix Suns expected Saturday's blockbuster trade with the Orlando Magic to shore up their anemic defense and make them stronger on the boards, but judging by Monday's introductory news conference, their special team chemistry from last season may soon be making a return appearance as well.
After taking physicals in Phoenix that prevented them from debuting in Monday's loss to the Spurs, Vince Carter, Marcin Gortat and Mickael Pietrus exuded the sense of joy we so often saw from last year's Suns, whether it was Carter jokingly forgetting the name of the Suns' famous starting point guard or Gortat following up a serious Carter answer by saying he's looking forward to playing in Phoenix because of the jerseys.
But it wasn't all jokes. All three players spoke of how well they fit into the Suns' system, with Carter intent on rejuvenating himself in the desert like so many others, Pietrus excited about the Suns' quick pace and Gortat ecstatic about finally getting an opportunity to prove himself after four years as Dwight Howard's sparring partner.
"You just realize that you're 26 years old and you're entering your best years in your NBA career and all of a sudden you're sitting on the bench," Gortat said. "You've got to be frustrated, and all of a sudden you've got this opportunity, going to a team with a great point guard with a perfect style. What else do you need? I'm 100 percent sure I'll be good."
It's easy to see why Gortat would embrace this opportunity on a size-starved Phoenix squad that could make him a big part of the Suns' future, but to Carter this was no rebuilding trade.
He spoke of coming from a team where the mentality was "championship," and bringing that same attitude to a Phoenix squad that has hovered around .500 all season but is just a few months removed from a Western Conference Finals run.
"We want to be in the mix, and that's what it's all about, winning," Carter said. "We'll try to bring our defensive background and the mentality that we've come from here and just add to the fuel that's already here, and hopefully, sooner or later you'll see us right at the top."
Click here for more from valleyofthesuns.com.
How Magic Newcomers Fared In Debut
| Player | Team | Min | FG-A | FT-A | Rebs | Assists | Steals | Blocks | Pts |
| --- | --- | --- | --- | --- | --- | --- | --- | --- | --- |
| Gilbert Arenas | ORL | 27 | 2-11 | 5-6 | 1 | 3 | 0 | 0 | 10 |
| Hedo Turkoglu | ORL | 35 | 1-4 | 5-6 | 6 | 3 | 1 | 0 | 8 |
| Jason Richardson | ORL | 31 | 3-8 | 2-2 | 2 | 3 | 0 | 0 | 9 |
| Earl Clark | ORL | 0 | 0 | 0 | 0 | 0 | 0 | 0 | 0 |
3. Daily Dime Live Recap
ESPN.com writers and TrueHoop Network bloggers chatted with fans and gave their in-game opinions throughout Monday's games -- all in Daily Dime Live.
MONDAY'S BEST

Duncan
Tim Duncan, Spurs: As time goes by, The Big Fundamental still applies. He squeezed 20 points, 15 boards, six assists and three blocks in 31 minutes of action during a 118-110 win over the Suns.
---
MONDAY'S WORST

Bobcats in general: Taken to the woodshed by the Wiz? A 33-point loss? Enough turnovers (27) to open a bakery? One field goal in the third quarter? Santa's putting a huge question mark in these Cats' stockings.
---
TWEET OF THE NIGHT
Hell of a win! Let's make this season special Dallas…11:05 p.m. via ÜberTwitter
Caron Butler
realtuffjuice
---
QUOTE OF THE NIGHT
"I'm 100 percent sure I'll be good."
-- New Suns center Marcin Gortat, counting on the Nash effect to elevate his game (see box 2).
6.

Mavs Clamp Down On Heat
By Jeff Caplan
ESPN Dallas.com

MIAMI -- The Mavericks spent the two days leading up to Monday's showdown talking endlessly about everything the Miami Heat had done right in rattling off 12 wins in a row since losing three weeks ago in Dallas.
The list was long and stunning: running more, playing all-world defense, playing off each other, shooting the lights out of the 3-ball. LeBron James and Dwyane Wade were practically walking on water. Mavs coach Rick Carlisle went so far as to say Miami was doing "unprecedented things."
Then the Mavs -- as Carlisle will say -- systemically took it all away. The NBA's streakbusters did it again, holding Miami to 40.5 percent shooting by mixing in doses of a now-clockwork zone defense that the Heat couldn't counter.
Dallas allowed just five fast-break points, held the Big Three to mortal performances (60 points combined on 22-of-49 shooting) and then won it 98-96 with 10 minutes of lockdown fourth-quarter defense and a 33-point final period spurred by Jason Terry's 19.
So add the Heat to the San Antonio Spurs (12-game win streak), New Orleans Hornets (eight), Utah Jazz (seven), Boston Celtics (five) and Oklahoma City Thunder (five) on the list of hot teams the Mavs have stopped cold.
"I don't make a huge, huge deal out of the streak," Carlisle said. "We are just trying to play solid basketball and win as many games as we can."
They've won 22 of their first 27 and three in a row since having their own 12-game streak snapped a week ago. They're 9-1 on the road with the second game of a back-to-back Tuesday night at the trade-transitioning Orlando Magic. That game ends the Mavs' pre-Christmas portion of the schedule and sends them into a five-day break.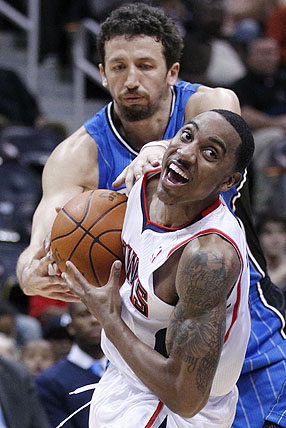 (Josh D. Weiss-US PRESSWIRE)
Jeff Teague and his Hawks did not yield much to Magic forward Hedo Turkoglu, who made his return to the Magic in a 91-81 loss in Atlanta.

Ellis
Monta Ellis scored 44 points and made 15 of 20 field goals (75 percent) in the Warriors' loss to the Rockets on Monday. It's the second time this season Ellis has had a 40-point game in which he made at least 75 percent of his field goals. On Oct. 27, the Warriors' first game of the season, Ellis scored 46 points and made 18 of 24 field goals. No other NBA player has had a game this season in which he scored at least 40 points and made at least 75 percent of his shots from the floor.