1. Thunder Miss Chance To Make Mark
By Royce Young
TrueHoop Network
OKLAHOMA CITY -- It felt like an opportunity for the Oklahoma City Thunder to make a statement. A chance to grab the attention of people who spent the summer hyping them only to be somewhat disappointed and dismissive despite a solid 21-10 start.
The Dallas Mavericks brought one of the Western Conference's best squads into town. Want people to talk about you? Beat really good teams. Pretty straightforward, really.
After Dirk Nowitzki left early in the second quarter with a twisted right knee, it was almost as though someone was giving the Thunder a late Christmas present.
What Oklahoma City didn't count on was Jason Terry, Shawn Marion and the rest of the talented Mavericks stepping up. It's what the really good teams do, I guess.
"They've got a lot of weapons on their team," Kevin Durant said. "It's more than just Dirk. They played tough, man. You've got to give them credit for making big shots."
The Mavs used a zone defense and slick jump-shooting to outscore the Thunder 24-12 in the fourth en route to a 103-93 victory at the Ford Center. Durant scored 28 points but was just 2-for-5 in the fourth (with three straight misses during a Dallas 7-0 run), Russell Westbrook couldn't find a rhythm, and the Mavs just did their thing -- they got big stops, big rebounds and big buckets.
"When they went to the zone, we were running our zone offense. It was just we were settling for jump shots, and when your jump shot is not falling you've got to go inside to get the outside; [it's] something we'll look at and try to figure it out," Thunder coach Scott Brooks said. "The next time we play them, I'm sure we will see it. That's part of the growth of our team, is figuring out how to score points when we have a cold stretch and figuring out how to get stops."
With Dallas winning with its best player playing only 12 minutes, some may feel that the young Thunder squad still has a long way to go before it climbs into one of the West's top seats. Despite the loss, Oklahoma City can find solace in the way it played the Mavs. A four-minute dry spell in the middle of the fourth (with Durant missing a couple of open jumpers he normally drills) is what did it in. Had those shots dropped, this could have easily turned into a big statement game for OKC.
Instead, the jump shots rimmed and rattled out, Terry (13 points) hit big shots on the other end and Caron Butler and Marion combined for 41 points. Funny game, basketball.
The Thunder's record (21-11) puts them squarely among the West's best at fifth in the conference, but if we learned anything Wednesday in their 14-point loss to the Knicks, it's that they aren't completely there yet. There's a reason the Mavericks are title favorites. They have good players, a good coach and a good system. They are good.
The Thunder walk away 10-point losers, but also leave shaking their heads thinking about what could have been.
Read more from Young at the TrueHoop Network Thunder blog Daily Thunder.
Dimes past: Dec. 13 | 14 | 15 | 16 | 17-19 | 20 | 21 | 22 | 23 | 24 | 25-26 | 27
2. Arenas Embracing Second Chance
By Michael Wallace
ESPN.com

Arenas
Orlando Magic guard Gilbert Arenas goes one-on-one with ESPN.com's Michael Wallace.
Q: Caron Butler, one of your former All-Star teammates in Washington, said last week that he saw you smiling, relaxed and just comfortable in your own skin for the first time since before all the drama that stemmed from the gun incident in the Wizards' locker room last year. Does that accurately describe your demeanor in the aftermath of this trade?
A: Yeah. A weight has been lifted. A big, big, big weight. [Exhales.] It's just, you know, just the things I've seen in the last year and half really got me depressed. So just being in another city, it was just time. Being there [in Washington] eight years, it was just time. It was just one of those things.
Q: A lot of time has passed since the fallout of the incident, since you were sentenced to serve time in a halfway house, since your release and return to the public eye. How often do you still reflect on the darkest moments of that ordeal?
A: I reflect back on it and, put it like this: I've seen worse in our locker room.
Q: Worse than guns being drawn by teammates in a locker room?
A: A lot worse than that.
Q: A lot worse, like what?
A: I can't really go there. It was just, you know, it's like -- it was funny then, and it's funny now. [Former Wizards center] Brendan Haywood had said something after [late Wizards owner] Abe Pollin died. He said, 'There goes your protection.' It was funny. And now, it's funny to think about it. He was, 'There goes your protection,' and, 'He can't protect you no more.' And that's how it felt, going through the whole thing. I don't know.
• Click here to read the rest of Wallace's one-on-one with Arenas
3. Daily Dime Live Recap
ESPN.com writers and TrueHoop Network bloggers chatted with fans and gave their in-game opinions throughout Monday's games -- all in Daily Dime Live.
4. Rockets Have Firepower On Offense
By Kevin Pelton
Basketball Prospectus

Through the end of November, the Houston Rockets were averaging 0.6 points per 100 possessions fewer than their opponents typically allowed, making them a slightly below-average offense. In December, Houston has scored 6.0 points better than their opponents' average per 100 possessions. Only the San Antonio Spurs have an offensive rating so much higher than league average over the course of the season.
Even averaging their slower start with their stronger recent play, the Rockets rank eighth in the NBA with an offensive rating of 111.5 points per 100 possessions. The most recent time Houston had one of the league's 10 best offenses was 2000-01, when Steve Francis led a young core that placed the Rockets sixth in the NBA in offensive rating. Under Jeff Van Gundy, who arrived in Clutch City two years later, and current coach Rick Adelman, Houston has won almost entirely with defense. The Rockets' best offensive team of the past decade was the 2006-07 squad, which was slightly better than average. The Houston team that won 55 games and a playoff series in 2007-08 ranked 17th in the league in offensive rating. So if the Rockets are to return to the postseason after a one-year absence, they'll do so with an entirely different formula for winning.
• Click here to read the rest of Pelton's weekly Trend Watch

5. Contraction Not The Answer
By John Hollinger
ESPN.com

James
This is a good starting point for the contraction debate, because the whole discussion has always been more about perception than reality, and certainly more about romance than reality.
The idea that we could recreate the Lakers-Celtics rivalry of the 1980s if we just had fewer teams is silly on multiple levels.
For starters, please note that a pretty great Lakers-Celtics rivalry already exists. Not sure if anyone's noticed, but those two teams met in the Finals earlier this year and in 2008, splitting two series and 13 games as evenly as possible and setting some pretty high marks for TV ratings and Internet traffic. Also, some might note that Boston has five starters and a reserve with All-Star appearances on their résumés, just like they did in the good ol' days. In fact, in terms of All-Star appearances, the current Celtics are the single most decorated team in NBA history.
• Read the rest of Hollinger's PER Diem

By Justin Verrier
ESPN.com
MONDAY'S BEST

Augustin
D.J. Augustin, Bobcats: Maybe it was the new coach. Or the Pistons' defense. (It was probably the Pistons' defense.) Whatever it was, Augustin kicked off the Paul Silas era with a bang, scoring 27 points (two shy of his career high) and committing zero turnovers in a 105-100 win.
---
MONDAY'S WORST

Sacramento Kings: The crumbling Kings missed not one, not two, but THREE chances to tie or win. Up 100-97 with 5.1 to play, the Clippers nearly Clipper'd away a win, fouling Tyreke Evans outside the 3-point arc. But after hitting the first two free throws, Evans missed the third, and DeMarcus Cousins and Evans missed two last-second tries, sealing loss No. 23.
---
TWEET OF THE NIGHT
Thx for askin everybody. I will be ok. Got an mri 2mor mornin. Great win. guys came through bigtime and defense down the stretch was sick11:30 p.m. ET via ÜberTwitter
Dirk Nowitzki
swish41
---
QUOTE OF THE NIGHT
"That's crazy, because I had no idea what the word 'contraction' meant before I saw it on the Internet."
-- LeBron James, clarifying his comments on contraction in the NBA. (See Box 5)
By Mark Simon
ESPN Stats & Information

It took a little while to get going, but the additions of Gilbert Arenas, Hedo Turkoglu and Jason Richardson are now having the impact the Orlando Magic desired. The New Jersey Nets aren't the best litmus test, but the Magic beat them handily on the road Monday 104-88, with the trio combining for 43 points.
Turkoglu has been impressive in this three-game run. He netted 20 more points Monday, the third straight game in which he shot 50 percent or better from the field. Turkoglu was 3-for-15 in his first two games back with the Magic.
It also seems that guard J.J. Redick is comfortable with the team's new additions. He scored 15 points Monday, his fourth straight game scoring in double figures.
This was the second straight game in which Redick did something significant. On Christmas Day, he hit a key shot on a rare isolation play in the final minute of the Magic's rally against the Boston Celtics. In this game he was a team-best plus-23. Redick was aggressive early, going 3-for-6 from 3-point range in the first half. His 10 shots in the first two quarters were a team-high. Redick had attempted only 10 or more shots in a game seven times before Monday.
9.

Howl You Like Them Now?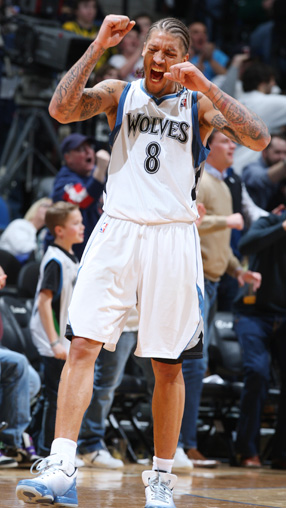 (David Sherman/NBAE/Getty Images)
Michael Beasley's near-triple-double (30 points, nine rebounds and a career-high seven assists) helped the Wolves fend off the Hornets to start their second two-game winning streak of the season.