SUNDAY'S BEST

Gay
Rudy Gay, Grizzles: One night after missing the Jazz game due to illness, Gay savored the final moments of a 104-85 win over the champs from the bench. Gay tipped, slammed and shot down L.A. on its own court with 27 points.
---
SUNDAY'S WORST

Artest
Ron Artest, Lakers: This could be the nadir for the Game 7 Finals hero. Highest number on his stat sheet? Three turnovers. Lowest? Zero points. Maybe Phil Jackson needs to invoke "Queensbridge" more often.
---
TWEET OF THE NIGHT
Lakers have been outscored 396-346 in their last 4 home games. Fifty points. FITTY!Midnight via TweetDeck
J.A. Adande
jadande
---
QUOTE OF THE NIGHT
"Every time I wake up, it's 'Dad, come here. Let me show you this Blake Griffin dunk from last night.' And it's really kind of neat, because it's been a long time since the Clippers have had a fun, exciting player that appeals to the whole league."
-- Former Clipper Michael Cage, whose record for consecutive double-doubles by a Clippers player was broken by Griffin last Wednesday.
6.

New Year's Dissolution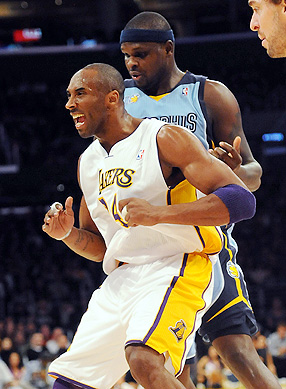 (Jayne Kamin-Oncea-US PRESSWIRE)
Grizzlies forward Zach Randolph battles with Lakers guard Kobe Bryant, whose team lost at home for the third time in its past four games.

Gasol
LOS ANGELES -- The bad news for the Lakers is that Kobe Bryant showed he still has it. If the situation were different, if the No. 1 question hanging over the team was whether Kobe's best days were long behind him, their problems would be easy to resolve: just trust he could find his way. Because if Kobe can't be Kobe they might as well call off the championship quest.
On this Sunday night, though, Kobe reached back into 2006 and produced a 17-point third quarter. Only the Lakers still lost ground to the Grizzlies in the quarter. And they lost to the game to the Grizzlies, 104-85.
Phil Jackson is befuddled. Pau Gasol is looking tired and grouchy. Kobe is so over it that all he could do was laugh, rather than repeat his angry Christmas day news conference.
"It's being out of sync," Bryant said. "That's kind of what happened."
They're even out of sync on why they're out of sync.
Jackson said the problem is the team always loses focus when it has a day off (as the Lakers did Saturday). "That's bull----," Bryant said with a laugh.
Bryant, who has always been big on self-motivation, said, "It starts individually. You have to look at some things to try to get you going."

Turiaf
Ronny Turiaf blocked six shots and grabbed 10 rebounds in 28 minutes of playing time as a sub in the Knicks' 98-92 win over the Pacers. Only two other Knicks players have ever come off the bench to record at least 10 rebounds and five blocks in the same game: Marcus Camby twice in 1999 and Jawann Oldham in 1987. (Blocks have been compiled since the 1973-1974 season.)