1. Wade-LeBron Duo Puts On Winning Show
By Michael Wallace
ESPN.com
CHARLOTTE, N.C. -- Entering Monday's game against the Charlotte Bobcats, LeBron James said the thought about putting on a show in front of team owner Michael Jordan never crossed his mind.
Yeah, right.
That certainly didn't appear to be the case in the fourth quarter, when James executed a breakaway reverse dunk and stuck the landing with a playful glance in the owner's direction at the end of the Bobcats' bench. Jordan didn't have much of a reaction.
And his team didn't offer much resistance.
James might not have anticipated putting on an act for Jordan. But after partnering with teammate Dwyane Wade for a pair of 30-plus-point games, James had another show in mind.
"I guess ESPN needs to make a show with me and D-Wade now, '30 for 30'" James said of the network's series of sports-related documentaries. "Players of the month, '30 for 30.' That might be pretty cool. We're humbled that the league and everyone recognized what we did in the month of December. We're just trying to keep it up. Will it result in us having another one? I don't know. But we'll just try to lead our teams to victories every night."
On Monday night, there was no answer for James, who scored 26 of his season-high 38 points in the second half as the Heat rolled to a 96-82 victory over the Bobcats. On the same day James and Wade shared Eastern Conference player of the month honors, the Heat's dynamic duo proved why it was so nearly impossible to pick one over the other.
The Heat nominated both James and Wade for the award, and pushed them as co-recipients for league consideration. So the NBA chose both, and also named Erik Spoelstra the conference's coach of the month. James finished what was started by Wade, who scored 18 of his 31 points in the first half. It marked the first time this season that Miami's top two stars each scored at least 30 points in the same game.
The victories are piling up for the Heat (27-9), who have won 18 of their past 19 games -- including 11 straight on the road -- and remain a half-game behind Boston for the East's best record. And Miami is doing it with remarkable balance between James and Wade, which is more than just a statistical coincidence. It was actually an experimental expectation.
Before the season, Spoelstra hired statistical analyst Bob Chaikin to help project how well Wade, James and Bosh would mesh on the court this season. Using a computer program called APBRmetrics simulation, Chaikin calculated that James and Wade would both see a slight dip in their career scoring numbers, but would settle at somewhere around 25 points per game this season.
The projections were spot-on. Despite some early-season kinks, James and Wade eventually figured out ways to maintain mutually exclusive attacks yet become collectively productive. Wade entered Monday's game averaging 24.5 points a game, with James at 24.4 points.
"We're trying to strike a balance," Spoelstra said. "I think both of them are finding a way to be who they are, be aggressive, play off each other, make the game easier for each other and make the game easier for other guys. The new frontier for many of those guys was learning how to play without the ball and still be effective. I've got a computer geek [Chaikin] who's got a program. I consult him as much as I consult anybody."
Spoelstra said the simulation data he receives from Chaikin calculate many factors. But Spoelstra joked that they don't project what the Heat's record will be by the end of the season.
"[What] it takes into account is how much touches will go down, anticipating how many shots will go down per game, and you can figure out from there roughly how much a player will average," Spoelstra said.
Basically, someone could run a simulated Heat season on one of the NBA's video games and get the same result, right?
"Yeah," Spoelstra joked. "Probably something like that."
So, in other words, Wade and LeBron are performing to video-game levels of expectations this season. They've come a long way since that 9-8 start to the season, Wade said.
"Look at us now, and look at us in the Boston game earlier in the year; we didn't know what each other was thinking," Wade said. "Now we're on the same page. Us not being able to play together is not a conversation anymore. This is what we envisioned, and it's starting to come true."


NBA Writer Michael Wallace
• On Twitter @WallaceNBA_ESPN | On ESPN.com
• Follow ESPN's NBA coverage on Twitter | On Facebook | On Google+
Dimes past: Dec. 17-19 | 20 | 21 | 22 | 23 | 24 | 25-26 | 27 | 28 | 29 | 30 | 31 | Jan. 1-2 | 3
2. Expert Roundtable: Five Q's On Lakers
By ESPN Los Angeles.com

After the Los Angeles Lakers' 19-point loss at home to the Memphis Grizzlies on Sunday (their fourth double-digit loss in their past six games), we asked our panel of experts five questions to assess the damage.
1. What one thing most concerns you in what you see in the Lakers' play right now?
J.A. Adande (ESPN.com): The lack of pride. They've let bad teams come into Staples Center and crush them; they've been humbled by Miami and San Antonio in showdown games. You'd think dignity, a title defense, ego … something would kick in and prevent them from going down like that.
John Hollinger (ESPN.com): The noncontributions of late from Pau Gasol. One has to wonder if there's an undisclosed injury limiting him right now.
Andy Kamenetzky (Land O' Lakers blog): The lack of cohesion. It's beyond not being on the same page. They're not even reading the same book at the moment.
Arash Markazi (ESPNLA.com): A complete and total lack of pride for their profession. Kobe Bryant brought it up after the Christmas Day blowout and Derek Fisher talked about it after a blowout earlier in the season; the players in the Lakers' locker room need to be accountable every time they step onto the court, regardless if it's January or May. This is simply a team that doesn't care at the moment.
John Ireland (710 ESPN Radio): It's the defense. They can't come up with any stops on a consistent basis. Other teams pick-and-roll the Lakers to death, and they've yet to prove they can stop it.
Brian Kamenetzky (Land O' Lakers): Lethargy. The Lakers are costing themselves the opportunity right now to be as good a team as they can be come playoff time. The longer it takes them to commit to their principles on both ends of the floor, the less likely they are to maximize their potential when it really matters.
Dave Miller (710 ESPN Radio): The Lakers are 34 games into the regular season and the one adjective that describes both the offense and defense is inconsistent. The most alarming thing to me is the lack of competitive nature defending their home court.
Dave McMenamin (ESPNLA.com): It's tough to choose one because poor shot selection leads to long defensive rebounds which lead to run-outs by the opposition, etc. So you could say that the Lakers' transition defense is struggling right now, but the genesis behind that is how their offense is performing. So, rather than point to an aspect of the game, I'll just say their focus is lacking. If everybody on the team gets their heads in the right place, their play will sync up on the court and mistakes will be eliminated.
Marc Stein (ESPN.com): It's not just that they're bored or complacent. It's that they all seem so unhappy and irritated with each other. They just don't give you the vibe of a group that's going to band together and turn this thing around. You never get that vibe from the Celtics. The Lakers look like they could use one of San Antonio's trademark Rodeo Road Trips in which they hit the road for three weeks and try to win a mess of games to get back on course.
3. Daily Dime Live Recap
Zach Harper, ESPN.com writers and TrueHoop Network bloggers chatted with fans and gave their in-game opinions throughout Monday's games -- all in Daily Dime Live.
MONDAY'S BEST

James
LeBron James, Heat: The reigning co-player of the month drops in 38 points on 15-for-26 shooting in the win over the Bobcats, adding nine boards and five assists for good measure.
---
MONDAY'S WORST

Williams
Lou Williams, Sixers: Williams accepts this award on behalf of the second-unit guards for the Sixers. He shot 1-for-11 while rookie Evan Turner made 2-of-14 in an 84-77 loss in New Orleans.
---
TWEET OF THE NIGHT
Suns need a Dub. Bad.7:22 p.m. Jan 2 via Echofon
Steve Nash
SteveNash
---
QUOTE OF THE NIGHT
"[Sunday] was one of those days where I was like, '[Expletive] the triangle, I need to get myself going and try to save this damn game,' and it just didn't work out."
-- Kobe Bryant, talking Monday about an unsuccessful approach against Memphis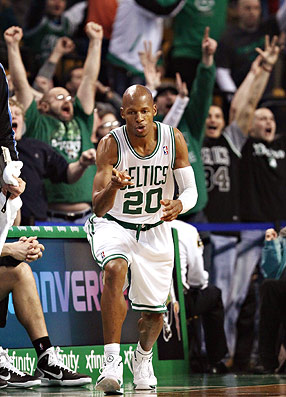 (Photo by Elsa/Getty Images)
Ray Allen made four of his five 3-pointers as the Celtics overcame 24 boards by Kevin Love and defeated the Timberwolves 96-93.
6.

Deng's Improved, But How?
By Nick Friedell
ESPNChicago.com

Deng
CHICAGO -- Luol Deng is sick of people trying to figure out what's different about his game this season. Through 32 games, he's averaging only two-tenths of a point more per game (17.8 compared to 17.6) than he did last season, so the numbers back up his point.
But something seems a little different. He's hitting a few more 3-pointers, but it's something more than that. Deng, 25, is playing in a comfort zone that hasn't always been there during his seven-year career. He seems happier now more than ever on the floor.
What is it about Chicago Bulls coach Tom Thibodeau's system that is so different for him?
"I'm really done comparing years and all that," Deng told me a few days ago. "Coach Thibs is a different coach. He's a great coach. We got a different team. A different group of guys. We're playing well together. It's just a bunch of different things you can put into it, but I'm not really trying to pick and choose what was different. We just got a good team. We know what we're trying to do. We just got to keep doing it."
But what is it? What is so different about what Deng is doing on the floor this season compared to seasons past?
"We're winning," Deng said. "The only thing I would say is I'm shooting more 3s. But I feel like it's a different system. It's totally different. I'm scoring in different ways. Just consistency. Bringing something to the table every game."
By Michael Wilbon
ESPN.com

Wade
Baylor (Portland): Last week on "1st and 10," Skip Bayless and Herm Edwards both agreed right now Dwyane Wade is a better basketball player than LeBron James. Who do you think is the better player and who do you think will be the go to guy in the playoffs?
Mike Wilbon: LeBron is a better all-around basketball player. But if you ask me who I want in the final two minutes of a game, my answer is D-Wade. And that's precisely what makes Miami so damn good. And why there might not be anybody in the league who can beat them.
They've clearly got the best one-two punch in the league, and while Chris Bosh might not be the best No. 3 player in the league (Kevin Garnett is a No. 3 right now, behind Rondo and Pierce, right? And Lamar Odom is a No. 3 as well), he's way, way up toward the top of the list of those who'll be in the playoffs. But Wade-LeBron, if healthy, will be very, very difficult to throw out of the playoffs.

Anthony
Carmelo Anthony had 33 points and 11 rebounds in the Nuggets' 113-106 win over the Rockets. It was the fourth time this season that Anthony has fashioned a 30/10 game (points/rebounds). Despite having missed seven games, Anthony shares the third-highest total of 30/10 games in the NBA this season; Amare Stoudemire (eight) and Blake Griffin (five) are the only players with higher totals, while Kevin Love, like Carmelo, has four.