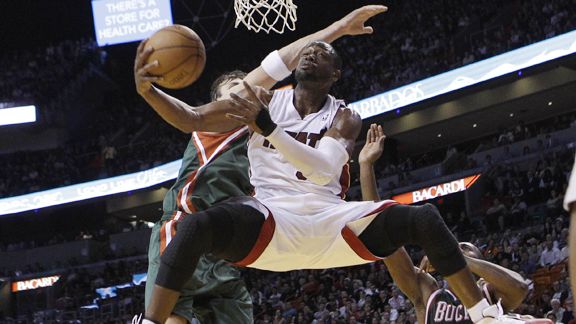 AP Photo/Lynne Sladky Have the Big Three's MVP chances really gone "out the window"? Dwyane Wade is stating his case.
1. Wade Making MVP Push
By Brian Windhorst
ESPN.com
MIAMI -- LeBron James is wrong.
Last week James, for rational reasons, said neither he nor Dwyane Wade could win the MVP this season. As a point of fact, James said that an MVP for him or Wade "went out the window" when they signed with the Miami Heat.
His case makes sense. Their numbers are lower than in previous seasons, and their presence on the same team not only will split some votes but also works against the formula of what a classic MVP is.
James is still wrong -- or least half wrong. For several reasons, he probably won't win his third consecutive MVP.
But Wade most certainly could win his first.
Unlike the Heisman Trophy, the MVP rarely has a signature moment, a highlight that is shown over and over again that cements a player's status. In the NBA, a player often makes his case for MVP with cumulative performances, the result of game after game after game of being the difference.
Even on a team loaded with talent as the Heat are, Wade is starting to assemble that type of portfolio. The most recent example came Tuesday night when he shook an average-looking game from the doldrums with another majestic fourth quarter to lead the Heat to a 101-89 win over the Milwaukee Bucks.
Wade did it with his standard blend of grace, aggression, defense, speed and creativity that had the Bucks dropping their heads and his own teammates shaking theirs.
The Heat have now won seven in a row and 19 of 20, which makes running over another sub-.500 Eastern Conference team seem uneventful. The game featured no single play that will make the year-end highlight reel, and neither team did anything all that impressive.
Yet Wade scored 17 of his 34 points in the fourth to turn a close game into a lopsided one. He's been doing that more and more lately, including a huge fourth quarter in Houston last week en route to a season-high 45 points.
That is how MVP candidacies are built, and Wade has been steadily adding to his résumé. He's second in the league in fourth-quarter scoring at 6.5 points per game; Amare Stoudemire is first at 7.4, one of the reasons he's already in the MVP conversation.
"Dwyane has been averaging like 50 points in the last five games," Bosh said after his own 19-point, 12-rebound effort. "We're just going to keep giving him the ball, keep getting him open and keep encouraging him to shoot it."
Actually, Wade is averaging 35 points per game during the past five games, but more than just scoring is playing a role here. The Heat are 28-9 and right on the Boston Celtics' heels for the best record in the East. While there are certainly politics involved, being at the top of the standings makes a difference.
Wade probably should have won his first MVP two years ago when he returned from an injury-plagued season to average 30.2 points, 7.5 assists and lead the Heat to 43 victories after they'd won a league-low 15 the season before.
But that season James won his first MVP, having led his Cavs to 66 wins.
James probably should have earned his first the season before when he won the scoring title and carried a controversy-riddled Cavs team to 45 wins and nearly to an upset of the champion Celtics in the second round.
But that season Kobe Bryant won his first MVP, having led a renaissance in Los Angeles after the Pau Gasol trade. Yet Bryant probably should have won his first award in 2006, when he flat-out carried to Lakers to 45 wins and back to the playoffs, averaging an amazing 35.6 points.
Winning matters when it comes to the MVP. You can't just squeak into the playoffs. You have to win big all season long. And the Heat are winning big as the season nears the midway point, with Wade carrying the Heat more than a third of the time.
James' numbers (24.8 points, 7.3 assists, 6.8 rebounds per game) are actually better than Wade's (24.7 points, 4.3 assists, 6.6 rebounds). But as the two-time champ who switched teams in the offseason, James is unlikely to earn the support of media voters for a third consecutive season. (Only Larry Bird, Wilt Chamberlain and Bill Russell have won three in a row since the 1955-56 season.)
Wade also has sentiment on his side. He is the spiritual leader of the team, which is why the crowds at AmericanAirlines Arena save the foul-line "MVP" chants only for him and not for the actual two-time MVP on the team.
Plus there's the off-the-court aspect. No, not his NBA Cares work. Wade played a large role in recruiting both Bosh and James to Miami, then got them to accept pay cuts to make room for Mike Miller and Udonis Haslem.
Actually, Wade took the biggest cut of them all, accepting $500,000 less than James and Bosh this season alone. They may not look at it that way, but Wade is, in essence, signing some of his teammates' checks.
Unless he can share in Pat Riley's likely forthcoming honor as executive of the year, Wade's efforts to create his team probably should have some value in the race for most valuable.
There's a great deal of basketball to be played and health to maintain. There are several big names already lining up support for the MVP honor, including Dirk Nowitzki and Stoudemire.
But taking Wade's name out of the running for MVP -- as James and likely quite a few others might have done already -- because he plays for the team America enjoys hating may prove to be more than shortsighted.
It might be a big mistake.


NBA Writer Brian Windhorst
• On Twitter @WindhorstESPN | On ESPN.com
• Follow ESPN's NBA coverage on Twitter | On Facebook | On Google+
Dimes past: 20 | 21 | 22 | 23 | 24 | 25-26 | 27 | 28 | 29 | 30 | 31 | Jan. 1-2 | 3 | 4
2. Knicks Push Pop Overboard
By Chris Sheridan
ESPN.com

NEW YORK -- When you can make a military man like Gregg Popovich surrender, you have accomplished the rarest of feats.
Yet there was the San Antonio Spurs coach throwing in the towel and/or raising the white flag with 3:13 remaining in what turned out to be the New York Knicks' most complete and most impressive victory in, what, a decade?
Go ahead, think back and try to remember another night in the past 10 seasons when the Knicks brought the very best team in the NBA to its knees, imposing their will with such efficiency and determination that the opponent simply got up and quit.
We've seen the Knicks quit. But the other guys? It just never happens.
But it did on this particular Tuesday night, with Popovich pulling his starters en masse with his team trailing by only 11 points in what ended up as a 128-115 victory for New York. The Knicks put up the highest point total of any Spurs opponent this season and handed the team with the NBA's best record just its fifth loss.
"We have a game tomorrow, and it's a long season. The chances of winning that game were not good," said Popovich, whose team had held its previous four opponents to 80, 82, 93 and 74 points. "There's not going to be a line outside of the arena to buy any one of our defensive playbooks. If there is a line, they're a bunch of wackos."
This was the kind of signature victory the Knicks had been missing from their collective résumé, through this better-than-expected-but-far-from-great season of theirs, a season that had been marked by a 13-1 streak that turned around their fortunes but was followed by a bundle of losses to quality teams -- Miami (twice), Boston and Orlando -- over the past three weeks.
But on this night, playing their first game since learning that Danilo Gallinari would be sidelined for the next 2-3 weeks because of a sprained knee, the Knicks put on a display of offensive efficiency and relentlessness that even they probably didn't know they had in them.
• Click here to read the rest from Sheridan at ESPN New York
3. Daily Dime Live Recap
Zach Harper, TrueHoop Network bloggers and fans gave their in-game opinions throughout Tuesday's slate of NBA games in Daily Dime Live.