By Justin Verrier
ESPN.com
WEDNESDAY'S BEST

New Jersey Nets: Mikhail Prokhorov took a stand, then, with Prokhorov in the stands, the Nets made good on their owner's renewed faith with a 103-95 win over the 27-win Jazz. Even better? Derrick Favors, the key to a Denver deal, had 12 points, six boards and three blocks in 30 minutes.
---
WEDNESDAY'S WORST

New York Knicks: The Nets might not be the only team stuck in a MeloDrama daze. The high-powered Knicks, tops in the legue in scoring, totaled just 89 points and turned it over 14 times in a loss to the Rockets, New York's fourth straight defeat.
---
TWEET OF THE NIGHT
One of first rules of negotiation: never be afraid to walk away. These are billionaire games here. Great stuff.7 p.m. ET via Twitter for iPhone
Brian Windhorst
WindhorstESPN
---
QUOTE OF THE NIGHT
"Maybe he sent me an e-mail, but I don't have a computer. Maybe the carrier pigeon got lost."
-- Nets owner Mikhail Prokhorov on whether he has heard from Carmelo Anthony
7.

Shaq An Ageless Wonder
By Chris Forsberg
ESPNBoston.com

O'Neal
BOSTON -- Doc Rivers was 34 years old during his final NBA season, so immediately he admits the comparison is apple to oranges. But asked to explain where Shaquille O'Neal found the effort to put the Boston Celtics on his 38-year-old back in the fourth quarter of Wednesday's 86-82 triumph over the Detroit Pistons at the TD Garden, Rivers could only reflect on his final season in San Antonio.
"Listen, all I can reach back to is my last year, which is not even close," Rivers said. "But honest to God, when you get old, there are days the legs work and days they don't. And you can't call them. Honest to God, in my last year, there was no rhyme or reason. You can play a back-to-back game, the second day, and you felt great and the first [you didn't] -- it made no sense. I think that's who he will be."
Yet over the past three games, Shaq has turned back the clock and, with the girth of his 7-foot-1, 325-pound frame, is preventing it from spinning back to the present. O'Neal scored 23 points on 10-of-12 shooting over a season-high 35 minutes in Friday's win over the Charlotte Hornets, then battled through foul trouble to chip in 12 points on 5-of-7 shooting in Monday's playoff-like triumph over Dwight Howard and the Orlando Magic.
On Wednesday, O'Neal was as quiet as his fellow starters while connecting on just two of his first five shots for five points over the first three quarters. He then exploded for seven points in the final frame, adding three rebounds and two steals as Boston erased an eight-point deficit to emerge with a win it probably didn't deserve.
O'Neal finished with 12 points and a season-high 12 rebounds over 25 minutes. He was the crunch-time center until Detroit dusted off the Hack-a-Shaq defense, which forced Rivers to insert Glen Davis for the final 1:28.
"The whole team was flat, I just had to pick it up," O'Neal said. "I'm not really playing a lot of minutes. I'm not really tired. We haven't been rebounding that well, so I wanted to try to get every lose ball, every rebound, and when I got back in in the fourth quarter, we were down [eight], so we just had to try to get everybody involved."
8.

Thornton Stings Grizzlies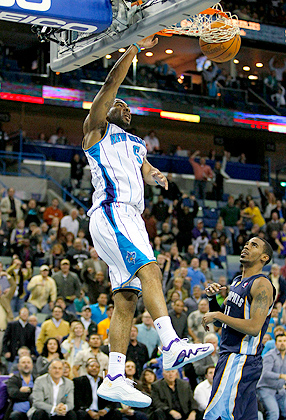 AP Photo/Patrick Semansky
With 14 seconds left in OT, Marcus Thornton broke up an inbounds pass and finished off the Grizzlies with a fastbreak layup in a 103-102 Hornets win.
By Brian Kamenetzky
ESPNLosAngeles.com

Call it a Tale of Two Halves. In the first half, the Lakers played fairly solid ball, save for a couple of minutes in the second quarter. But in the second half, the third quarter in particular, the wheels came off the wagon. Turnovers, poor decisions on offense, breakdowns on D, and some white-hot shooting from Jason Kidd and Jason Terry did them in.
Dallas owned the last seven minutes of the third quarter, and continued its domination into the fourth. The Lakers tried to make a late push, but the hole was too deep. The Mavs picked up a win they were desperate to get, while the Lakers missed a chance to keep a Western Conference rival, slumping but healthier now with the return of Dirk Nowitzki, on the mat for another night. Perhaps most disappointing was the lack of pushback from the visitors. They had no answer for what became an extended run for the Mavs.