1. Knicks Still Smoking With Lin Leading Way
By Kyle Weidie
TrueHoop Network
WASHINGTON -- By the time he got to his postgame news conference, Washington Wizards coach Randy Wittman had already gotten flak from a family member about the way his team defended New York Knicks guard Jeremy Lin. His son, Ryan, had played basketball at Cornell and squared off against Lin when the Knicks' point guard was at Harvard.
"He told me that they did a much better job of guarding him than we did tonight," Wittman said after a 107-93 loss to New York. "I already had that text message before the game was over. Makes Dad feel good."
By the time the media Q&A was over, Wittman had enough Linsanity.
"I don't know how you want me to answer … Lin," he said in response to a question about John Wall's defense. "Lin played a fine game, and that's all I have to say about that."
Exit stage left.
[+] Enlarge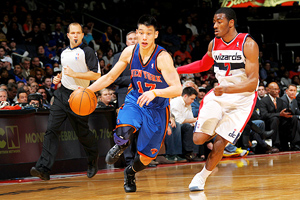 Ned Dishman/Getty Images
With Carmelo Anthony and Amare Stoudemire unavailable again, Lin chewed up the Wizards' defense with 23 points and 10 assists to lead the Knicks to a third straight victory. With shooters (Steve Novak, 5-for-9 on 3-pointers) and the impeccable screening of Tyson Chandler, a combination of which Wall seemed envious, Lin ran Mike D'Antoni's system to perfection.
"If you run enough of them, you'll find something," Lin said of the Knicks' high-screening action. "We put them through, at least, maybe 100 pick-and-rolls. They changed coverages, and we just kept attacking."
That brought trips to the free-throw line. New York had 14 more attempts than Washington, and it's probably no coincidence that Chandler went 11-for-14 from the stripe.
The departed Flip Saunders used to call his Wizards team fragile, so it's not surprising that a short-handed New York squad could be the aggressor on Washington's home court. Throngs of Knicks fans in transient D.C. combined with mass interest in Lin from the local Asian community probably didn't help the Wizards' cause.
"When you play against certain teams, you already know the crowd is against us sometimes. So we just go out there and play," said Wall, the No. 1 selection in the draft in which Lin was overlooked by every team. "You make it a game, the crowd gets on your side."
But Wall's Wizards didn't do that, the team too dysfunctional to compete with its unfriendly home confines, a breakout star and more coachable players. Wittman often likens the bad basketball habits of his players to those of nicotine addicts, so the Wizards will continue to puff away.
"I'm not really too worried about proving anything to anybody right now," Lin said when asked how he felt being called "for real" by his coach.
He shouldn't, especially not while he's smoking.
Kyle Weidie covers the Wizards for Truth About It, part of the TrueHoop Network.
2. Around The Association
Howard
Dwight Howard, Magic: On the same night the Magic's owner told reporters he doesn't want to trade Howard (see Box 9), the center demonstrated why, with a 25-point, 24-rebound performance that took down the Heat.
Rubio
Ricky Rubio, Wolves: Ricky not scoring (1-for-6 for four points)? Not too uncommon. Ricky not assisting? Now that's a first. The passing savant finished with just a single dime (a career low) as Minnesota shot just 39 percent from the field in a loss in Memphis.
If you love sports you have to love what Jeremy Lin is doing. Getting an opportunity and exploding!!

— Steve Nash (@SteveNash) February 9, 2012
"You could be watching cartoons with your kids and you don't like it, you say, 'Blame it on LeBron.' If you go to the grocery store and they don't have the milk that you like, you just say, 'It's LeBron's fault."
-- LeBron James, responding to Kendrick Perkins' critcism of the King getting all a-Twitter after Blake Griffin's jam over the Thunder center.
Stay Classy, New Orleans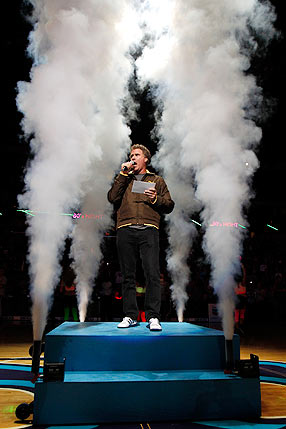 Layne Murdoch/NBAE via Getty Images
8.

Magic Owner Wants D12 To Stay
By Tom Haberstroh
ESPN.com

ORLANDO -- Magic owner Richard Devos says he wants disgruntled center Dwight Howard to stay in Orlando.
"I don't want to trade him," the 85-year-old Devos said of Howard, who is eligible to become a free agent at the end of the season.
Devos unexpectedly addressed the media in the Magic's locker room about an hour before Wednesday's game against the Miami Heat.
While players such as Jason Richardson and Daniel Orton went out of their way to greet Devos, Howard did not acknowledge the wheelchair-bound owner upon entering the locker room or during Devos' media session.
Howard has publicly requested a trade from Orlando.
"We like to think we're making headway," Devos said of talks with Howard and his representatives. "But I don't know. He probably won't know until the end, and I won't either."
Read the rest of the story from Haberstroh »
Bittersweet Return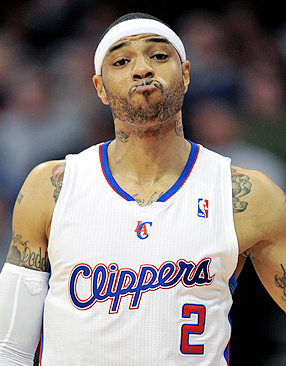 David Richard/US Presswire
By Elias Sports Bureau

LeBron James scored 17 points in 39 minutes and Chris Bosh scored 12 points in 37 in the Heat's 102-89 loss at Orlando. It was the 72nd time that James and Bosh each played at least 35 minutes in a game for Miami, but it was the first of those contests in which the two forwards of the Big Three failed to combine for at least 30 points.
---
Lin
Jeremy Lin scored 23 points in the Knicks' 107-93 win at Washington. Lin had never scored more than 13 points in an NBA game before Saturday, but he's now surpassed 20 in three straight contests. Only one other player in his second NBA season or later has ever scored 20-plus in three straight games after never having previously scored as many as 15 points.
Ronald "Flip" Murray scored at least 20 in each of his first six games in 2003-04 for the SuperSonics after appearing in 14 games for Milwaukee and Seattle the previous season, with a game-high of six points.