1. Late Stumbles Seal Celtics' Loss To Lakers
By Brendan Jackson
TrueHoop Network
BOSTON -- "One of them I didn't make the pass, the second one I just missed the shot."
It's funny how one simple sentence can encapsulate two pivotal moments in a back-and-forth overtime basketball game. A simple sentence that came from Boston Celtics captain Paul Pierce and was really devoid of any flippancy. It was purely matter-of-fact.
With less than 10 seconds to go in regulation, Celtics coach Doc Rivers called a familiar number. They would inbound the ball to Pierce, Ray Allen would set a ball screen and then flare left behind a nearly 7-foot wall built by Kevin Garnett. In this moment, Pierce has options. He can make the pass to Allen. He can take his man off the dribble. He can pass to another open teammate.
So what happened?
"I didn't make the pass."
Garnett concurred. "I don't think Paul was comfortable with throwing the pass," he said. "He picked his dribble up and time expired. It's that simple."
Unfortunately, those simple, explainable instances of failed execution weren't just limited to the deciding possessions. They were indicative of the entire fourth quarter and overtime of Boston's 88-87 loss to the Los Angeles Lakers. Both the Celtics and Lakers struggled with late-game execution, so much so that the decisive bucket came by the grace of Andrew Bynum's good genetics.
With 1:29 left in overtime, Bynum found himself in comfortable territory right in front of the rim and tipped in a miss by Kobe Bryant. A few minutes before, Bynum found himself collecting a badly missed corner 3-pointer from Pau Gasol and laying it in, solidifying the Lakers' comeback.
Bynum's ability to crash the offensive glass was the difference between the Celtics celebrating on their home floor and the Lakers creating a little momentum as they head into New York on Friday night.
While happy with the win, Bryant knows that the Lakers can't rely on their height advantage night in and night out. They have to get better at running plays at the end of games. "Our execution in the fourth is still very poor in terms of what we need to accomplish," he said.
Luckily for Bryant, he has two 7-footers to come to the rescue when the execution isn't there.
Brendan Jackson covers the Celtics for Celtics Hub, part of the TrueHoop Network.
2. Around The Association
Gasol
Pau Gasol, Lakers: With word of his All-Star snub coming down right before tipoff, Gasol went out and played like an All-Star, finishing with 25 points, 14 rebounds and one game-saving rejection in the Lakers' OT win in Boston.
Garnett
Kevin Garnett, Celtics: KG's accuracy was scarier than his mean face. Garnett missed his last nine shots from the field and finished with 17 misses overall, the most he has had in a single game in more than eight seasons.
Luol Deng ranks 53rd in PER and missed a quarter of his team's schedule. Let's put him in the All-Star Game.

— John Hollinger (@johnhollinger) February 10, 2012
"You got to scrape the plate. As long as I'm playing, the goal is to win championships. Anything else is just not an option."
-- Kobe Bryant, who, despite being a meal-finishing enthusiast, is still hungry for another ring
8. Power Play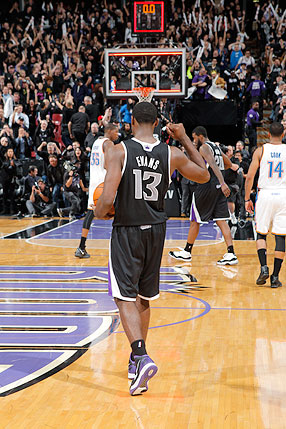 Rocky Widner/Getty Images
Tyreke Evans scored 22 points as the Kings rallied back in the fourth quarter to top the West-leading Thunder at Power Balance Pavilion in Sacramento.
By Elias Sports Bureau

Five Rockets subs scored in double-figures in Thursday's 96-89 win at Phoenix. It was only the second time since the Rockets moved to Houston in 1971 that five players came off the bench to score at least 10 points in the same game. The first time was in a blowout victory over the 76ers in 1993.