1. Heat, Spoelstra Searching For A Spark

By Brian Windhorst
ESPN.com
Archive
MIAMI -- Like his mentor Pat Riley, Erik Spoelstra's suits are impeccably tailored and pressed and there's almost never a hair out of place. He's regimented the Miami Heat's routine and is forever creating themes and talking points to try to keep his players focused and motivated.
But in the wake of the Heat's 105-96 loss to the Portland Trail Blazers on Tuesday night -- the Heat's unexpected fifth defeat in a row and sixth in eight games since the All-Star break -- Spoelstra the rock turned into Spoelstra the uncertain.
"Frankly, we don't have a lot of answers how to get over this hump," Spoelstra said. "The only thing we can do is to keeping on grinding and not let go of the rope."
Spoelstra accentuated each of those last five words, but it wasn't clear if it was for emphasis or because it was a plea. His actions said enough.
For the second consecutive game, Spoelstra left LeBron James in for the entire second half of a loss. This time he added Dwyane Wade to the same role, with each playing more than 42 minutes. He used some lineups in the fourth quarter that he hasn't used all season, all in what is starting to look like a desperate search for something to shake the Heat from their high-profile doldrums.
"I was trying to find anything that would spark us," Spoelstra said. "I'll look at everything A-to-Z, I'll promise you that."
So far, the Heat haven't been keeping many of their promises. Their struggles repeatedly stem not from effort level or even execution, but from the inability to function as a team.
James and Wade were relentless and dominant at times in the loss, combining for 69 points, 17 rebounds and 13 assists. The Blazers, however, had the better team performance and it directly led to their victorious formula in stark contrast to the Heat's display.
It exactly fit the trend both teams are on. The Blazers showed off their depth and growing confidence on the road. The Heat demonstrated they have no margin for error when one of their "big three" has a bad night because there's little support from the role players.
Portland had five players in double figures, led by LaMarcus Aldridge's 26 points, and got baskets from six different players in the fourth quarter, as the Heat struggled to cover all the Blazers' options. The Trail Blazers have now won four consecutive games and seven in a row on the road, the team's longest streak away from home since 1991.
"I feel like this was a game that people thought [the Heat] would win," said Brandon Roy, who had 14 points on the bench in proving his knees could hold up on a back-to-back. "We thought it was a winnable game."
After James (31 points) and Wade (38), the Heat didn't have much. Chris Bosh struggled, scoring just seven points on 3-of-11 shooting, and Miami's bench was outscored by an insurmountable 41-8 margin. Over and over in their recent losses, the Heat have looked like they simply don't have enough to compete with the top teams in the league.
Computing that has been hard for a team that knew it didn't have great depth, but believed three All-Stars plus some proven role players would be devastatingly effective. It has been good at times but almost never under any sort of stress.
"We need a little bit more from everybody," Spoelstra said. "When you're in a vortex like we are right now, everybody has to give a little more commitment, a little bit more sacrifice, a little bit more effort, a little bit more attention to detail."
The problem is, there may not be a whole lot more to give.
Bosh has been inconsistent, and after the loss said he was unhappy with his role in the offense, hoping for more low-post opportunities. This is odd considering Bosh said in the preseason he didn't want to play close to the basket as much.
Mike Miller is mired in a slump -- he's just 1-of-12 shooting in the past two games -- already in the middle of the worst season of his career. There's little doubt, by looking at his career-low 41 percent shooting, that the broken right thumb he suffered in training camp is limiting him. He's playing tentatively because of it, twice having his shot blocked Tuesday on meek drives to the basket.
Mike Bibby, expected to be the most impactful addition of the buyout season, has yet to experience a win yet with the Heat. He's just 5-of-15 shooting in his four games since signing.
James Jones has made one 3-pointer in the past seven games. Joel Anthony has a total of 14 rebounds since the All-Star break.
Udonis Haslem isn't even running yet as he recovers from a November foot injury. Counting on him for any contribution this season seems like just a hope, not a reality.
At some point, it is expected that all of those players will perform at a higher level. But it was also expected that each member of the supporting cast would be steadier throughout the season, an issue that has been nagging the team for months. It is a big reason Spoelstra seems like he's at wits' end.
"You've got to take yourself out of the moment," Wade said. "After the game you are frustrated and you have to look at the film and look and see what's the problem. Right now, I just want to see positivity. We all need to stick together and stay together."


NBA Writer Brian Windhorst
• On Twitter @WindhorstESPN | On ESPN.com
• Follow ESPN's NBA coverage on Twitter | On Facebook | On Google+
Dimes past: Feb. 15 | 16 | 17 | 18 | 23 | 24 | 25 | 28| March 1 | 2 | 3 | 4 | 4-6 | 7 | 8
2. Jackson: "Big Boys Don't Cry"
By Dave McMenamin
ESPNLosAngeles.com

Jackson
ATLANTA -- Los Angeles Lakers head coach Phil Jackson tried to bite his tongue.
When first asked about the Miami Heat's recent struggles, including the revelation by head coach Erik Spoelstra that players were crying in the locker room following their loss to the Chicago Bulls on Sunday, Jackson didn't have much to say.
"It's just drama," Jackson said after the Lakers' shootaround Tuesday morning in Atlanta. Jackson then referred reporters' Miami-related questions to assistant coach Frank Hamblen, because Hamblen was responsible for scouting the Heat for Thursday's game. Jackson wanted to focus on the Hawks game at hand.
The Heat were brought up again during Jackson's pregame media session Tuesday night, however, and this time the Hall of Fame coach couldn't help himself from tweaking the talented bunch from South Beach.
"This is the NBA: No Boys Allowed," Jackson said. "Big boys don't cry. But, if you're going to do it, do it in the toilet where no one can see."
This came seconds after Jackson tried to deflect the reporter's question by saying, "People cry in locker rooms, yes, [but] I don't want to talk about Miami's situation."
3. Daily Dime Live
Zach Harper, TrueHoop bloggers, ESPN.com's NBA crew and DDL regulars hold forth and give their in-game opinions on all topics throughout Tuesday's slate in Daily Dime Live.
4. Hollinger's All-2012 Team
By John Hollinger
ESPN.com

Hansbrough
Tyler Hansbrough, Pacers
Hansbrough did virtually nothing the first two months and briefly fell out of the Indiana Pacers' rotation entirely, but lately his play has been more encouraging. One thing new Indiana coach Frank Vogel did was give Hansbrough a consistent role, playing him about half the game off the bench at power forward. That strategy has allowed Hansbrough to play more freely on offense, and he's averaging nearly a point every two minutes on the season and proving adept at drawing fouls. But to be a long-term starter, he needs to raise his shooting percentage from 43.0 percent.

Eyenga
Christian Eyenga, Cavaliers
This is more a subjective call than a stats-based one, but "Skyenga" can fly and needs to only add experience to become, at the very least, a quality defensive player. He didn't see any game action until January but has taken over the starting role at small forward. While his offensive game is a work in progress, his quickness and elevation defensively put him in stark contrast to most of his teammates. Eyenga's dunks get the attention right now, but it's his defensive potential that bodes best for his future.
• Read the rest of Hollinger's PER Diem

By Justin Verrier
ESPN.com

Warrick

Carter
TUESDAY'S BEST
Suns shining: In his first start for the Suns, Hakim Warrick dropped in a career-high 32 points. Not to be outdone, Vince Carter -- who has surpassed 30 points just once in an up-and-down 2010-11 -- scored 32 of his own, including 15 in the fourth quarter of a 113-110 Phoenix win.
---
TUESDAY'S WORST

Johnson
Ice-cold Joe: After a strong first half, hitting four of his five field goals, the Hawks' $124 million man froze up from the floor, missing the mark on all nine of the shots he hoisted after halftime as the Hawks were grounded by the Lakers, 101-87.
---
TWEET OF THE NIGHT
C-Webb on NBA TV: Heat have to go 18-0 down stretch to match last year's Cavs team record.10:30 p.m. ET via HootSuite
Chris Ramsay
C_Ramsay
---
QUOTE OF THE NIGHT
"This is the NBA: No Boys Allowed. Big boys don't cry. But, if you're going to do it, do it in the toilet where no one can see."
-- Lakers coach Phil Jackson, with some sharp words for the team in South Beach.
---
7.

Heat Burned On Defense
By John Krolik
TrueHoop Network

One of the first things Erik Spoelstra did as the coach of the Miami Heat was instill a defense-first mentality in his team. Even with players as talented as LeBron James, Dwyane Wade and Chris Bosh, it's much easier to be consistent defensively than it is on offense. The Heat's offense has been up and down this season, but they were able to ride their aggressive, intense defense to one of the best records in the Eastern Conference.
During this losing streak, the Heat's defense hasn't been there. The Heat were torched from beyond the arc by both the Orlando Magic and the San Antonio Spurs, and couldn't get key stops when they needed them against the Chicago Bulls.
On Tuesday night against the Portland Trail Blazers, the Heat played well enough offensively to win the game. Wade and James were clicking perfectly on offense, and even with both Bosh and the bench giving the Heat almost nothing, Miami was able to shoot 52 percent from the field for the game.
Unfortunately for the Heat, their defense was never good enough for them to control the game at any point. The Heat gave up 57 points in the first half, and their defense made the question of whether LeBron or Wade should be the offensive closer temporarily moot.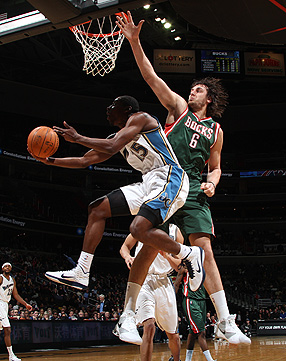 Ned Dishman/NBAE/Getty Images
In just his seventh game since being shipped from the Atlanta Hawks to Washington Wizards, Jordan Crawford dropped in a career-high 22 points in a loss to the Bucks.
9.

Lakers Shut Down Hawks
By Andy Kamenetzky
ESPNLosAngeles.com

On several counts, it was another outstanding effort from the Los Angeles Lakers. Individually, several players brought their A-game. Andrew Bynum continued his reign of terror, blocking three shots, altering several other shots he couldn't get his paws on, and snagging 12 defensive rebounds (16 in all). Derek Fisher drew a pair of charges (one against Joe Johnson away from the ball), deflected a pass to create a turnover and got a steal while backpedaling in transition to prevent the kind of buckets the Atlanta Hawks' offense desperately requires. Ron Artest hounded Johnson into a miserable 11-point, 14-shot performance. Allowed barely an inch to operate, Ron-Ron's pressure also helped induce the Atlanta wing into three turnovers.
And so on and so forth.
Fruit was also harvested through group effort. The Hawks were held to just 16 third quarter points and the Lakers forced a few 24-second violations. And specifically, two possessions heavy on teamwork grabbed my attention.
First, when the combination of Artest crowding his hip and Gasol cutting off the lane (while still tracking his own man via peripheral vision) forced Johnson to awkwardly give up the ball. Fisher deflected the errant pass, creating a Hawks turnover. Later in the game, Smith got Bynum in the air on a fake, but Kobe came out of nowhere to provide the weak-side block. With little time left on the clock, Gasol provided an outstanding challenge to bother Johnson into an air-balled 3-pointer and a 24-second violation.
Time and time again, the Lakers kept the Hawks on their heels and out of rhythm.