1. Bynum's Knee Question Looms Largest Now

By J.A. Adande
ESPN.com
Archive
LOS ANGELES -- It turned out that Tuesday's Lakers-Spurs game -- even with the Lakers unable to catch the Spurs atop the Western Conference and the Spurs uninterested in playing their trio of stars -- still could prove to be the turning point of the NBA season. It all depends on the outcome of an MRI exam to be performed Wednesday on the right knee Andrew Bynum hyperextended during the game.
Bynum will not play in Wednesday's season finale at Sacramento.
On his way out of the arena after the game, Bynum told reporters that the injury was "painful when it happened, but it's not that bad right now."
"He could be out a couple games," Los Angeles Lakers coach Phil Jackson said. "Could be a bone bruise involved. But his reassurance was, 'I'm going to be OK.'"
That's all Lakerland has to go on for the moment. And it's not as if there's plenty of other reason for optimism. Nothing in the Lakers' play of late has resembled a team that should even be discussed in championship terms, including this 102-93 victory over the San Antonio semi-Spurs that snapped a five-game Lakers losing streak. They're clinging to the belief that the playoffs will inspire some better performances, something along the lines of the 17-1 stretch they ran off after the All-Star break, a run of stellar basketball that hinged on the dominant defense and rebounding of Bynum.
Which is why the thought of them trying to go through these playoffs without him -- something that entered everyone's mind at Staples Center when they watched him slowly walk off the court -- alters the entire view of the playoffs. Take away Bynum and you take away the advantage the Lakers have over everyone else.
With just more than eight minutes remaining in the second quarter Bynum was running back on defense when he stepped on DeJuan Blair's foot and his right knee buckled. Yes, that knee. The one with the big black brace on it. The one he had surgically repaired last summer.
Bynum sat on the ground, his knees up by his chest as if he were back in kindergarten. He stayed there while Kobe Bryant shot a technical free throw at the other end of the court. Finally Bynum got up, checked out of the game and went straight to the locker room.
The Lakers also were without Matt Barnes, who missed the game with a sore right knee and won't travel to Sacramento. Steve Blake has chicken pox and is out indefinitely. The Lakers still need another victory to secure the No. 2 seed in the West and home-court advantage in the second round of the playoffs.
The Lakers hadn't been able to beat anyone lately even with their lineup intact. And they struggled against the Spurs with San Antonio's starting lineup sitting on the bench all night. Tim Duncan and Manu Ginobili wore street clothes, and Tony Parker wore Spurs sweats over a uniform that he never got sweaty. Antonio McDyess sat out as well.
San Antonio started a lineup of Gary Neal and George Hill at guard, Tiago Splitter and Richard Jefferson at forward and Blair at center. And they didn't play those "starters" nearly as much as the Lakers played their starters. So much of the game featured Lakers starters against the Spurs' third team, and still the Spurs stayed in it until the final minutes, keeping the outcome of this game in doubt much longer than it should have been, forcing Jackson to use his key players far more than he intended with a back-to-back game looming.
That's why it almost felt like a victory for the Spurs.
This was going to be about them, but they once again found a way to get overshadowed. They're the No. 1 seed in a very competitive Western Conference, yet you never hear them mentioned as championship contenders. People are projecting a Lakers-Thunder conference finals as though San Antonio has no say in the matter.
"I think we just get in the way of the conversation at times," Spurs coach Gregg Popovich said. "I kind of get a kick out of it. It's always about somebody else. For whatever reason, we just don't engender that much attention. I think it's the way we carry ourselves. It's the way we like it."
Popovich has coached four championship teams, so he knows what they look like. I asked him if this team had the look of a champion.
"I think we can play with anybody," he said. "The question for us is if we can stay healthy and last the whole playoff series against these young, healthy, athletic, deep teams.
"You look at the Portlands and the Oklahoma Citys and people who haven't been in the finals of the Western Conference yet and they're on their way to doing it, and they're a bear. They're a bear for us, for the Lakers, for the Celtics, for anybody. We've got a lot of really good young teams out there and they're all breaking through."
That doesn't exactly make you want to fly to Vegas and take advantage of an undervalued Spurs team, does it? Sure, Popovich would be the last one to play his own saxophone. But I get the sense he really doesn't see his team as the favorite. If he didn't, he wouldn't have gimmicked up the offense and had his team taking all those 3-point shots. Not if he thought his team could just line up and beat people.
But he threw out the B version of his team and almost beat the Lakers on Tuesday night. The Lakers are the ones who have the greater injury concerns right now.
The once-anticipated showdown for Western supremacy didn't materialize. What did emerge were more doubts about the Lakers, even in the wake of their first victory in 11 days.


ESPN senior writer J.A. Adande
• On Twitter @jadande | On ESPN.com | On TrueHoop | On e-mail
• Follow ESPN's NBA coverage on Twitter | On Facebook | On Google+
Dimes past: March 24 | 25-27 | 28 | 29 | 30 | 31| April 1 | 2 | 6 | 7 | 8-10 | 11 | 12
2. Grizzlies Seem Content To Finish Eighth
By John Hollinger
ESPN.com

PORTLAND, Ore. -- For the first time in my career, the final question came from a coach and not a reporter.
"Anyone want to ask about the game?" said Memphis Grizzlies coach Lionel Hollins. When his request was met by the sound of crickets chirping, he stormed off.
Nobody asked about the game because Memphis's 102-89 loss to the Portland Trail Blazers was determined before tipoff, when the Grizzlies opted to sit Tony Allen and Zach Randolph to rest them for the playoffs. Presumably they both will sit out Wednesday's season finale against the Los Angeles Clippers as well, with a Memphis loss assuring the No. 8 seed and a first-round matchup against the San Antonio Spurs … and guaranteeing Memphis won't play the Los Angeles Lakers.
"I didn't want to play Zach these last two games," Hollins said, "because I want to get him rested, fresh. He hurt his elbow, he's got the bad knee, and I just didn't want him banging for two more games when we've got the playoffs."
"Tony Allen is hurt," Hollins insisted. "His knee and his ankle both swelled up on him last game. He's had injuries all year long, but he's been able to play through them. I didn't want him to play through them tonight."
Hollins answered a follow-up question about playoff seedings influencing the decision more angrily. "Tony Allen is hurt. Do you understand English? If it was back in the regular season or a playoff game he would have tried to play. I don't know how effective he would have been. He would have played if I had let him, but it doesn't matter tonight to play when we have a second season."
In other words, Allen was hurt, but he could have played if it was either earlier or later, and he could have played today, too, but he didn't … got it?
Obviously, playoff matchups figured into this decision at least as much as injuries. The Grizzlies could have put themselves as high as No. 6 in the Western Conference standings with wins in their final two regular-season games, and seemingly would have had a better chance of drawing one of the two potential opponents they match up extremely well against -- Dallas and Oklahoma City, both of which they beat in three out of four games this season.
Instead, the Griz appeared to focus on the worst-case scenario (facing the Lakers) to the exclusion of the best scenario (actually winning a playoff round), and now will possibly land in a difficult 1-vs.-8 series against a 60-win team. What made it odd was that Allen and Randolph both seemed less than mortally wounded at shootaround earlier in the day.
Perhaps I'm being unfair; certainly health is paramount in the postseason, and Memphis did kind of, sort of try to win the game with its other players. (The best players started, but the scrubs all saw extensive duty; Ish Smith, Greivis Vasquez and Hamed Haddadi played a combined 50 minutes).
Nonetheless, it was an odd conclusion to the three-way chase for the sixth position in the Western Conference. And on this night, the thinking behind it was of far more interest than what happened in the game.
3. Daily Dime Live
Zach Harper, TrueHoop Network bloggers and fans give their in-game opinions on all topics throughout Tuesday's slate of NBA roundball talk in Daily Dime Live.

TUESDAY'S BEST
The Resting Spurs:
Even with a chance to lock up the NBA's No.1 record, the Spurs sat their stars against the Lakers. Manu did not get hurt on a step-through drive; Tim Duncan's knees remain intact. It's dangerous out there (see Bynum, Andrew). Now the Spurs' creaky statesmen will break out the WD-40 for the playoffs.
---
TUESDAY'S WORST

Bynum
Sinking Feeling In Los Angeles: When Andrew Bynum hit the deck, so did more than a few hearts in Lakerland. While Phil Jackson was reassured by Bynum that he would be all right, the Lakers could begin the playoffs with him hobbled.
---
TWEET OF THE NIGHT
---
QUOTE OF THE NIGHT
"It was painful right when it happened but it's not that bad right now."
-- Andrew Bynum, who suffered a hyperextended right knee in the second quarter of Tuesday's 102-93 win against the Spurs when he stepped on DeJuan Blair's foot, causing Bynum's knee to buckle.
---
By Chris Sheridan
ESPN New York

Anthony
NEW YORK -- The New York Knicks wanted to win this one. Really, they did.
Well, kinda sorta really.
It looked like they wanted to win it when coach Mike D'Antoni made the decision to reinsert Carmelo Anthony and Chauncey Billups into the game with 6:33 remaining and a 21-point deficit had been (thanks to a 26-2 run by the Chicago Bulls to begin the second half) whittled down to 12.
But just two minutes and one second later, the smarter half of D'Antoni's brain took over and he took both players out, resigned to the fact that this game truly was meaningless in the big scheme of things and it was time to shut those two down.
The real thing happens this weekend, and this was no time to take a chance on having a freak injury (like the one that happened to Chicago's Ronnie Brewer in the second quarter when he sprained his thumb diving for a loose ball) affect the most important game the franchise will play in seven years.
"We wanted to win. We wanted to play well, and I thought the first half we played real well," D'Antoni said after the Knicks dropped a 103-90 decision to the Eastern Conference-leading Bulls. "I was going to leave Carmelo and Chauncey out, but then you kind of want to be competitive, and it got the best of me. They were a little stiff, so I should have left them out, but Chicago's a good team and they keep coming at you in waves."
But Chicago will not be a concern for the Knicks unless both teams make it to the Eastern Conference finals. No team other than the Boston Celtics will matter for the next two weeks as New York prepares for its first playoff appearance since 2004.
New York will wrap up the regular season in Boston on Wednesday night, perhaps getting Amare Stoudemire some run after he missed the past three games with a sprained ankle, but the finale will be even more of a doesn't-matter game than Tuesday night's affair was.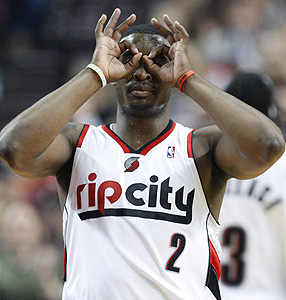 AP Photo/Rick Bowmer
Trail Blazers guard Wesley Matthews celebrates a 3-pointer during his team's 102-89 win over the Grizzlies.

Rose
Derrick Rose scored 26 points Tuesday, giving him more than 2,000 for the season. Rose is only the third player in the past 30 years to have 2,000 points and 600 assists in one season. LeBron James did it in 2009-10 and Michael Jordan did it in 1988-89.