1. Kobe Stands Firm, Lakers Gain Edge

By J.A. Adande
ESPN.com
Archive
LOS ANGELES -- Guess there was no need for Kobe Bryant to get an X-ray or MRI on his sprained left ankle. You could've asked Emeka Okafor or Carl Landry or any other member of the Hornets and they'd say it checked out fine.
Talk about resonance. The waves from Bryant's soaring dunk over Okafor in the second quarter could be felt all over Staples Center. The crowd went from nervous quiet to energized roar. Bryant came back with a layup to erase the Hornets' last lead of the game, and the Lakers were on their way to their most convincing victory of this first-round series, 106-90, to put them up 3-2.
"All this talk about his ankle," Hornets coach Monty Williams said. "Did it look like his ankle was hurting? OK then."
To watch the final three quarters of Game 5 was to wonder why there was any concern about the Lakers at all. An athletic Kobe, a physical front line, a strong bench led by Sixth Man of the Year Lamar Odom ... this looked like the team that was supposed to sweep the Hornets out of the first round.
"We played better tonight," said Ron Artest, whose offensive consistency throughout this series is as stunning a development as his receiving the NBA's J. Walter Kennedy Citizenship Award six seasons after creating one of the league's darkest moments with his foray into the Palace stands. "We played ... young."
No one looked more youthful than Bryant, who also had something for Landry when he dunked left-handed over him in the third quarter.
"It was like he had his Afro back," said Shannon Brown.
It was a far cry from the look Bryant had when he left New Orleans Arena on crutches after spraining his ankle late in Game 4 Sunday night. Or from his non-impactful play in his one-point first quarter Tuesday night.
He said he opted not to have tests on the ankle because it didn't feel broken.
"And even if it was, it wouldn't have mattered," Bryant said. "I would have played anyway. So it was a waste of time. I would've had to go all the way up there and do that and then sit in 405 [Freeway] traffic for two hours."
You could have waited two months in stretches of this season and not seen the type of athletic plays from Bryant that he made in this game.
"It's there," Bryant said. "It's not something that I want to do all the time -- especially for an 82-game season. But it's there."
We can understand why Bryant, in his 15th season, picks his spots to take off. What remains mysterious is why the rest of the Lakers seem equally selective when it comes time to box out or scrap for loose balls or impose their will.
They allowed the Hornets to grab 12 offensive rebounds and score 20 second-chance points in Game 4. New Orleans scored 52 points in the paint in winning the opening game in Staples Center.
The Lakers controlled all of those categories in Game 5, with 42 points in the paint, a 42-25 rebound advantage and 22 second-chance points.
"We should do that all the time," said Pau Gasol, who didn't have to worry about Kobe glaring at him the entire flight to New Orleans thanks to his 16 points and eight rebounds. "We should play like that all the time. Tonight it was definitely a game that we needed to play physical and control the boards and use our bodies."
It wasn't even there in the first quarter, when the Hornets took it to the Lakers, shooting an absurd 81 percent, and Paul matched the most assists in a quarter by a Lakers playoff opponent (eight).
But with reserves Brown, Odom, Matt Barnes and Steve Blake on the court with Gasol to start the second period, New Orleans' nine-point advantage quickly became a one-possession lead that seesawed back and forth.
Bryant played less than 8½ ineffective minutes in the first quarter before Jackson yanked him (without the use of the Apollo Theater hook he joked about using before the game).
"Better get him off the floor," was the thought process Jackson revealed afterward. "He's a liability."
Bryant conceded that even after nonstop treatment over the previous 48 hours, the ankle still felt stiff in the early going.
"I had a hard time moving," Bryant said. "Liability's kind of strong."
Apparently the ankle was kind of strong, as well. And it looked fully operational when he drove down the lane and dunked on Okafor.
"I wasn't expecting him to do that," Okafor said. "It kind of surprised me. I wasn't preparing myself for a dunk.
"It just was the last thing on my mind. It caught me by surprise. I was expecting him to try some tricky stuff. My mind said, 'Stay on your feet, don't foul.' He cocked back, and by the time I realized, it was too late."
Bryant unleashed a 12-point quarter, accounting for all but seven of his points. The Lakers had a halftime lead that they continued to stretch throughout the second half. He played only 28½ minutes, but that was enough for him to score the most among the six double-digit Laker scorers. Balance and defense, the traits that led to the 17-1 stretch after the All-Star break.
The return of the Lakers was almost too late to avert a perilous 3-2 series deficit to the Hornets. There's still no promise they'll carry this to New Orleans. They've responded only when they felt threatened in this series, and now they have a cushion of a seventh game at home if necessary.
Jackson knows better than to take this type of performance as a sign of things to come.
"You hope for it," Jackson said. "You don't expect it."
The Lakers don't always know when they'll access it. But they were reminded Wednesday night of what they can do. They also saw it in Bryant's elevated play and in his words after.
It's there.


ESPN senior writer J.A. Adande
• On Twitter @jadande | On ESPN.com | On TrueHoop | On e-mail
• Follow ESPN's NBA coverage on Twitter | On Facebook | On Google+
Dimes past: April 8-10 | 11 | 12 | 13 | 14 | 17 | 18 | 19 | 20 | 21 | 22| 23 | 24 | 25 | 26
2. Magic Team Shows Up At Last
By Michael Wallace
ESPN.com

Howard
ORLANDO, Fla. -- So now it officially becomes a guarantee, because Dwight Howard said so.
With the Orlando Magic down 3-1 and facing elimination entering Game 5 at the Amway Center, Howard essentially told reporters after Tuesday's shootaround that his team would be advancing.
Well, that is under one obvious condition.
"If we get one win," Howard said, "we're going to win the whole thing."
As guarantees go, that wasn't exactly Broadway Joe delivering the underdog New York Jets a victory in Super Bowl III. Howard's version was more of a definitely, maybe.
He gave himself an outlet path with the "if."
But then his teammates finally gave him an outlet pass -- a much-needed assist after four games of struggles to stave off elimination with a 101-76 victory. The Magic have at least guaranteed themselves a Game 6 appearance in Atlanta on Thursday night.
For the first time in this series, Howard's words were his biggest game-day contribution. The Magic got the one victory they needed on a night when Howard made just one field goal and finished with eight points and eight rebounds in 29 minutes.
Statistically, Howard wasn't a factor for the first time in a series in which he averaged 32.3 points and 17.5 rebounds in 45.3 minutes over the first five games. From an emotional and leadership standpoint, he was still the most dominant player in the building.
3. Daily Dime Live
Zach Harper, TrueHoop Network bloggers and fans gave their in-game opinions on all topics throughout Tuesday's slate of NBA playoff talk in Daily Dime Live.
TUESDAY'S BEST

Bryant
Kobe Bryant, Lakers:
With his ankle a question mark and his team in an uncertain place battling the Hornets late in the second quarter, Kobe's slam over Emeka Okafor lifted the Lakers' spirits and just might be the turning point.
---
TUESDAY'S WORST

Johnson
Joe Johnson, Hawks: Shoots 2-for-12 en route to five points in the blowout loss to the Magic. Could Atlanta's $119 million man just be saving something for Game 6 at home? ATL hopes so.
---
TWEET OF THE NIGHT
This is when I hate being a fan....12:50 a.m. ET (during Lakers-Hornets game) via web
Favorite
Retweet
Reply
Steve Nash
SteveNash
---
QUOTE OF THE NIGHT
"The refs never catch what he did ... it's cowardly. And I'm going to say something about it. I wanted to say something about it all the way to the game was over. I just don't think the game should be played that way. You can play hard and fight and battle, but when you start cheap-shotting people it gets out of hand."
-- Pacers forward Danny Granger, on Joakim Noah's entanglement with Josh McRoberts
---
By Jackie MacMullan
ESPN Boston

Green
So here it is: Jeff Green's opportunity to be truly welcomed into the fold.
Since the wildly popular Kendrick Perkins was shipped to Oklahoma City at the trading deadline, discerning New Englanders have stood stiffly with their arms folded and lips pursed waiting for proof that Green's presence enhances the Boston Celtics' chances of still being "championship driven."
The evidence has been spotty. Green hasn't been horrible, nor has he been electric. Initially, he appeared alternately confused and overwhelmed, yet displayed moments in the opening playoff round against the New York Knicks when he exhibited glimmers that validate the value of the trade: an aggressive run at the rim, solid minutes bodying Carmelo Anthony while Paul Pierce earned a respite, a rebound in traffic when he elevated and displayed his athleticism.
His teammates contend Green has grown more comfortable with his role in the past two weeks. He was a starter averaging 37 minutes a night with the Oklahoma City Thunder and has been asked to adapt to coming off the bench to spell two future Hall of Famers, as well as morph into the go-to guy when the reserves are assembled together on the floor.
He was clearly pressing earlier in the season to generate some scoring. A lack of any significant practice time forced him to learn the Celtics' offensive sets on the fly. Now, with a full week to prepare for an almost certain date with the Miami Heat, that excuse will be moot.
• To read the rest of the column, click here »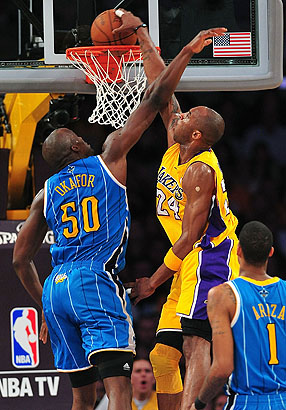 Gary A. Vasquez-US PRESSWIRE
What ankle sprain? Kobe Bryant's dunk over Hornets center Emeka Okafor served notice that KB was not ready for a wheelchair quite yet.
8.

Bulls Show Finishing Touch
By Melissa Isaacson
ESPN Chicago

Bogans
CHICAGO -- Frank Vogel had evidently thought it through and it sure sounded good hours before Game 5 of the Indiana Pacers' first-round series with the Chicago Bulls.
"When history is written about this series and this team," the Pacers coach said he told his team Tuesday morning, "they won't view this as the perceived mismatch that it was coming into this series."
The caveat, of course, was that the Pacers would continue to exert the strong will and unbridled intensity that had them outplaying the Bulls for most of their first four games, despite Chicago's 3-1 series lead.
And that scenario left no room for the Bulls to actually display a shred of pride before it was over.
Whatever the motivation, it was indeed an entirely different Bulls team that showed up at the United Center on Tuesday, burying the Pacers and moving onto the Eastern Conference semifinals with a convincing 116-89 victory.
"I think their coach was just trying to get them fired up and ready to play," said Bulls guard Keith Bogans, who pumped in 15 points on 5-of-7 3-point shooting. "But also we heard it, so it got us fired up and ready to play."

The Bulls advanced to the Eastern Conference semifinals with a 116-89 victory over the Pacers in which Chicago outscored Indiana by 34 points in Joakim Noah's 32 minutes of playing time. (Do the math and you'll notice that the Pacers topped the Bulls by seven points with Noah on the bench.) It was the first time that the Bulls outscored their opponent by at least one point per minute of playing time by any of its starters in a playoff game since -- you guessed it -- Michael Jordan was plus37 in a 36-minute performance against Indiana in the 1998 Eastern Conference finals.