1. Rondo's Fall And Rise Inspires Celtics

By Brian Windhorst
ESPN.com
Archive
BOSTON -- From the top down, the Miami Heat were guilty of a critical mistake in their approach to Game 3 of their series with the Boston Celtics. With a nice lead and too many days to let it dull them, they forgot how hard their task actually is.
Taking a lead on the reigning East champions and beating the East champions are two very different accomplishments. The space between slapped the Heat across the face Saturday night, yanking them back into reality. Beating Boston is going to be hard, outrageously hard.
You could make some sort of movie reference to personify this depending on your rooting interest, be it the villain in a horror flick refusing to die or the hero in a boxing film rising off the canvas. But you don't need to: Rajon Rondo did it better than Hollywood could have in the Celtics' 97-81 Game 3 victory.
This will be known as the "Rondo Elbow Game" in Celtics lore.
Its place among all the other volumes of rich Boston history is yet to be determined. Unless the Heat respond to the renewed pressure, it'll turn into the stuff they make documentaries about. The opening credits might even feature this Rondo line: "I just need two legs."
Rondo was more than hurt, he said he felt "broken" after a stomach-churning fall that dislocated his left elbow. His only backup, Delonte West, had just taken a numbing injection to handle his own arm injury.
However, the Celtics are the East champs and they are certainly defending, so they both just kept playing. Who knows if they'll be able to play in Game 4 on Monday -- that didn't concern them. All that mattered was winning this one, an emotion the Heat just didn't act like they were ready for.
So Rondo came back, his left arm dangling by his side, and he continued to outplay and outfight the punch-drunk Heat.
"This is it," said Kevin Garnett. "This is all-in."
It was, from Rondo's beyond-gutty one-armed return to the floor to Paul Pierce's leadership from the start to Garnett's throwback performance.
Meanwhile, Chris Bosh was bashful. His coach, Erik Spoelstra, partially explained Bosh's puny six-point, five-rebound performance on a "slightly pinched nerve" in his neck after Bosh woke up with some discomfort. Bosh might've wished his coach hadn't mentioned it, claiming a crick in the neck on a night when Rondo called to mind Willis Reed wasn't going to help matters.
"I had a bad game, those are going to happen," Bosh said. "I'm not going to make any excuses. It is what it is and nobody cares about it."
After getting outplayed by a looser Bosh in Games 1 and 2, Garnett had 28 points and 18 rebounds, wailing away on Bosh and whoever else the Heat put on him like Garnett was in his prime again.
As he lumbered down the floor late in the third quarter, the time when he's usually getting rest, Garnett looked over to the Celtics bench and asked for the ball to keep coming to him. Boston coach Doc Rivers could see Garnett's head bobbing and a hitch in his gait, the classic signs of fatigue. But Rivers kept punching his fist in the air, the play call for the ball to go to Garnett in the post. He had to -- this was all-in, as Garnett said.
The Garnett-Bosh dichotomy told the tale of the game. LeBron James wasn't ready for Pierce's intensity and was generally outplayed beginning to end. Dwyane Wade had his worst playoff game against the Celtics in the last two years. Spoelstra's plan to stick to his flawed starting lineup for stability's stake finally went in the gutter. But the soul of the game and the Celtics' intention to fight in this series was with Rondo.
He was lying on the court in the third quarter, his breathing shallow and inconsistent. Garnett got to him first and all he could do was beg him to relax and instruct him to breathe.
"I saw his face," Garnett said. "I knew he was kind of beat up. I was just trying to give him some confidence at that point."
The Celtics were playing great, going from the danger zone of being down two at the half in what was essentially an elimination game, to surging to a 10-point lead in the first five minutes of a momentum-flopping second half.
Now, though, the gym was quiet. The Heat were trying to huddle and regroup -- they were getting slammed and had many things to discuss -- but Wade knew the only thing they wanted to talk about: Rondo's elbow. Wade had seen it first hand.
Rondo and Wade had crashed to the floor together in a tough play that turned into a foul that turned into a fall that turned into a terrible injury. The ball was loose and Wade tried to hold Rondo back, knowing if the Celtics' guard got the ball it was going to be two points. The Heat, facing a push they ended up not being ready for, couldn't afford it.
So Wade held Rondo back, wrapping his right arm around Rondo's waist. But the crashing of strength got Wade off balance. The first thing to buckle was Wade's left leg, sending him to the court. Then the arm pulled Rondo down, too, a loose-ball foul in progress. The officials saw it and called it. Others might call it differently.
But Rondo wasn't ready and threw his left arm back to break his fall. Too far back, as it turned out. The rest is for the doctors to explain but it was bad, quite bad.
"I'm not a dirty player, it's physical," Wade said. "Everyone falls to the ground, everyone gets hurt, people get up."
Rondo did with help and after some treatment returned to the floor to run, defend, dive and inspire. He had a steal and a dunk and a few slick assists when he came back, the crowd at TD Garden knowing they were seeing an unfolding story they would tell for years.
Let the record show Rondo had six points and 11 assists, but it didn't feel like it, it felt like twice that to the Celtics and their crowd.
"I fed off the crowd's energy and my teammates out there playing well," Rondo said. "I just wanted to play and be a part of it."
As Rondo was claiming no pain and "no excuses," the Heat displayed all the classic signs of a shell-shocked road team. There was the drop in aggression, the periods of emotionless play, the stand-around offense when everyone quit moving. Happens all the time in the NBA, especially early in a series. They still have the lead and the home-court advantage.
But they didn't have the requisite intensity they knew they were going to need against such an opponent in such a place and time. Contracts are up, there's labor unrest threatening next season and everyone is getting older.
These Celtics are firmly in the moment, keenly aware this could be their last playoff run together. There's a this-place-and-this-time sentiment to their situation, another reason Rondo pulled a sleeve over the swelling arm and reported back to the bench.
The Heat know this, of course. They talked about it publicly and they certainly talked about it privately. But when they felt it, it turned out they weren't as ready as they thought. The burden has now switched back to them to respond, to once again prove themselves in a season that has been one long journey of fighting adversity.
This is the toughest task they've had and now they don't just say they understand what they're facing, they can feel it.
"We're trying to take down a champion and it will be one of the toughest things we do collectively," Spoelstra said. "If we're going to go where we want to go, we have to outplay them when they are at their best. They're going to be at their best and we feel that our best game is good enough."


NBA Writer Brian Windhorst
• On Twitter @WindhorstESPN | On ESPN.com
• Follow ESPN's NBA coverage on Twitter | On Facebook | On Google+
Dimes past: April 21 | 22| 23 | 24 | 25 | 26 | 27 | 28 | 29 | 30 | May 1 | 2 | 3 | 4| 5 | 7
2. Starting Issues Covered From A To Z
By Tom Haberstroh
ESPN.com

BOSTON -- The Heat's starting lineup finally dug a hole the team couldn't climb out of. For the sixth straight game, the starting unit of Mike Bibby and Zydrunas Ilgauskas next to the Big Three was outscored by the opponent, this time by a whopping 19 points in just 10 minutes of action.
Nineteen points in 10 minutes. That drops the unit's playoff plus-minus to an NBA-low minus-69, meaning the starting lineup has been outscored by 69 points while on the floor.
When asked about the starting five after Saturday's loss, Heat coach Erik Spoelstra said, "We'll evaluate everything, A to Z."
As in, Anthony to Zydrunas.
Spoelstra has been loyal to his starting lineup to the point of stubbornness. Entering the game, Spoelstra has noted that the Heat were 6-1 in the playoffs with the current starting lineup. The Heat have been able to successfully stop the bleeding in the postseason because of outstanding production from the reserve unit. The team has become dependent on heroic efforts, but Saturday, even a career night from Joel Anthony, who recorded a double-double for just the second time in his career, couldn't rescue them. Even 17 points and three steals from Mario Chalmers off the bench couldn't save them.
The Celtics came out firing, and by the time Ilgauskas left the game with 6:33 remaining in the first quarter, the Heat were already down 16-7. The 7-foot-3 center was benched for the rest of the first half, a pattern here in the playoffs. When Ilgauskas started the second half, the Heat watched their two-point lead turn into an eight-point deficit within four minutes.
3. Daily Dime Live
Zach Harper, TrueHoop Network bloggers and fans gave their in-game opinions on all topics throughout Saturday's slate of NBA playoff talk in Daily Dime Live.
SATURDAY'S BEST

Garnett
Kevin Garnett, Celtics:
Some vintage KG kept Boston strong in Game 3, going for 28 points and 18 rebounds in the win. After the Game 1 bomb, nights like these seemed a foggy memory. Boston just might make this a series.
---
SATURDAY'S WORST

Bosh
Chris Bosh, Heat: His six points and five rebounds constituted a disappearing act in Game 3. His one field goal was the lowest total since the 1-for-18 night against Chicago on Feb. 24.
---
TWEET WATCH
Now I got me a bucket of wings from wingstop looking at these highlights. Rondo oooooh that hurt. Damn your arm don't suppose to do that12:10 a.m. ET via Echofon
Favorite
Retweet
Reply
Mo Williams
mogotti25
---
QUOTE OF THE NIGHT
"I don't know, I might be sick in the head or crazy or thrown off or something like that because I still think we're going to win this series."
-- Lakers guard Kobe Bryant, whose team will be the 99th to try to come back from a 3-0 deficit.
---
By John Hollinger
ESPN.com

Allen
MEMPHIS, Tenn. -- Tony Allen sat at his locker, deflecting all the credit to his teammates and his coaching staff and anyone else he could think of.
But this game was all Allen and provided a microcosm of the Grizzlies' season -- an improbable renaissance fueled by Allen's relentless defensive energy and his teammates' relentless physicality and toughness.
That may not be apparent from the box score, since he had only 10 points and shot 6-of-10 from the line. But Memphis' improbable rally from 16 points down to beat Oklahoma City in Game 3 in overtime, 101-93, was about the best proof on record that Allen is the league's best perimeter defender -- if not its best defender, period.
"We had no shot," said Shane Battier, but somehow the Grizzlies rallied anyway. Upstart, eighth-seeded Memphis now leads the best-of-seven series two games to one, with Game 4 Monday night in Memphis.
The catalyst was a suffocating defensive effort that permitted the Thunder just nine points in a 12:30 span of the fourth quarter and overtime. Allen single-covered the league's leading scorer, Kevin Durant, for that entire stretch, and all he did was completely and totally erase the game's leading scorer from the game.
When Allen returned to the game with 7:45 left in the fourth quarter, Durant had 22 points and the Thunder had an 11-point lead.
And 12:45 later, Durant still had 22 points.

In the most important stretch of the Grizzlies' season, Allen took over the game with his defensive energy. Memphis wasn't exactly lighting up the scoreboard itself, in part because Allen kept bricking his free throws, but his suffocating defense was so overpowering that it didn't matter.

• See Hollinger's full story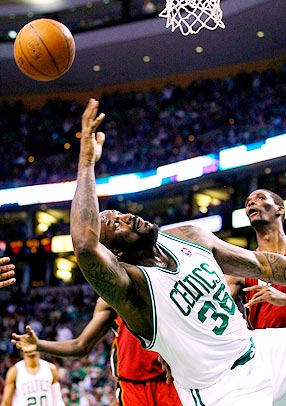 NBAE/Getty Images
Shaquille O'Neal made his playoff debut for Boston in a cameo role. He scored two points in 8:29 of action. O'Neal has played just 5 minutes, 29 seconds since Feb. 1 because of injuries to his right calf and Achilles tendon.
By Brian Kamenetzky
ESPN Los Angeles

I don't suspect Pau Gasol would trade his championship rings for anything, but having won them is likely only going to make the assault on his basketball reputation -- almost surely forthcoming, perhaps as early as Sunday -- that much worse.
As a team, the Lakers are very clearly reaching the end of an era. Of titles, of Phil Jackson. A summer of "Window for Kobe Bryant?" questions awaits. Except after the dust settles, the back-to-back title teams will be appropriately revered in Los Angeles. After winning 11 titles, losing a chance for a 12th doesn't exactly stain Jackson's legacy. Nor will an early exit from this playoffs stick to Bryant.
Gasol, though, is in for a world of hurt.
•
See Land O' Lakers blog
9.

Addition By Subtraction

LeBron James, Dwyane Wade and Chris Bosh played nearly 23 minutes on the court together in Game 3 on Saturday night -- during which the Celtics outscored the Heat 53-34. In slightly over 25 minutes with at least one of those players on the bench, Miami outscored Boston 47-44.
And through the Heat's eight playoff games, in about 232½ minutes in which the Big Three have been on court together (accounting for about 60 percent of the playing time in those eight games), the Heat and their opponents are all tied up at 444 points apiece. With at least one of the Big Three out of the game, Miami has outscored its opponents, 308-267.