1. Hammer Or Nail? Time Near For LeBron, Dirk

By Brian Windhorst
ESPN.com
Archive
MIAMI -- The NBA Finals are about to reach their climax, and someone is going to have the hammer and someone is going to get hammered.
This might technically be about the Miami Heat and Dallas Mavericks, which team is better in the 2010-11 season and will open next season by getting rings and unveiling a banner. But for the massive international audience that likely will tune into Game 6, it's about Dirk Nowitzki and LeBron James.
One of them is going to be labeled a winner and a champ, titles that can be scrutinized but never taken away. The other is going to be the loser. In this case, with the circumstances of this high-test season, there's little middle ground.
If the Mavs win one of these next two games, Nowitzki is going to be named the Finals MVP -- count on it. You can also count on columnists and bloggers trying to put his fabulous postseason into some sort of historical perspective.
James, no matter what he does individually, will become the goat. And certainly not the G.O.A.T. (Greatest Of All Time), a moniker fans on message boards just love to toss around. This will be the case even if he's able to personally rebound from what so far has been the worst playoff series performance of his career. Those three games James played in Dallas, all featuring lackluster fourth quarters, will define this era of his career. Which is coming up short three consecutive years with two different teams.
In turn, if the Heat are able to hold home court and rally to win the next two games to take the title, it will be Nowitzki, no matter how he plays, who will be under the knife. Short of an injury, there's probably no circumstance that he isn't viewed that way. And James, no matter what anyone says or what the statistics report, would have a title and all the accoutrements that come with it. Not the least of which would be a trump card on all his nonfans and critics over the past year.
Yes, Dwyane Wade is heavily involved. He's just as bright a star, but he is not being judged in these Finals. He has a title already and has been a Finals MVP. If the Heat turn the momentum, he has a great chance to win another MVP award. But for so many who care about how this series will play out, he's a sideshow. It's Dirk, and it's LeBron.
This is how it is going to go. One way or the other. This is not perception. This is reality, and they both know it.
"That's just part of the game if you're the face of the franchise," Nowitzki said. "If you win, it's great for you and everybody looks at you. And if you lose, you're going to get hammered. It's just part of the business. I think we understand that. We've been around long enough."
"Playoff basketball is all about pressure and how you handle it," James said. "I understand this is a huge series, it's a huge stage. … I had a triple-double last game and I had a bad game in a lot of people's eyes. I understand that. That's the situation I'm in. That's the bowl I'm in right now."
Fighting within a tight series, there's usually little room for such perspective. But James and Nowitzki have both been down this road before. They've both lost in Finals, and they both have gone home from playoffs early as the No. 1 seed only to watch the postseason go on without them.
Nowitzki once ran off to Australia after a season to reflect on his failures. James once ran off to the south of France to get away in the days after a playoff heartbreak. They might be vastly different in terms of style and temperament, but they face the same burden.
Win, and their place in the game is sealed and it will be time for parades and back slapping and chest pounding. Redemption after a long journey, tireless work, disappointment and regret. The ultimate payoff for one of two players who are hugely invested.
Lose, and it's another summer of professional misery. Doubt about their ability. Questions about their leadership. Tarnish on their legacy. No matter where their vacations take them.
Yeah, the stakes are high. And there's only one hammer.
"I got hammered for the last 13 years, basically," Nowitzki said. "Hopefully this year, I can make the hammering go away for one year."
"I get on myself, I'm hard on myself about wanting to play well because I feel like that's what I need to do for my teammates," James said. "I have to do what's best for our team to help put our team in position to win."


NBA Writer Brian Windhorst
• On Twitter @WindhorstESPN | On ESPN.com
• Follow ESPN's NBA coverage on Twitter | On Facebook | On Google+
Dimes past: May 23 | 24 | 25 | 26 | June 1 | 2 | 3 | 4 | 5 | 6 | 7 | 8 | 9 | 10 | 11
2. Five Years Later, Nowitzki's Game Elevated
By John Hollinger
ESPN.com

Nowitzki
MIAMI -- In the 2006 Finals, Dirk Nowitzki averaged 22.8 points per game, but he shot only 39 percent as the Mavericks fell in six games.
In 2011, Nowitzki is doing a number on the Heat, just as he does on everyone in the postseason. Not only is he scoring 27.0 points per game but he has shot better (43.9 percent) and has done it in fewer minutes.
Moreover, he has done better in bigger moments. Nowitzki's lingering memory from the 2006 Finals will be the two free throws he missed in the fourth quarter of Game 3, fueling Miami's rally from 13 down. In this series, on the other hand, he had late layups to claim Games 2 and 4 for his side.
Before we get too deep, we should point out that the differences stem, at least in part, from circumstances beyond his control. We might have a very different perception of Nowitzki's 2006 Finals, for instance, if the long-forgotten crazy fadeaway he hit over Shaq in Game 5 had been followed by a Miami turnover instead of by Dwyane Wade's two game-winning free throws. Similarly, Nowitzki's key layup with 14 seconds left in Game 4 of this series attained that status only with the aid of Wade missing a potential tying free throw of his own.
Those two plays heavily color the narrative -- Dallas is up 3-2 in this series and was down 3-2 in 2006, rather than the opposite.
Nonetheless, there is a difference. Empirically, Nowitzki is having a better Finals than he did five years ago, and the difference becomes even greater if you adjust (a) for his shooting 6-for-19 while under the weather in Game 4 and (b) for his playing fewer minutes than in 2006.
Saturday, I asked the protagonists from 2006 about it. Why is Dirk performing better against Miami in this go-round?
"Actually, I haven't shot the ball as well as I want to," Nowitzki said. "I had some good looks; they just didn't go down."
OK, Dirk, but enough about your erratic jumper. Seriously -- why the improvement?
"I think my teammates are a big part of that [difference]. J-Kidd is able to give the ball in situations where I want it. (Side note: We seriously don't have a better nickname for a Hall of Fame point guard than "J-Kidd"?) We got some good shooters around me. Tyson [Chandler] in the middle and [Brendan] Haywood have been great stepping in. So, I don't have to force any shots if they're not there. Just swing it, run another pick-and-roll."
"So just experience, I guess, is a big factor."
"I think primarily it's the same coverages we were seeing then," said Jason Terry, the only Maverick who was with Nowitzki in 2006. "They try to take you off what you do and make you play to the weak side."
Dwyane Wade, the only Heat player besides Udonis Haslem who was here for the 2006 Finals, said, "He's 7 foot, he's going to get enough good looks. We're just trying to make it as tough for him as much as possible." (Wade, as Miami coach Erik Spoelstra did earlier this series, also amused the mathematicians by claiming that Nowitzki will get his average every night.)
Mavs coach Rick Carlisle, on the other hand, said the comparison has changed because of all the roster shifts by both sides. "The rosters are 95 percent different. A lot of the dynamics are very different. Haslem is still here, so he's still playing the same way he played then. [But] I don't know that there's a lot I can give you on that."
The most telling answer, however, might have come from Spoelstra.
"Some of the schemes we used back then, he's seen so often now that he picks those apart."
Bingo.
In the 2006 Finals, Miami essentially rewrote the book on how to defend Nowitzki after he had torn apart San Antonio and Phoenix in the previous two playoff rounds. Play physical, push him off the free throw line as much as possible, force him right and make him a driver.
Dirk adjusted to all that a long time ago, as well as the different looks Miami showed him on the weak side. He has become a lot more comfortable with pushing and contact, and at the same time, the league has become a lot less forgiving of defenders who do such things.
"He has much better poise now versus double-teams," Spoelstra said. "In terms of creating a shot, even in traffic, he's able to do that much more efficiently. He's better in the post than he was then."
I'll add that a few variables have changed on Miami's side, too. The uniform might say "Haslem," for instance, but the 2011 version that is coming off a six-month layoff and still struggling to explode off an injured foot is not quite of the same ilk as the 2006 version. And Miami also relieved Haslem with James Posey -- the kind of smaller, wiry-strong defender that typically has had the most success against Dirk. Now, it's trying Joel Anthony and Chris Bosh as the alternate defenders, with less success.
Add it all up, and it's been a much more successful run through the first five games of the Finals for Dallas' star. Throw in a light sprinkle of good fortune, and Nowitzki is one game from having far happier memories from this Finals than those of 2006.
3. All In Your Facebook? No, Says Stevenson
By Tim MacMahon
ESPN Dallas

Stevenson
MIAMI -- DeShawn Stevenson does not have a Facebook page.
That's newsworthy because somebody who claims to be Stevenson posted on Facebook: "I told em Lebron is Overrated but did they listen? swag."
Coach Rick Carlisle caught wind of that and confronted Stevenson, telling him to stop talking trash about LeBron James. Stevenson, whose history of taking verbal jabs at King James goes back several years, was confused and told his coach that the latest comment didn't come from him.
"There's like 37 people that are acting like me on Facebook," Stevenson said. "I mean, if you look at me and look at all these tattoos, do you think I'd be sitting on the Internet and typing? C'mon, man. Sometimes you've got to look at a person. I would not be in my house on a computer typing nothing about anybody."
Stevenson said he doesn't know how to use Facebook. Nor does he want to learn.
"I can't get on there because I would say something reckless," Stevenson said. "That's why I don't have nothing on there. That's why really I can't have one."
4.

Don't Need Another Hero (Ball)
By Tom Haberstroh
Heat Index

James
MIAMI -- Speaking at the Heat's practice Saturday, LeBron James was given the chance to explain his shooting woes in the Finals. His answer was interesting.
"One thing about me, you just be aggressive," he said. "And when you have the shot, you take them. Some of the same shots I've taken in the other series, they went in. They're not going in for me right now; that won't deter me from taking that opportunity once I get them again."
Herein lies the problem.
Back in the Chicago and Boston series, LeBron hit some impossibly tough shots with the game on the line. He played hero, nailing every pull-up jumper, every fadeaway, every ill-advised shot. He hit them all.
When hero-ball goes well, it's addictive. As we're seeing now in the Finals, it's the hardest of basketball drugs to kick. All the roaring crowds, the perpetual highlights on "SportsCenter," the chest bumps from teammates? That is a high. And LeBron wants to feel that way again.
So in Game 5, when LeBron pulled up from 25 feet with Jason Kidd guarding him and the Heat down by two points with a shade under two minutes remaining, that is LeBron desperate for his next fix. That is pure hero-ball.
There were 10 seconds left on the shot clock, but instead of driving against 38-year-old Kidd, James pulled the trigger on a shot that would have given the Heat the lead. He fell prey to the dramatics. After the shot release, LeBron kept his right hand high, holding his follow-through for all to see when the ball splashed through the net.
And the ball clanked off the back rim.
6.

Ring, Ring: Hello, History
By Michael Wallace
Heat Index

DALLAS -- The proposal came nearly two months ago, after dinner, on the eve of the NBA playoffs.
That's when Dwyane Wade brought out the ring, slipped it on his finger -- in all of its blissful bling -- and made the championship vow in front of all his Miami Heat teammates.
It was a special, calculated occasion for Wade, who doesn't even remember the last time he removed his 2006 NBA championship ring from the safe deposit box before the night he flashed it for his teammates during their final function before the start of the postseason.
"Before that, it's been a couple of years, actually, since I've seen it and put it on," Wade said, staring into the distance. "I'm not sure when it was."
Amnesia must have been a bit contagious.
When it comes to details of that night, Heat forward Chris Bosh can't recall what was on the menu at the dinner. But the only food for thought that mattered on April 15 -- the night before Game 1 of the Heat's opening-round series against Philadelphia -- was the diamond-studded dish Wade was serving.
"Right after we had dinner, everyone started talking and he brought it out," Bosh said, as he described the hush that fell over the private dining room. "It was an attention grabber, for sure. Everybody got quiet and started looking at it. We were like, 'OK, where are you going with this? OK, this is serious.'"
All the jiving and joking in the room ceased.
"It was all visualization," Bosh continued. "It was basically [Wade's] way of saying, 'So, if you tell me you want something, and I have it, and I'm in this with you, and I bring that thing out and you see it, what does that mean?' And you're sitting there looking at him like, 'Yeah, that's what it's about right there. Man, you're going to do that to me with the ring, huh?' It was motivation. You want it more."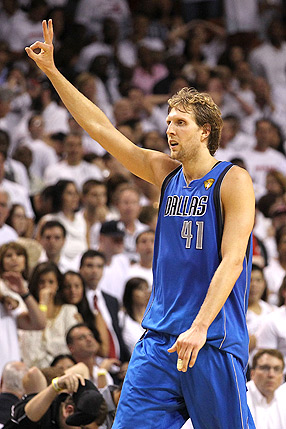 Ronald Martinez/Getty Images
If Dirk Nowitzki has reason to celebrate Sunday after Game 6 (ABC, ESPN Radio, 8 ET), that would be title No. 1 for the Dallas Mavericks.
8.

Today's Crunch-Time Best Vs. MJ
By Henry Abbott
ESPN TrueHoop

Allen
It is an article of faith in the NBA that, to win, you must have a player with skills, style and mentality approximating Michael Jordan's.
To fit the profile, players must be not merely explosive, multifaceted wing scorers (almost always wing scorers -- poor big men have a hard time getting the ball on some teams, in some cases because they don't shoot free throws well). In the most extreme version of the profile, they must be single-minded "assassins," creating shots for themselves no matter how much the defense loads up against them. No passing allowed. Scowling to show intensity. This is the Kobe Bryant model of crunch-time behavior, the style of play that has won him so much admiration over the years.
Testosterone personified.
Vince Carter has one of the best track records of clutch shooting but never had any credibility as a crunch-time assassin -- in part because he smiled all the time!
Tracy McGrady, though he authored the best one-man comeback in NBA history and has the fourth-best postseason scoring average in NBA history, has a demeanor that is more melatonin than adrenaline -- he just doesn't look the part.
The public wants to know who manned up when the chips were down, and it's not going to choose the sleepy guy.
Before we were able to count shots and see who actually got the job done, we assumed the cranky Jordan types were the only ones with the keys to the castle of NBA crunch time. But now, this is one of those great moments when reality blows into the living room of our assumptions and doesn't just scatter the paper napkins … it's knocking over furniture.