1. Torch Passing Near In Lakers-Celtics Rivalry
By J.A. Adande
ESPN.com
LOS ANGELES -- It was hard not to notice the symbolism that started with Kobe Bryant drawing up a crunch-time play for Andrew Bynum, and continued right after the buzzer sounded on the Los Angeles Lakers' 97-94 victory over the Boston Celtics on Sunday, when Bryant hugged Kevin Garnett and then enthusiastically wrapped his arms around Bynum. It was impossible not to think of the inevitable changes taking place before our eyes.
The Bryant-Garnett hug was a show of mutual respect. It represented 2,376 NBA games played and involved the man who started the modern wave of high school players heading directly to the NBA in 1995 and the man who quickly followed him a year later and became the best of the bunch.
"The old dogs," Bryant called the duo. "There's not too many of us left."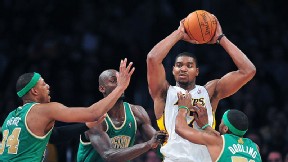 Gary A. Vasquez/US PresswireSurrounding Andrew Bynum looks like a wise strategy for future Celtics-Lakers games.
Then Bryant turned to the last of the line, the man who was part of the 2005 NBA draft class that was the final one before the NBA required players to be a year out of high school before entering the league.
The Bryant-Bynum embrace carried more emotion. It was as much about what had just transpired -- Bynum's 6-foot hook shot that delivered the final points of the game with 15.5 seconds remaining -- as it was encouragement to do it again and again.
It won't be too long until it's entirely up to Bynum. The rivalry of Russell and Cousy vs. West and Baylor, of Magic vs. Bird, and the more recent incarnation of Kobe and Pau Gasol against Garnett, Paul Pierce and Ray Allen, is transitioning toward the likes of Bynum and Rajon Rondo.
Someone has to take it from here, and they showed they are more than capable. Bryant and Allen brought the big shots that we've seen them make so often in the past. Metta World Peace brought the scrapping and animosity that belongs in any true rivalry. But it was Bynum and Rondo who provided the standards of excellence on both sides.
Rondo led the Celtics with 24 points and 10 assists. He had his usual disruptive influence on defense, as the Lakers committed 12 first-half turnovers that allowed the Celtics to stay within two points (thanks to Rondo's 3-pointer at the buzzer) despite shooting 40 percent. (How is it that Rondo can crash the offensive boards, linger around in hopes of a steal even after the opponent grabs the rebound, yet still get back before the Celtics are at a disadvantage on the other end?) Kobe kept playing off Rondo and Rondo kept knocking down the jump shots.
The Celtics, meanwhile, tried to double-team, distract, push and do whatever they could against Bynum and he still overpowered them. He made nine of 16 field goals, scored 20 points and grabbed 14 rebounds. And he, not Kobe, got the ball on the Lakers' final possession. By Kobe's decree.
The Lakers had the ball and a one-point lead with 24 seconds remaining and Bryant dribbling when Mike Brown called a timeout. Bryant smiled in disbelief, then quickly formulated a plan in the huddle. The Lakers were going to get the ball to Bynum down low.
"He said they're not going to know what to do," Bynum said. "Sure enough when they came out, KO started trying to guard me on the top side. They definitely were going to triple-team [Bryant]."
Instead Bynum went to work. The end of the line beat the head of the line.
"It's fun going up against those guys," Bynum said. "Obviously they're a little bit past their prime, but I've had my share of injuries too. I don't know where I could be if I didn't get hurt."
And that's the one thing that restrains you from proclaiming Bynum the one to take it from here, to inherit the Lakers from Kobe and become the face of the franchise in a few years. Bynum is only 24 (nine years younger than Kobe), but he's also played in 369 of a possible 533 games. As if the big black brace on his right leg isn't enough of a reminder of his injury-filled past, he bruised the right knee in the first half Sunday. He admitted that he has the same fearful thoughts as everyone else whenever something happens with the knee.
Then he has games like this and it forces you to envision a time when he does these things on a regular basis, when the Lakers ask him to be the No. 1 option and he's up to the task. If Dwight Howard isn't heading to L.A. and the Lakers can't clear out the salary cap space to make a run at top free agents the next few years, they'll have to rely on their only top-10 draft choice since 1994.
On this day he came through.
"I knew he was going to get a good look," Bryant said. "That's what you want."
Gasol had the best description when he called Kobe's willingness to go to Bynum "a good sign." It's not a permanent shift. There will be plenty of games such as the previous two, when Bryant took more shots than Gasol and Bynum combined.
But on a day that even saw Bryant actively looking to pass to Metta World Peace it was easy to envision a future when Bynum is always the first look. That's the distant, not the near future. And maybe by then Lakers-Celtics games will feel more like an NBA Finals preview than a nostalgia-tinged matchup like this one.
With Garnett and Allen free agents at the end of the season and Gasol not assured of sticking in L.A. beyond the March 15 trade deadline, this could be the final time we see the matchup between the core players of the 2008 and 2010 NBA Finals. It sure doesn't look like we'll be seeing these two teams square off this June.
"I think both teams know that they've been inconsistent all year," Celtics coach Doc Rivers said. "I think both teams also know that if they're both healthy going into the playoffs, with the experience they have, anything is possible -- as Kevin would say."
Garnett has had his say. So has Bryant. And if there was one final symbolic moment on this afternoon, it came when a Lakers public relations official announced Kobe was going to the interview room -- and no one budged from the space in front of Bynum's locker.


ESPN senior writer J.A. Adande
• On Twitter @jadande | On ESPN.com | On TrueHoop | On e-mail
• Follow ESPN's NBA coverage on Twitter | On Facebook | On Google+
Dimes past: Feb. 28 | 29 | March 1 | 2-3 | 4 | 5 | 6 | 7 | 8
2. Around The Association
3. Sunday's Best
Ilyasova
Ersan Ilyasova, Bucks: Registers 31 points and 12 boards in a 105-99 win over the Raps. The 24-year-old from Turkey has been ablaze his past three games, shooting 72.3 percent from the floor (7-for-9, 77.8 percent from 3-point range).
4. Sunday's Worst
Martin
Kevin Martin, Rockets: This is not the same guy who dropped in 32 in a win over OKC less than a month ago. Yes, that was a 1-for-6 clunker night for K-Mart, good for three points in a 118-107 loss to the Cavaliers.
5. Quote Of The Night
"We love beating this team."
-- Lakers center Andrew Bynum, on handing out L's to his team's good pals from Boston.
7. Tweet Of The Night
Watching The Announcement and my stomach is turning listening to Magic announce his retirement like its live right now! Wow.

— LeBron James (@KingJames) March 11, 2012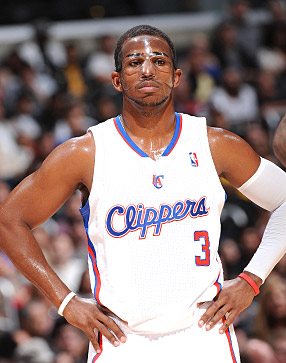 Noah Graham/NBAE/Getty Images
Chris Paul donned a protective mask Sunday after getting hit in the face by an errant Danny Green elbow Friday. Paul had 23 points in a 97-93 loss to Golden State.
8. Customary D12 Action
MVP: Dwight Howard. 30 points, 13 boards, 5 dimes, 4 steals -- and he didn't even play the final six minutes. He was unguardable in the screen-roll and allowed the shooters to spread and snipe from behind the arc.
Defining moment: Dwight made a nifty outlet to Earl Clark, who pushed it ahead by two Pacers playing matador defense to convert a one-on-two break with a finger roll. That type of intensity and execution from Indiana.
That was … one-sided: Don't be fooled by the final margin of only 13 points. This game was played in Blow-Out City before taking a detour down Garbage Time Way. It was closer to a 30-point blowout throughout.
9. Bynum Stands Tallest
MVP: Andrew Bynum fought through a bruised right knee to dominate the Celtics in the paint, finishing with 20 points and 14 rebounds.
Defining moment: Bynum's jump hook over Kevin Garnett with 15 seconds left pushed the Lakers' lead to three and forced the Celtics into a desperation 3-pointer to tie. L.A.'s interior game again proves the difference in this rivalry.
X factor: The Lakers allowed the Celtics to hang around in the first half by turning over the ball 11 times and setting Boston loose in transition. They took better care of the ball down the stretch and Boston's offense faltered.
10. Turner's A Burner
MVP: Evan Turner has a skill set that is, to say the least, unique among NBA 2-guards. After dropping another gem on Sunday, Rondo South is averaging 22 points and 12 rebounds in his past three starts. He's also fast becoming the offense-needy Sixers' go-to guy on the glamour end of the court.
LVP: For his own sake, I hope Amare Stoudemire had tête-à-tête with Elton Brand this weekend to get some tips on being an effective NBA player post-athleticism. Based on his mediocre line (nine points on nine shots, five rebounds) and general lethargy, I'm guessing he didn't.
X factor: Entering Sunday, Philadelphia had gone 13 months without a 30-point scorer. Well, that streak will continue, but Lou Williams almost broke it. Sweet Lou sniped his way to 28 by the early fourth, but missed his final five shots to fall just shy of the marker.