1. Deadline Unwinds An Organization's DNA
By Kevin Arnovitz
ESPN.com
The trade deadline reveals a lot about a team and how it perceives its standing in the league. It's a self-reflective moment for an organization's leaders and forces them to take a cold, hard look at where they're situated on the greater NBA landscape. Teams appraise their chances to contend, their balance sheets, their talent and their futures.
More telling than the teams that were active at the deadline might be those who stayed pat. The Chicago Bulls dipped a toe in the trading pool but, like the Miami Heat and Oklahoma City Thunder, ultimately kept things intact. Much of this troika's success can be attributed to the teams' respective core groups, which have developed cohesive brands of basketball, and although each has some deficiencies, the cost of upsetting that familiarity wasn't worth the risk. Such is the luxury of the elite.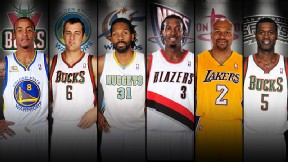 ESPN.com Illustration
For the two occupants of Staples Center battling for the Pacific Division crown and home court in the first round of the postseason, opportunities to upgrade presented themselves, and the Los Angeles Lakers and Los Angeles Clippers obliged. Both see themselves as near-contenders in a wide-open West. The Lakers brought in Ramon Sessions as a salve for their point guard woes -- shipping out Derek Fisher in a separate deal. These are the spiritual costs of improvement. The Clippers haven't been the same since Chauncey Billups went down, and, for flotsam, they acquired Nick Young, who will give them spot-up shooting and some badly needed size on the wing.
The Portland Trail Blazers read the writing on the wall, and unceremoniously gutted their roster, fired their coach and released their former No. 1 draft choice. It's never easy for a franchise -- particularly one that had as much promise as Portland did just a couple of years ago -- but pragmatism superseded sentiment, as the Trail Blazers prepare to rebuild with a boatload of money to do so.
The Denver Nuggets were the most introspective team at the deadline. They took a sober look at their aging, oft-injured cornerstone player and their station in the Western Conference scrum. Difficult as it was, the Nuggets determined it was time to make their roster younger and their budget leaner by trading Nene for an enigmatic but cheaper option in JaVale McGee. And, like Portland, they've improved their prospects for the future.
The Milwaukee Bucks and Golden State Warriors, two teams teetering on the edge of respectability, shuffled the deck. The more prudent Bucks better managed their spreadsheet and acquired an interesting young prospect in the process. Adding insult to injury for the Warriors, the crafty San Antonio Spurs dealt them Richard Jefferson for Stephen Jackson, setting themselves up for some serious savings a summer from now. And the Cleveland Cavaliers somehow downgraded their roster while taking on additional financial commitments.
The New Jersey Nets are the league's riverboat gamblers and shipped a potentially lucrative pick to Portland for Gerald Wallace, still clinging to the possibility that they can retain Deron Williams and lure Dwight Howard. It's a roll of the dice but a true reflection of the organization's character.
Meanwhile, a few other teams nibbled around the edges. The Rockets continue to stockpile picks and capitalize on opportunities to improve at low costs. Indiana and Philadelphia got something for nothing.
Organizational identity is a funny thing in the NBA, and, for most teams, there are only a few moments over the course of the year when that nature comes to the surface. We won't know whether many of these deals reap their intended benefits, but we learned a whole lot about the ambitions and temperaments of the front offices of many of the league's 30 teams.


NBA Writer Kevin Arnovitz
• On Twitter @kevinarnovitz | On ESPN.com
• Follow ESPN's NBA coverage on Twitter | On Facebook | On Google+
Dimes past: Feb. 28 | 29 | March 1 | 2-3 | 4 | 5 | 6 | 7 | 8 | 9-10 | 11 | 12 | 13 | 14
2. Around The Association
3. Thursday's Best
Wall
John Wall, Wizards: Nene is going to like nights like these. Wall went 11-for-16 from the floor en route to 26 points and 12 assists in a 99-89 win over the Hornets in a battle to avoid ownership of the NBA's second-worst record.
4. Thursday's Worst
Harrington
Al Harrington, Nuggets: With the Nuggets short-handed following the trade of Nene, Harrington had his worst game in more than a month, posting five points on 1-for-8 shooting in the loss to Oklahoma City. Al is averaging 14.7 ppg.
5. Tweet Of The Night
Really feel bad for Greg Oden. Take sum time off get better then come back bro.

— Roy Hibbert @Hoya2aPacer March 15, 2012
6. Quote Of The Night
"It's not as easy as some people think. It's been very hard. We're talking a career-changing event. Most people don't see that."
-- Dwight Howard, explaining the conflicting signals he sent about leaving Orlando before deciding to stay.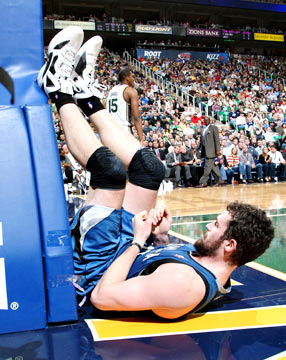 Melissa Majchrzak/NBAE via Getty Images
Kevin Love examines his thumb after taking a fall against the Utah Jazz in the second quarter. He had it taped up, and finished with 25 points and 16 rebounds in a 111-105 loss in Salt Lake City.
By Elias Sports Bureau

The Mavericks' 101-96 win over Charlotte improved Dallas' all-time record against the Bobcats to 15-0. The Mavs are the first team to start 15-0 or better against a particular opponent since the Jazz won their first 17 games against the Grizzlies from 1996 to 2000.
10. Wall's Mart
MVP: Trades? Missing players? John Wall just wants to ball. The Hornets made it very easy for him to attack, and he did. He set the tone with six of his seven first-half field goals coming at the rim. Wall's 26 points on 15 shots with 12 assists, three steals and four rebounds seemed rather elementary (he did have five turnovers). With a couple distractions less, it's not outlandish to say he played relieved.
Defining moment: Hornets center Chris Kaman was a bull in the paint early with 10 first-quarter points, but then Washington started doubling and rotating better; Kaman scored just four in the second half. Also, Kevin Seraphin, in his third career start due to the trade, backed down less and hit Kaman with some of his own tough points in the paint; the NBA soph finished with 12 points and nine rebounds.
X factor: Once again, Roger Mason, how u? It seems like every time I'm slated to write one of these things, Mason excels. He dropped 19 points, with 7-for-9 shooting on field goals (4-for-6 on 3-pointers). In the past 11 games, he's shooting 50 percent (23-for-46) on 3-pointers off the bench. Doing fine, thanks.