1. Chris Bosh Thrives With A Good Berating
By Brian Windhorst
ESPN.com
MIAMI -- The advice was both bizarre and not well received.
"It kind of pissed me off a little bit," Chris Bosh said.
Seeing Bosh mired in a malaise as well as a slump recently someone -- Bosh won't say who exactly, just "someone who has his best interests" -- told him he wasn't playing well because he wasn't talking to himself enough during games.
Among Bosh's particular set of characteristics -- including a propensity to scream indeterminately and to wear loud-colored socks -- is that he often talks to himself during games. Usually quite rudely. And during a this recent downturn, he was averaging just 13 points and five rebounds over his previous five games before Sunday, he apparently had let that aspect of his game lapse as well.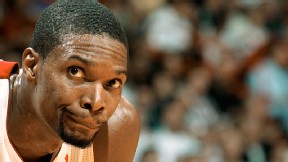 Issac Baldizon/Getty Images
"It was constructive criticism," Bosh said.
Of all the cosmic factors that spin games during an NBA season, who's to say this isn't genius? Whatever, Bosh came out of his lull in the Miami Heat's 91-81 victory over the Orlando Magic. Bosh had 23 points and seven rebounds as the Heat reversed the result of five days earlier, when the Magic's frontcourt dominated them in a Magic win in Orlando.
"People keep telling me when I'm involved we're a tough team to beat; I want to involve myself," Bosh said. "So I had conversations in a non-crazy type way."
What was going on in Bosh's head aside, the Heat did make it a primary part of their game plan to get him going. Frankly, Bosh is often a forgotten option in the Heat's offense with so many touches required for LeBron James and Dwyane Wade.
Sometimes this leads Bosh to be disengaged and has consequences on other aspects of the game. This is commonplace in the sport, it could be called Third Wheel Syndrome. At times Bosh has openly complained -- the squeaky third wheel -- and other times he's just shut down. He was in a bit of a shutdown before this game.
The Heat ran five of their first seven plays through Bosh and he had two baskets, two assists and drew a foul. He ended up making his first six shots, putting the Heat ahead and re-animating Bosh's self-conversations.
"[He'll] be cussing himself out and talking to himself all kind of ways," Wade said. "It's very disrespectful, I think.''
Wade, who had 14 of his 31 points in the fourth to cap off the victory, joined James in still taking more shots that their All-Star power forward. That's not going to change, though Bosh has the unspoken satisfaction that he gets paid the same salary as James and slightly more than Wade.
But the Heat, who have been struggling lately to find their dominant rhythm, are usually better when Bosh is so active. After two 20-point, 20-rebound games against Miami this season, Dwight Howard was slowed to a more manageable 18 points and 11 rebounds Sunday. Magic power forwards Ryan Anderson and Glen Davis had minimal impact on the game. Bosh had generally outplayed them all.
"It is a symbiotic relationship," Heat coach Erik Spoelstra explained. "We have to be more aggressive looking for opportunities and ways to get him touches and he has to be his own active participant."


NBA Writer Brian Windhorst
• On Twitter @WindhorstESPN | On ESPN.com
• Follow ESPN's NBA coverage on Twitter | On Facebook | On Google+
Dimes past: Feb. 28 | 29 | March 1 | 2-3 | 4 | 5 | 6 | 7 | 8 | 9-10 | 11 | 12 | 13 | 14 | 15
2. Around The Association
3. Sunday's Best
Redd
Michael Redd, Suns: With many ready to write him off as too injury-plagued at 32, Redd showed that ol' sweet lefty touch. He scored a season-high 25 points in 18 minutes on 10-for-13 shooting and 3-for-5 from 3-point range.
4. Sunday's Worst
Bryant
Kobe Bryant, Lakers: Kobe missed 17 of his 20 field-goal attempts as the Lakers lost at home to the Jazz, 103-99. According to Elias Sports Bureau, it was the 571st game in which Bryant took at least 20 shots from the field, and his field-goal percentage on Sunday night (15 percent) was his lowest in any of those games.
5. Tweet Of The Night
Kobe didn't take many bad shots, but on a night where Pau and especially Drew are having their way, just concede it's their night. AK.

— Kamenetzky Brothers @ESPNLandOLakers March 18, 2012
6. Quote Of The Night
"I think we were both frustrated and took it out on each other when we should have took it out on the other team. So both of us made mistakes and both of us feel bad."
-- Kevin Love, explaining a brief shouting match with teammate J.J. Barea during a loss to Sacramento.
By Elias Sports Bureau

Marcus Thornton led all scorers with 24 points in the Sacramento Kings' 115-99 win over the Minnesota Timberwolves. On the heels of Friday's 120-95 romp over the Boston Celtics, Sunday's game marked only the third time in franchise history that the Kings scored at least 115 points and held their opponent below the 100-point mark in each of two consecutive games. And remember, this franchise dates back to the 1940s, having played nine seasons in Rochester (1948-1957) and 15 in Cincinnati (1957-1972) as the Royals, then 13 seasons in Kansas City (1972-1985) and 27 in Sacramento (since 1985) as the Kings.
Sacramento's last such pair of wins came in the 1995-1996 season, when they won three straight in that manner. Mitch Richmond led the way, scoring a total of 92 points in those three games. Olden Polynice was the team leader in rebounds (29) and Tyus Edney in assists (28).
9. Trustworthy Hawks
MVP: Joe Johnson. Numbers never tell the entire story but 28 points on 16 shots plus 5 assists against 2 turnovers provide the gist. Since returning to the lineup on March 9 after missing six of seven games with tendinitis in his left knee, Johnson has averaged more than 25 points a game, made more than half of his shots both inside and outside the arc, and earned more than 20 percent of his free throw attempts on the season.
X factor: Ivan Johnson. Injury and illness had the Hawks dressing just 10 players and that included both Jason Collins and Erick Dampier. Johnson gave the short-handed Hawks the illusion of depth, making all five of his shots, grabbing four rebounds, blocking two shots, taking two charges, earning two assists, and just generally doing the work of more than one man.
Defining moments: Kyrie Irving can't play 48 minutes a night. After Cleveland cut Atlanta's lead to eight by the end of the third quarter, Irving rested for the first 4:17 of the fourth quarter. With Daniel Gibson and Anthony Parker taking turns as the primary ball-handlers, Cleveland scored three points over that stretch and were down 16 when Irving returned. Buy stock in Donald Sloan, backup point guard.
10. CP3 Rules OT
MVP: Chris Paul. Just one rebound short of a triple-double, Paul's 17 points, 15 assists, and 9 boards are a bit misleading as to his occasional invisibility in this game, but he got the job done on both ends, and scored big baskets in OT.
LVP: Brandon Knight and Ben Gordon both had horrible games in the backcourt for Detroit, but Knight, the rookie, contributed the least. Six points on 3-for-13 shooting, four turnovers to only one assist, and some clanked open jumpers really hurt Detroit.
X-Factor: Late-game offense. Instead of running offense late in the fourth when looking to seal the game, Detroit forced Tayshaun Prince isolations. He didn't even get a shot off on the final possession of regulation.