1. One 7 Up, One Down in Lakers Win
By Tim MacMahon
ESPN Dallas
DALLAS -- The Stories of the Sevens reflected the lopsided nature of the Lakers' 109-93 rout of the Mavericks. Ramon Sessions lit it up for the Lakers. Lamar Odom stunk it up for the Mavs.
Sessions, the guard fitted for Odom's old purple-and-gold No. 7 after being acquired in a pre-trade deadline deal, has been a breath of fresh air for an L.A. squad whose bench has been one of the league's least productive this season.
Odom, the reigning Sixth Man of the Year whom Dallas got from the Lakers in a December salary dump, has seemed to have a black cloud hanging over him all season.
[+] Enlarge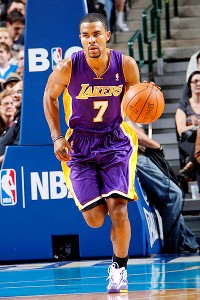 Glenn James/Getty Images
The stats from Wednesday night's meeting at the American Airlines Center illustrated the stark difference in the vibes for the No. 7s.
Odom, who was booed loudly enough to prompt wife Khloe Kardashian to plead via Twitter for "positive energy" from the home crowd, produced a quadruple-uno. That's one point, one rebound, one assist and one steal in 24 minutes.
Sessions, a point guard playing his fourth game for the Lakers, produced 17 points on 7-of-8 shooting, nine assists and five rebounds in 29 minutes. He's given life to the league's lowest-scoring bench.
"That's what I've been doing my whole career, coming in with that second unit and bringing energy," Sessions said. "That's what they told me to do here, be aggressive and get easy shots and play my game."
Sessions' performance caused Mavs coach Rick Carlisle to mention, with all due respect to departed longtime Lakers point guard Derek Fisher, how much Sessions would help L.A.
Carlisle wasn't so expansive in his thoughts about Odom's performance. Carlisle had praised Odom recently for playing with energy despite being mired in a miserable shooting slump, but the coach couldn't even do that after Odom's woeful effort against his former team.
"He struggled," Carlisle said. "He wasn't the only one who struggled, though. Look, we're going to stay positive and we've got to keep moving forward."
The Mavs expected Odom to add another potent weapon to an already deep bench, but that simply hasn't happened. He's struggled before a bizarre, 10-day, midseason personal leave and his numbers have been even worse since his return.
"I'm not going to blame it on anything," said Odom, who is 9-of-40 from the floor in the past seven games. "It's just something I have to figure out."
Odom is still trying to figure it out more than two-thirds through what will likely be his lone season in Dallas. Sessions, the Lakers' new No. 7, is making an immediate impact.
Tim MacMahon covers the Mavericks for ESPN Dallas. Follow him on Twitter.
Dimes past: March 2-3 | 4 | 5 | 6 | 7 | 8 | 9-10 | 11 | 12 | 13 | 14 | 15 | 18 | 19 | 20
3. Wednesday's Best
Gordon
Ben Gordon, Pistons: Do you believe in improbabilities? Starting in place of Rodney Stuckey, Gentle Ben had 42 points ... through three quarters. He would go quietly into the night thereafter, finishing with 45 points and eight assists, but he was a perfect 9-for-9 from 3, a feat matched in NBA history only by Latrell Spreewell and some guy named Ben Gordon.
4. Wednesday's Worst
Griffin
Blake Griffin, Clippers: The seven rebounds are nice, but Blake failed to hit double-figures in points for the first time in more than a year, finishing with seven on 3-for-11 shooting. Griffin also failed to record a dunk for the fourth time this season, dropping the Clips' record in games in which that occurs to 2-2, according to Elias.
6. Something Fish-y Here?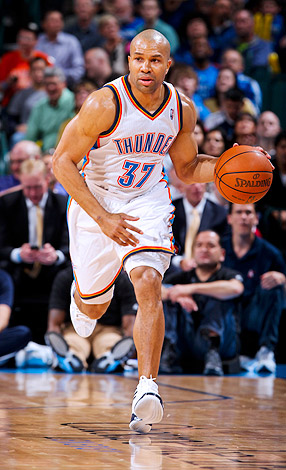 Joe Murphy/NBAE/Getty Images
Don't adjust your browser. That's the new look of longtime Laker Derek Fisher, who had five points off the bench in his Thunder debut.
Read more »
7. Tweet Of The Night
Ramon Sessions is the Western Conference Jeremy Lin of the Week.

— Hardwood Paroxysm (@HPbasketball) March 22, 2012
8. Quote Of The Night
"I can be a legitimate 2-guard now."
-- Kobe Bryant, on what the addition of Ramon Sessions' playmaking means for him.
Now That's Amare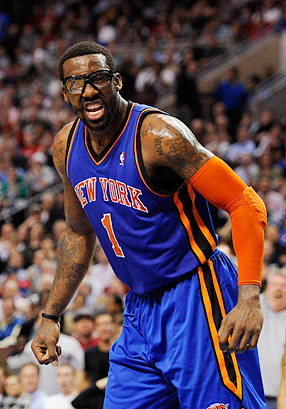 Howard Smith/US Presswire
Amare Stoudemire looked like his old self again, scoring 21 points on 8-for-14 shooting to lift the Knickerbockers over the Sixers in Philly.
More »
By Elias Sports Bureau
Irving
Kyrie Irving scored 29 points, grabbed nine rebounds and dished out nine assists in the Cavaliers' overtime loss to the Hawks. Only two other rookies in Cavaliers history had that many points, rebounds and assists in a game. John Johnson on Dec. 26, 1970 against Buffalo (33 points, 12 rebounds, 12 assists) and LeBron James on Dec. 28, 2003 against Portland (32 points, 10 rebounds, nine assists).