1. Growing Concerns Crash CP3 Homecoming
By J.A. Adande
ESPN.com
NEW ORLEANS -- In the end, this had the makings of a Vinny Del Negro departure more than a Chris Paul homecoming.
People on both sides recognized that Paul's return to face the New Orleans Hornets, the team with which he spent his first six NBA seasons before being traded to Los Angeles (twice), wasn't just another game. Except the result was yet another loss for the Clippers, their third in as many nights and ninth in the month of March. That's as many losses in their past 14 games as they had in their first 28. By the end of the fourth quarter Thursday, it was no longer about the sentimental aspects for Paul.
"It was all about getting a win," he said after the 97-90 defeat at New Orleans Arena. "I mean, we need a win to see what it feels like."
Yes, this was the third game of a back-to-back-back, but that doesn't guarantee a loss. Fifteen out of 29 times this season a team in that situation has found a way to win.
Regardless of whether Del Negro has lost the team, the Clippers have lost their way. And eventually that does circle back to the coach. This Clipper unit has no core identity, plan or system. When things go wrong they have nowhere to turn for shelter and safety. They have no base set that works regularly, no signature play they can count on to deliver a quality shot, no defensive mentality. And they're the latest target of a Chris Broussard locker-room dissatisfaction story, which are turning into the NBA equivalent of hearing Omar whistle "The Farmer In The Dell" on "The Wire." Eric Spoelstra got through it last season, but Mike D'Antoni couldn't survive one this season.
Del Negro gave an extensive list of what the team needs to get back on the winning track.
[+] Enlarge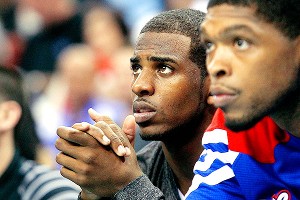 Crystal LoGiudice/US Presswire
"Start playing more as a team, start sharing the basketball on offense more, start having more of a sense of urgency, taking accountability," he said.
Later, when I asked him what should be the base tenet that he wants to see the team grasp, he again went off on a variety of topics:
"The bottom line is we have to defend better, and we have to play smarter," Del Negro said. "We foul when we don't need to … we're slow out of rotations, our weakside wings aren't up enough to get bumps on the cutters. There's a lot of things. There isn't one thing."
Blake Griffin could distill it down to a single entity: "We've got to find a way to put the fun back in it. The fun we had in the first however many games when we were just going out and playing."
Ahh, the early, wide-open Lob City days. The ball moved and the crowd and the Twittersphere were entertained. The problem is, NBA teams don't take kindly to guys dunking on their heads and setting them up to be on the wrong side of a "SportsCenter" Top 10 list. So they've concentrated on staying between Griffin and the basket and making him try to go around them rather than over them. They're trying to keep Paul out of the lane, where he has a whole menu of selections. That's something the Hornets did particularly well Thursday night.
And they're getting physical, even if it means taking a flagrant 2 foul as the Hornets' Jason Smith did when he went NASCAR on Griffin during a fast break.
So what are the Clippers going to do to get the fun -- and more importantly, the victories -- back?
"We've got the talent," Kenyon Martin said. "We need to become a team, in all aspects, in offense and defense. There's a lot of stuff that goes into the factor of being a team. Until we learn that, there's going to be a lot more nights like this. We've got the talent. Just got to go out and apply it."
After Paul, the most significant player to change teams in the past 12 months, joined the Clippers in December they had aspirations of surpassing the Lakers. Now the Clippers find themselves keeping company with the likes of the Denver Nuggets, Houston Rockets and Utah Jazz -- teams that have been in the business of losing superstars, not adding them, in recent years.
They couldn't maintain a 13-point lead against a team that doesn't have 13 victories. As things turned physical, then the Clippers got desperate.
There has been a lot of turnover. Paul changed the dynamic of the team, that suddenly became about him having the ball and making decisions off high screens. They had to get used to newcomers Chauncey Billups and Caron Butler. Then they had to get used to playing without Billups when he suffered a season-ending Achilles injury. They added Martin, then Nick Young.
Now they might have to spend some time without Mo Williams, their highest-scoring reserve, who injured his left big toe in the fourth quarter and left the arena on crutches with a walking boot on his left foot. An X-ray taken at the arena was negative; he will have an MRI exam back in Los Angeles.
"

We need to become a team, in all aspects, in offense and defense. There's a lot of stuff that goes into the factor of being a team. Until we learn that, there's going to be a lot more nights like this. We've got the talent. Just got to go out and apply it.

"

-- Kenyon Martin
Also awaiting the Clippers in L.A.: five home games in eight days, starting with a Memphis Grizzlies team that is a half game ahead of the sixth-place Clippers in the Western Conference standings. Then come the Hornets, Suns, Trail Blazers and Jazz. It could either be a chance for Del Negro to get it right … or an opportunity for a new coach to get off to the kind of start Mike Woodson is enjoying since he took over for D'Antoni in New York last week.
It isn't realistic to expect everything to come together for the Clippers right away this season. But they've reached a major junction ahead of schedule.
With Paul's free agency looming in 2013, it's time for a critical coaching decision by an organization that doesn't have a good track record of making them. (Otherwise they wouldn't be on their seventh head coach since moving into Staples Center in 1999.)
It was very telling to hear Hornets coach Monty Williams describe his relationship with Paul before the game.
"My rule has always been that I challenge the best players on the team," Williams said. "It took him a while to get used to that, but I think he realizes I was trying to help him get better."
Williams realized he had gotten through when he picked up a technical foul in a game last season and on the team flight that night Paul sent back an envelope filled with $100 bills to cover the fine. Williams returned the cash, but he appreciated the gesture: his point guard had his back.
I'm not sure what the relationship is like between Del Negro and Paul. I'm not sure if Paul has even offered Del Negro a stick of gum. I do know that I haven't heard either one talk much about it. You never hear any Clippers talking about buying into a coaching philosophy -- or the need to do so.
Griffin insisted, "We're still behind him. It's not him. It's on us."
It sounded like a man who has only played for one NBA coach. Not sure how much longer he'll be able to say that.


ESPN senior writer J.A. Adande
• On Twitter @jadande | On ESPN.com | On TrueHoop | On e-mail
• Follow ESPN's NBA coverage on Twitter | On Facebook | On Google+
Dimes past: March 4 | 5 | 6 | 7 | 8 | 9-10 | 11 | 12 | 13 | 14 | 15 | 18 | 19 | 20 | 21
2. Around The Association
3. Thursday's Best
Jefferson
Al Jefferson, Jazz: Don't look now, but the Jazz are on a roll. Big Al had 26 points and seven rebounds. He tipped in the game-winner off a Devin Harris "That was a pass! I swear!" airball in the waning seconds to lift Utah to its fifth straight win, one that puts it a half game out of the West playoff field.
4. Thursday's Worst

Slumping Clippers: Vinny Del Negro's seat just reached supernova. The Clips finished off their back-to-back-to-back with a third straight loss, this time to a Hornets team without Eric Gordon, Emeka Okafor or Carl Landry. Never thought N'awlins fans would feel sorry for Chris Paul.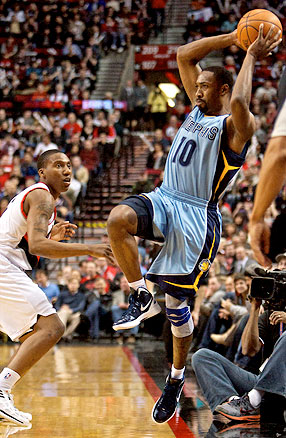 Craig Mitchelldyer/US Presswire
Gilbert Arenas made his NBA re-debut on Thursday, suiting up for the Grizzlies for the first time. Agent … uh, 10 finished with two points in 12 minutes of Memphis' 95-91 loss in Portland.
6. Quote Of The Night
"It was a terrible foul. I don't know what Jason was thinking. He probably better be ready to sit out a game or two for that one. I'm just glad Blake controlled it."
-- Chris Paul, on the hard foul of Blake Griffin that led to Jason Smith's ejection in the fourth quarter of the Hornets' 97-94 win.
MVP: Chandler Parsons: It's feeling like this rookie improves each and every night. Against the Warriors he had a game-high 22 points to go along with a game-high 11 rebounds. It appears Daryl Morey has struck gold once again.
LVP: Nate Robinson: After Goran Dragic picked his pocket and was on his way for a fast-break layup, Robinson wrapped him up by the waist and flung him into the basket support. A very dangerous play that was reviewed, then reduced from a Flagrant 2 to a Flagrant 1. (The two assists and 3-for-10 shooting don't help.)
X factor: Golden State's lack of rim protection. Starting in the game's opening minutes when they scored 14 of their first 22 points in the paint, Houston waltzed into the lane and took whatever they wanted. If you don't believe the Warriors are tanking, please watch this tape and reassess your train of thought.
8. Tweet Of The Night
Fantasy Basketball: Monty Williams to the Clippers to complete the Eric Gordon-Chris Paul deal.

— Kevin Arnovitz (@kevinarnovitz) March 23, 2012
By Elias Sports Bureau
Rondo
Rajon Rondo registered 14 assists in the Boston Celtics' 100-91 win at Milwaukee, marking the fifth straight game in which he's posted at least a dozen assists. Rondo is the first player in Celtics history to record 12 or more assists in each of five consecutive games in one season. No other Celtics player besides Rondo has had a streak of more than three straight games with 12 assists.
Defining moment: With 1:06 to play, Paul George missed a 3-pointer. Indy retrieved the rebound and George again found himself with the ball behind the arc. The Pacers went up one on the George make and Washington never scored again.
MVP: Roy Hibbert (19 points, nine rebounds). With Indiana trying to mount a late comeback, its All-Star made three straight hook shots to keep it within striking distance late. Danny Granger and Paul George did the rest.
X factor: Offensive rebounding. Mixed into that final minute were three offensive boards by the Pacers, with David West getting his hands on everything. The ball remained on their side of the court for more than a minute.