1. KD, Thunder Bring Trophy-Quality Game
By Brian Windhorst
ESPN.com
OKLAHOMA CITY -- There was some disagreement whether the Miami Heat playing the Oklahoma City Thunder was a NBA Finals preview or just a big game in March.
As it turned out, the teams themselves didn't seem to agree on the exact magnitude of their first meeting of the season on Sunday. The Heat played like it was the start of a series, taking a feeling-out approach and acting like they weren't exactly prepared for what they were going to get.
The Thunder played like it was a single-elimination game, deploying a detailed and developed game plan and then overwhelming the Heat with energy and aggression in a 103-87 win.
It was manifested by their leading men, who happen to be the top two candidates for the most valuable player award depending on who you ask. Kevin Durant rather thoroughly outplayed LeBron James, by besting him in every facet. Including, and this was perhaps the most interesting surprise, sharing the ball.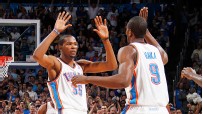 Layne Murdoch/NBAE/Getty ImagesKevin Durant and Serge Ibaka kept the Thunder in control.
Durant tied his season-high with eight assists, part of a masterful performance of 28 points, nine rebounds and two steals. If the MVP vote were held after the game, Durant would probably be holding the trophy.
"I was just trying to make the right plays," Durant said. "I really just wanted to get my teammates involved."
It isn't an official stat but Durant probably had four or five more "hockey assists" when he made passes that led to assists. This was part of the Thunder's game plan, which Heat coach Erik Spoelstra described in crediting Oklahoma City with winning the mental part of the game and Dwyane Wade called "taking advantage of our defensive schemes." More on that in a moment.
James, who was defended by Durant most of the night, shot just 8-of-18 from the field, for 17 points with 3 rebounds and 7 assists. The last four games have maybe been James' weakest offensively as a member of the Heat. He's averaged just 17 points and shot just 40 percent in that span.
Last week, in a game against the Suns, James took a hard fall and banged his elbow and later was hit in the head. Since then he hasn't looked like the same player who was in the midst of his most efficient offensive season ever. He has repeatedly declined to blame the skid on injuries.
After having the best shooting season of his career through the first 40 games of the season, this could be a regression toward the mean. James, who didn't have an ice bag on his elbow after the game, said he was just in a slump.
"I've just got to find my touch," James said. "Everyone goes through one of these and I've had it the last four or five games."
James, apparently, also needs to find his teammates. About the only thing the Heat had going offensively in the second half -- when they weren't turning the ball over, which they did 21 times in the game -- was Wade. He had nine of his 22 points in the third quarter including a 56-foot bomb he made at the buzzer.
Then Wade went the entire fourth quarter without a shot. He only had 10 shots for the entire game. Obviously, this isn't standard. For comparison purposes, Wade hadn't taken less than 16 shots in the last eight games.
It was James who controlled the offense for much of the fourth quarter and played the point guard role down the stretch. James, it seemed, looked more for Battier and Udonis Haslem than Wade. Including one fastbreak where James missed Wade streaking open and it drew a head shake from the team captain.
"I'd rather not comment on that," Wade said. "I'd don't want to talk about the offense."
It was the first time in memory that Wade seemed to openly show displeasure about shots since he's been James' teammate. This season they mostly had been working well together, both on fast breaks and in the half court. That alone shows what sort of anomaly the Heat were forced into by the aggressive Thunder.
"They jumped us and everybody saw it," Spoelstra said. "They kicked our butts, we know it, we'll own it."
On defense, Oklahoma City used their remarkable length to disrupt numerous Heat passes. Miami just wasn't used to have to be concerned about such defensive quickness. It showed right from the start when Mario Chalmers turned the ball over on his first pass of the game when he misjudged Russell Westbrook's wingspan.
"You don't see too many teams like that," Wade said. "It's like they teach a drill to keep their hands involved with everything. You can't scout for how quick they are."
On offense, Oklahoma City took advantage of the Heat's willingness to attack the ball handler in pick-and-rolls. This has been very effective all year and given guards from Steve Nash to Jeremy Lin problems. But the Thunder were ready for it and just passed their way right through it.
Time after time they beat the Heat's rotations with quick ball movement and found their big men, who the Heat's styled often ignores, for easy baskets. Thunder coach Scott Brooks said after the game it was part of the plan.
Kendrick Perkins and Serge Ibaka, consequently, combined to shoot 16-of-21 and score 35 points. Combined with Durant and James Harden, who had 19 points off the bench, and the Thunder had themselves a sound victory.
"It gives us confidence," Durant said. "It gives everyone confidence."


NBA Writer Brian Windhorst
• On Twitter @WindhorstESPN | On ESPN.com
• Follow ESPN's NBA coverage on Twitter | On Facebook | On Google+
Dimes past: March 8 | 9-10 | 11 | 12 | 13 | 14 | 15 | 18 | 19 | 20 | 21 | 22 | 23-24
2. Around The Association
3. Sunday's Best
Durant
Kevin Durant, Thunder: With Russell Westbrook saddled with foul trouble, KD took charge in his head-to-heat matchup with LeBron James, posting 28 points, 9 rebounds and tied his season-high with 8 assists in beating Miami.
4. Sunday's Worst
Jamison
Antawn Jamison, Cavs: Goes 1-for-8 from the field, missing all five 3-pointers, in the Cavs' 108-83 loss to the Suns. His 41.5 field-goal percentage for the season has him on track for his worst season ever from the field.
6. Quote Of The Night
"I think we used to call him kind of a poor man's Larry Bird. I think you can take 'poor man's' off that comparison now. His ability to rebound is incredible and his offensive tools and skills are growing."
-- Denver coach George Karl, after Minnesota's Kevin Love cut down his team with 30 points and 21 rebounds in a 117-100 Wolves win.
MVP: Rajon Rondo treated the Wizards like orange cones from the tip, his 11 assists certainly the reason why Boston had 24 total assists on 34 field goals. Per usual, Rondo turned a blind eye toward offense for most of the night, until less than six minutes left in the game and Washington hanging around within 11 points. A couple of teardrops did the trick, sending the Wizards home drying their eyes from a 4-0 season sweep at the hands of the Celtics.
X factor: With both Ray Allen and Mickael Pietrus out, Rondo and Kevin Garnett must've told fill-in Avery Bradley that he was going to be treated just the same. Bradley scored 13 points in the game's first five minutes as Boston jumped out to a 17-4 lead. Four of his buckets came from Rondo's assists, two came from Garnett passing out the post on Bradley's cuts to the hoop; he finished the night with a career-high 23.
That was … a Sunday snoozer: Boston got off to a ridiculously mechanical start against the fragile, woebegone Wizards, playing without new center Nene Hilario. Washington, thanks to sluggish Celtics offense, got within eight points in the third quarter, but Paul Pierce (21 points) put the little 'uns to bed, giving the C's a much-needed home win coming off a 4-4 eight-game road trip.
8. Tweet Of The Night
Jeanie Buss jokingly chides Marc Gasol during Pau's free throws: "Marc! Your mom likes Pau better!"

— Dave McMenamin @mcten March 25, 2012
By Elias Sports Bureau

The NBA's first four-overtime game since 1997 combined with the Jazz's uncharacteristically poor shooting produced a rarity: Utah missed 77 shots from the field (49-for-126, 39 percent) in a 139133 loss at Atlanta. That was the highest single-game total in an NBA game since 1993, and it was the most ever by the Jazz and the highest total against the Hawks since the Suns implausibly missed 90 shots in a 48-minute game at Atlanta in 1971 (38-for-128, 30 percent).
MVP: Raymond Felton. He has played much better since Nate McMillan's firing, and Sunday was no exception. He led the Blazers with 24 points on 9-for-17 shooting (including an uncharacteristic 4-for-7 from 3-point range). He also had seven assists and only one turnover.
X factor: Points off turnovers. The Blazers turned 15 Golden State turnovers into 20 points, while only committing seven themselves, off which the Warriors scored only four points. Charles Jenkins and Klay Thompson each had four turnovers for the Warriors.
That was … a case of deceptive numbers: Looking at the shooting percentages, it's hard to believe Portland won. The Warriors outshot the Blazers 43.2 percent to 36.5 percent from the field and, more significantly, 94.1 percent to 66.7 percent from the foul line.