In The East, The Floor Now Belongs To Miami
By Brian Windhorst
ESPN.com
MIAMI -- On Saturday afternoon, Jeremy Lin was in a stylish gray suit, sitting at the end of the bench in Miami. Dwight Howard, according to doctor's orders, was resting somewhere in Los Angeles after back surgery, not with his team in Indianapolis. And at a hospital in Chicago, Derrick Rose was learning that he'd blown out his left knee and was done for the playoffs.
Meanwhile, LeBron James raced up and down the floor with ease in the midst of a masterful performance as his Miami Heat took apart the New York Knicks by 33 points in the series opener.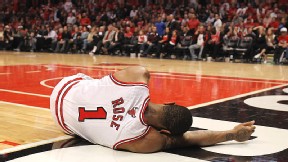 Jonathan Daniel/Getty Images
The remaining variables are uncountable; that's a given. But the Eastern Conference has unquestionably opened up for the Heat, an advantage they might not have needed but will no doubt accept. Already thin on serious contenders, the East's race changed when Rose crumpled to the floor in the final moments of the Bulls' Game 1 win against Philly.
"Obviously, when you don't have an MVP of the league, it changes things," Dwyane Wade said Saturday. "It's unfortunate it happened."
There was an instant effect on several teams, from the Bulls' immediate opponent, the Philadelphia 76ers, to the entire side of the bracket. The Boston Celtics and Atlanta Hawks' series just added a heap of intrigue with the severity of the path ahead altered.
The Bulls were more than respectable without Rose this season, going 18-9, and writing them completely off isn't fair. But if they are able to carry through and beat the 76ers, there's still a good chance the Celtics-Hawks series might now produce a favorite to reach the conference finals.
For a Celtics team dealing with a short bench and aging stars, not having to manage Rose could make a world of difference in a series that will contain back-to-backs with travel in between. For the Hawks, who repeatedly have come up short in attempts to get out of the second round, it also could be a game-changer.
But no team potentially benefits more from Rose's devastating injury than the Heat. That's not polite but it's also true. The No. 1 overall seed just lost its MVP, and the Heat's road to the Finals changed before they'd even tipped off against the Knicks. The Heat were able to figure out Rose during the playoffs last year, but what were the chances they could be so effective again when Rose would be ready for their game plan? Now, we'll never know.
"It's unfortunate that injury has happened," James said after he scored 32 points in just 32 minutes Saturday. "I'm worried about the Knicks; I'm not worried about the Bulls."
That is absolutely the right thing to say publicly. But within the Heat locker room and coaches' offices, there is no way Rose's terrible turn did not create conversation and realization. There are a lot of obstacles between the Heat and the Finals but there's a big one that is no longer there.
Just as the dominant Orlando center who'd had two 20-point, 20-rebound games against the Heat this season is out. And so is the dynamic point guard the Knicks, who committed 27 turnovers against the Heat in Game 1, so badly need.
"It's a travesty," the Heat's Shane Battier said. "You never want to see the great players in this league get injured, just as a fan."
That's honest -- fans want to see the best play the best. Players feel a kinship to other players and know it could just as easily have been them sliding into an MRI tube Saturday. Knicks guard Iman Shumpert did; his left leg buckled during the third quarter Saturday, and within minutes he was on his way to a hospital, like Rose.
"It's just terrible news," Battier continued.
Indeed it was terrible. But, as Battier said, it was also news, news with wide-ranging effects.


NBA Writer Brian Windhorst
• On Twitter @WindhorstESPN | On ESPN.com
• Follow ESPN's NBA coverage on Twitter | On Facebook | On Google+
Dimes past: April 11 | 12 | 13-14 | 15 | 16 | 17 | 18 | 19 | 20-21 | 22 | 23 | 24 | 25 | 26
2. Around The Association
3. Saturday's Best
James
LeBron James, Heat:
This was a strong statement game by the Heat. Having survived a Tyson Chandler pick, "The King" finished with 32 points behind 10-for-14 shooting from the field in a 100-67 rout of the Knicks in Game 1.
4. Saturday's Worst

The 67-point Knicks: Melo was shut down. Iman Shumpert got injured. And Tyson Chandler was clearly not himself, posting seven turnovers in a scoreless performance for the Knicks. His flu-like symptoms required IV treatment after the game. If the Knicks have a chance, they'll need their big man in the middle to get back in good health.
6. Tweet Of The Night
I feel the pain. So sorry for DRose and Shumpert. Wish u a speedy recovery.

— Ricky Rubio @rickyrubio9April 24, 2012
7. Quote Of The Night
"He's got to play, and the thing is, we sat him 'til [the 7:52] mark of the fourth, and he's got to work on closing, he's got to work on finishing. Our team, we didn't handle that part great. That was what I was thinking."

-- Bulls coach Tom Thibodeau, on why Derrick Rose was still playing with Game 1 seemingly decided.
8. Oh, What A Winning Hand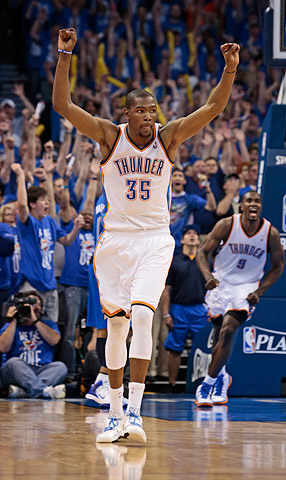 Brett Deering/Getty
Hounded into a poor shooting night courtesy of Shawn Marion and the Mavs, Kevin Durant had the last laugh, celebrating his winning shot in Game 1.
By Elias Sports Bureau

LeBron James joined Allen Iverson as the only player to single-handedly outscore the opposing starters combined, in a playoff game, since the NBA began tracking starters in the 1970-71 season. Iverson scored 52 points on May 16, 2001, against the Raptors. Toronto's starters combined for just 49 points, led by Vince Carter's 16.