In The Middle Of Things, LeBron Rising Highest
MIAMI -- There's midseason form and then there's mid-career form. Then there's midseason, mid-career form.
Less than two months off his 28th birthday, LeBron James might be showing what the prime years of his career could look like. He says he's in the best shape of his life, he's in the midst of the hottest shooting streak and one of the hottest scoring streaks of his life and he's playing with an energy and a mental freedom he's never quite shown before.
With all that to contend with, the Los Angeles Lakers were relegated to a speed bump in James' season Sunday, as he skipped and dunked his way to a fifth straight 30-point game in the 107-97 win. This time it was 32 points on 12-of-18 shooting, his fifth consecutive 30-point game. He once again out-dueled Kobe Bryant, beating him and the Lakers for the fifth time in six tries since coming to Miami to join the Heat.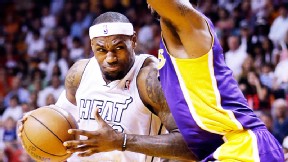 AP Photo/Wilfredo LeeLeBron James went over 30 points once again.
Bryant had what otherwise would've been a strong game with 28 points and 9 assists on 11-of-19 shooting. Dwyane Wade had one of his best games of the season with 30 points on 12-of-18 shooting. But right now there's James and there's everybody else.
Here is the remarkable update: 49-of-65 shooting over the past five games, netting 30 points or more and shooting better than 60 percent in five consecutive games, and scoring 30 points or more in nine of his past 30 games.
When he was asked about how James has been playing recently the day before this meeting, Bryant attributed James' great scoring and shooting ability to "still having great leaping ability." The key word there being "still," Bryant's ever so slight nod that father time was more on James' side than his.
Someday, indeed, James will be slowed by age, injury and all these games as Bryant has been. But that time is not now.
That has perhaps been what's shown through this season. James' physical gifts appear to be at their peak, elevated when combined with his experience and the intangible benefit of playing without the burden of an empty ring finger. It's leading to some remarkable feats.
Back in December, James went on a 25-mile bike ride for charity the night before he played a game against the Brooklyn Nets. Then he flirted with the triple-double in a blowout win the next days.
A few weeks ago after an off-day practice in Washington, D.C. , James decided he would jog back to the team's hotel through the streets of Georgetown.
Attend any Miami Heat game this season and there's a good chance you'll see James put on a private slam dunk display for fans that are paying attention during warmups with acrobatics that would probably earn him perfect 10s were he ever to take part in the real deal at All-Star Weekend. The handful he threw down prior to Sunday's game were some of the best highlights of the afternoon. It came after his vigorous pregame workout three hours before tipoff.
Sometimes it seems as if James just moves at a different speed than everyone else on the floor, even if it's late and he should be tired. But right now James just seems impenetrable.
"I think he's at the stage of his career in which he'll value each year and take the significance to his training and take the significance to focus for each game," Bryant said. "I think it's taken his game to another level. It's tough."
Steve Nash was more succinct: "He's playing at a level rarely seen."
On the play that pretty much defined the game, Heat guard Norris Cole threw an alley-oop backward to James on a fast break in the fourth quarter. James soared so high that Nash did his best to just get out of the way.
It was the most impressive of the Heat's 19 fast-break points in the game, a figure that broke the Lakers' backs in a game in which they competed hard and shot 50 percent but couldn't match the Heat's athleticism.
"[Cole] threw it to the moon," Heat coach Erik Spoelstra said.
"And I went and got it," James said.
There have been a few times this season where James has looked a little rundown. Playing so much in the post against bigger players has sometimes taken a toll. After a particularly rough night in Utah last month when he banged with Al Jefferson and Derrick Favors all night, he needed a full-body postgame ice bath. The hints that 10 season in the NBA, more than 800 regular-season and playoff games, three Olympics and sometimes being asked to play five different positions adds up.
When the postseason arrives and the real pressure returns, there's an entirely different level of stress that shows on every player, including James. Or as he's said in the past: "Playoff sweat is different than regular-season sweat."
At least the rest of the league better hope so. Because right now, James appears to feel no pain.
"Winning does a lot," James said. "I love to compete, I love to go against the best, I love to get out there with my teammates. And we're enjoying the way we're playing right now. I said before last season I was going to get back to playing the game and having fun. Ever since it has been ongoing."
Brian Windhorst covers the NBA for ESPN.com. Follow him @WindhorstESPN
Dimes past: Jan. 25-26 | 27 | 28 | 29 | 30 | 31 | Feb. 1-2 | 3 | 4 | 5 | 6 | 7 | 8-9
2. Around the Association
3. Sunday's Best
Pierce
Paul Pierce, Celtics:
The Celtic with the longest tenure went long. Pierce played 54 minutes en route to 27 points, 14 rebounds and 14 assists in a 118-114 triple-overtime win over the Nuggets. His 3-pointer at the end of the second OT kept Boston alive.
4. Monday's Worst
George
Paul George, Pacers:
The All-Star forward, averaging 17.8 ppg, was held to five points on 1-of-10 shooting in an overtime loss to the Brooklyn Nets. It was his first game of the season without an assist. He fouled out with 1:03 left in the fourth.
6. Tweet Of The Night
Jason Terry fanning the crowd to get loud as Kemba Walker is at the line. The game is in Charlotte.

—Tom Haberstroh (@tomhaberstroh) February 11, 2013
8. Rising Ambition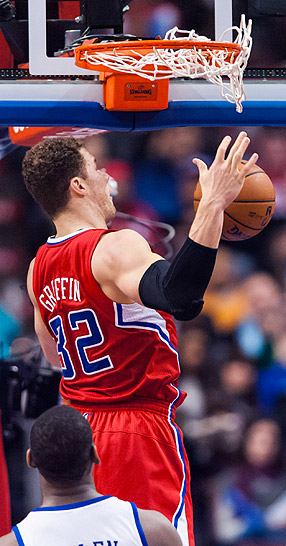 Howard Smith/USA TODAY SportsBlake Griffin jammed his way to 20 points in a 107-90 win over the Sixers.
9. Stat Check
The San Antonio Spurs defeated the Chicago Bulls 103-89 despite being outrebounded, 49-26. Only one other team in the past 35 seasons has won by at least 14 points in a game in which it was minus-23 or worse on the boards. The Vancouver Grizzlies posted a 92-78 win over the Denver Nuggets in a game in which Denver outrebounded Vancouver 59-34, on April 19, 1996.
The Spurs won despite missing Tim Duncan, Tony Parker and Manu Ginobili. San Antonio lost its first seven games in which none of its Big 3 played from 2002-03 (when Ginobili joined the team) through last April 9. But the Spurs have now won three of their past four such contests.
Around The Association
---
Most valuable player: Nene Hilario threw his weight against Samual Dalmebert and anyone else Milwaukee tried to throw back. The Brazilian jiu-jitsu'd the Bucks with 21 points (10-for-13 FGs) and 13 rebounds. With John Wall able to push the ball and get defenses moving off the dribble, Hilario, on nights like this, provides a perfect pairing with his ability to run a half-court offense.
Defining moment: Third-year big man Kevin Seraphin started to get lost on defense and in his own jump shot early in the fourth. Milwaukee had cut a nine-point deficit to three in about 90 seconds. Randy Wittman wasted no time getting Hilario back on the court. He immediately provided a couple free throws, several rebounds, and a jumper for the game-deciding push.
X factor: With Wall and Hilario as Washington's obvious top dogs, Bradley Beal has really elevated to third pup status, with the potential to one day be the Wizards' primary star. The rookie scored a career-high 28 points on 17 shots and finished plus-27 in 36 minutes off the bench.
---
MVP: Luke Ridnour is the only Timberwolve to play in all 49 games so far and this one showcased his grit and steady hand. He scored 13 of his 21 points in the fourth and kept the Cavs at arm's length.
Defining moment: With less than two minutes to go, the Cavs had cut the Wolves' lead to three. Ridnour's icy veins took over and he drilled his only 3-pointer to push the lead to 95-89. The Cavs never got closer than six again.
X factor: The shooting. For once, the Wolves knocked down their 3-pointers, shooting 57.1 percent from distance, while the Cavs struggled from the arc and the stripe, hitting 29.4 percent and 63.6 percent, respectively.