Bank's Open? Once Mighty Mavs Still Can't Close
DALLAS -- Shawn Marion declared last week that he would refuse to report if the Dallas Mavericks traded him to a, um, stinky situation.
That's certainly the versatile veteran forward's right, but reasonable minds might wonder what exactly there is to like about the Mavs' situation at the moment.
"Man, I'm done talking about that," Marion said after the Mavs' 105-100 loss to the Atlanta Hawks at the American Airlines Center. "I don't even want to talk about it no more, really. It doesn't even matter. I'm here. I ain't going nowhere."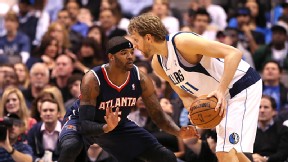 Matthew Emmons/USA TODAY SportsDirk Nowitzki couldn't get the Mavs past Josh Smith & Co.
Barring a miracle turnaround, neither is the Mavs' season.
Marion could have mentioned the Mavs' winning tradition, their 12 consecutive playoff appearances or the fact that a front office, coach and superstar remain from a team that won the title two seasons ago. However, Marion was in no mood to discuss the matter after another Mavs clutch meltdown Monday night dropped Dallas seven games under .500.
The cold, harsh truth is that there almost certainly isn't any help on the way via the trade market. Over the past few days, Mavs president of basketball operations Donnie Nelson and coach Rick Carlisle have expressed strong doubt that the team would make a deal before the Feb. 21 deadline.
Owner Mark Cuban insists that the "Bank of Cuban" remains open for business. But Cuban acknowledges the odds of the Mavs pulling the trigger on an impact trade are slim, especially since he's willing only to sacrifice summer cap space to acquire a player that can be a foundation piece for years to come.
"There's a lot of deals we would make," Cuban said before Monday's game, punctuating the thought with a laugh, "but nobody seems willing to do what we want to do. You never know, but nothing imminent. The bank's still open.
"It's gotta be something really, really, really good."
PODCAST
A Ben & Skin discussion on the Mavericks' trade possibilities turns into a discussion about why the Mavs need Dwight Howard.

Listen

Don't hold your breath for that to happen.
And, no, the Mavs aren't interested in on-the-block Hawks forward Josh Smith, even after he dominated Dallas with 26 points, 13 rebounds and 6 assists. If the Mavs wanted to commit close-to-max money to a guy who isn't great enough to be a franchise player, they never would have let Tyson Chandler go in the first place.
Dirk Nowitzki, the struggling superstar who publicly questioned the franchise's grand plan to "build around hope" last month, certainly isn't bracing for a blockbuster deal to provide a boost to the Mavs' desperate playoff push. He's savvy enough to see the logic behind entering this summer's Dwight Howard sweepstakes, even if the Mavs have slim chances of winning the big man's signature.
"It makes really no sense to take a contract back when you won't have cap space this summer," Nowitzki said after his slump-busting 24-point performance. "That's how I look at it. The only move you can make is a lateral move, but it doesn't really do any good anyway. So we've got to ride with what we've got."
If Nowitzki is going to take a razor to his furry face the rest of this season -- something several Mavs have vowed not to do until they hit .500 again -- it's on him and his potluck supporting cast, primarily made up of rental expiring contracts, to figure out how to finish games.
A championship banner hangs in the AAC rafters because the Mavs were some of the best finishers in league history a couple of springs ago. Those days seem so distant now as the Mavs constantly seem to figure out ways to give games away, evidenced by their 8-13 record in contests that were within three points in the final minute this season, including a 1-8 overtime mark.
The loss to the Hawks added to that heap of frustration. Despite spotting Atlanta a 10-point lead, the Mavs fought back and led by five at one point in the fourth quarter only to fold down the stretch.
"It's the story of our season," Nowitzki said with a sigh. "Down the stretch, we had our chances. For some reason, we can never pull those close games out. That's just a game we've got to have no matter what happens. We've got to find a way to win that game."
It's easy to point to O.J. Mayo's two turnovers in the final 23.9 seconds, a frequent problem this season. But Nowitzki is quick to note he missed a wide-open 3-pointer that would have given the Mavs the lead with a little more than two minutes remaining and failed to corral a critical rebound. And it definitely didn't help that Dallas went a stretch of more than four minutes without a field goal.
The late-game failure had Nowitzki reminiscing about the Mavs' most memorable midseason acquisition: Jason Kidd. But Kidd isn't returning to Dallas and Dirk accepts that he almost certainly isn't getting a co-star this season.
Nowitzki promises to keep pushing, determined not to miss the playoffs for the first time since he was an NBA pup.
"We've got to be smarter," Nowitzki said. "We've got to do the little things better. And if you keep making little mistakes, they add up into big losses."
And long beards.
Tim MacMahon covers the Mavericks for ESPNDallas.com. Follow him @espn_macmahon
Dimes past: Jan. 25-26 | 27 | 28 | 29 | 30 | 31 | Feb. 1-2 | 3 | 4 | 5 | 6 | 7 | 8-9 | 10
2. Around the Association
4. Monday's Best
Mullens
Byron Mullens, Bobcats:
He posted 25 points and 18 rebounds as the Charlotte Bobcats snapped a seven-game losing streak and broke the Boston Celtics' seven-game winning streak. The 7-footer even sank 4-of-5 from 3-point range.
4. Monday's Worst
George
Paul George, Pacers:
The All-Star forward, averaging 17.8 ppg, was held to five points on 1-of-10 shooting in an overtime loss to the Brooklyn Nets. It was his first game of the season without an assist. He fouled out with 1:03 left in the fourth.
6. Tweet Of The Night
Jason Terry fanning the crowd to get loud as Kemba Walker is at the line. The game is in Charlotte.

—Tom Haberstroh (@tomhaberstroh) February 11, 2013
8. Rising Ambition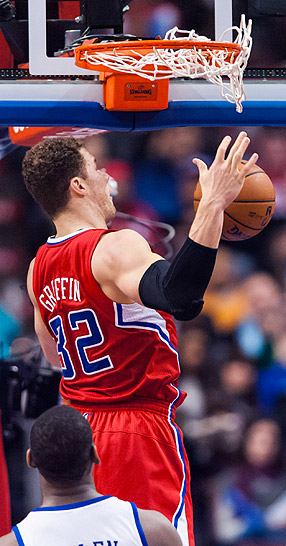 Howard Smith/USA TODAY SportsBlake Griffin jammed his way to 20 points in a 107-90 win over the Sixers.
9. Stat Check
The San Antonio Spurs defeated the Chicago Bulls 103-89 despite being outrebounded, 49-26. Only one other team in the past 35 seasons has won by at least 14 points in a game in which it was minus-23 or worse on the boards. The Vancouver Grizzlies posted a 92-78 win over the Denver Nuggets in a game in which Denver outrebounded Vancouver 59-34, on April 19, 1996.
The Spurs won despite missing Tim Duncan, Tony Parker and Manu Ginobili. San Antonio lost its first seven games in which none of its Big 3 played from 2002-03 (when Ginobili joined the team) through last April 9. But the Spurs have now won three of their past four such contests.
Around The Association
---
Most valuable player: Nene Hilario threw his weight against Samual Dalmebert and anyone else Milwaukee tried to throw back. The Brazilian jiu-jitsu'd the Bucks with 21 points (10-for-13 FGs) and 13 rebounds. With John Wall able to push the ball and get defenses moving off the dribble, Hilario, on nights like this, provides a perfect pairing with his ability to run a half-court offense.
Defining moment: Third-year big man Kevin Seraphin started to get lost on defense and in his own jump shot early in the fourth. Milwaukee had cut a nine-point deficit to three in about 90 seconds. Randy Wittman wasted no time getting Hilario back on the court. He immediately provided a couple free throws, several rebounds, and a jumper for the game-deciding push.
X factor: With Wall and Hilario as Washington's obvious top dogs, Bradley Beal has really elevated to third pup status, with the potential to one day be the Wizards' primary star. The rookie scored a career-high 28 points on 17 shots and finished plus-27 in 36 minutes off the bench.
---
MVP: Luke Ridnour is the only Timberwolve to play in all 49 games so far and this one showcased his grit and steady hand. He scored 13 of his 21 points in the fourth and kept the Cavs at arm's length.
Defining moment: With less than two minutes to go, the Cavs had cut the Wolves' lead to three. Ridnour's icy veins took over and he drilled his only 3-pointer to push the lead to 95-89. The Cavs never got closer than six again.
X factor: The shooting. For once, the Wolves knocked down their 3-pointers, shooting 57.1 percent from distance, while the Cavs struggled from the arc and the stripe, hitting 29.4 percent and 63.6 percent, respectively.