The Beat Goes On For LeBron James
MIAMI -- What if LeBron James was a spectator and not a participant to his two weeks of historic play? What would he say about seeing someone else assemble this sort of unique streak?
"I'd be tweeting like crazy," James said. "I'm at a loss for words."
Pre-information age, James would be branded as just being "in a zone" for a six-game run that has developed into the centerpiece of his case for a fourth most valuable player award. Now, though, we have the computer database at Elias Sports Bureau and it spit out a report that's quantified it as an original achievement.
Being the only player ever to score 30 points and shoot better than 60 percent from the field in six straight games is hardly the stuff of childhood dreams. The caretakers of the Hall of Fame probably aren't looking for James' jersey after he put up 30 points on 11-of-15 shooting in the Miami Heat's 117-104 win over the Portland Trail Blazers on Tuesday night.
But the stat thresholds in this case are just a way to verify the eye test, that James is having the mother of all hot streaks. James himself is having a difficult time coming to grips with the attempts to standardize more than 65 years of performances he's surpassing.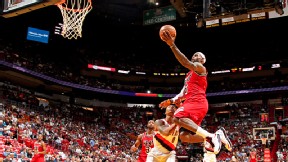 Issac Baldizon/NBAE/Getty ImagesYou can only hope to contain him.
"It kind of blew my mind, some of the guys who [hadn't done it]," James said. "You would think Wilt [Chamberlain] would have a 40 [points a game]-70 [percent shooting] streak. You would think [Michael Jordan] would have one of those records where he shot unbelievable from the field. You would think Shaq. It was like 'Wow.'"
The numbers have been rolling up since Super Bowl Sunday in Toronto. Since the fourth quarter of that game, James has made 60 of his past 80 shots. His scoring binge and slick shooting have lifted the Heat to a six-game winning streak.
After going through a rocky period in January when some tempers flared a bit and there was some passive grumbling over shots, minutes and even roles, the Heat have re-identified the flow that carried them to the title last season. With James as the usual hub, the Heat zoomed past the Oklahoma City Thunder as the owners of the league's best offense.
While James has been getting justified attention for his 56 percent shooting mark this season, both Dwyane Wade (50 percent) and Chris Bosh (55 percent) are also hitting at a numbing pace. Tuesday, Bosh was 13-of-16 for 32 points and Wade was the laggard at 8-of-18 for 24 points.
Bosh's season is being especially obscured. According to Hoopdata.com, he's shooting 55 percent on shots from 16-plus feet, as a lethal pick-and-roll option with Wade and James. He has drawn ire for his rebounding struggles, and there were plenty who questioned his inclusion on the All-Star team, an opinion that currently seems a challenge to defend.
If the Heat somehow keep this up, Bosh and James would be the first teammates to shoot better than 55 percent (minimum 12 shots per game) since Kevin McHale and Robert Parish did it for the Boston Celtics in 1986-87.
"We just know what we're supposed to do, we know where we're supposed to be," Bosh said. "We're in each other's heads pretty well. Just the chemistry is flowing. When you know where you're going to get your shots there's no confusion and you can step up and shoot with confidence."
Two seasons ago, Blazers coach Terry Stotts was on the Dallas Mavericks' coaching staff when James averaged just 17 points and Bosh shot a lowly 41 percent. In Game 4 of the NBA Finals that season, James was held to eight points in what will probably go down as one of the most disappointing and unfathomable games of his career.
It's hard to even construct a comparison of then to now. Games in February aren't like games in June, of course, but Heat's offense has never shown so much bite.
"They really have gotten comfortable with each other," Stotts said. "They have found a style that works for them and they have familiarity with each other. The ball moves more, they know where people are going to be. There's less pressure on them, there's less scrutiny. Confidence on offense is paramount and they've gained confidence."
The Heat's effort Tuesday -- they shot 58 percent as a team -- completely obscured what otherwise was a brilliant performance by Blazers rookie Damian Lillard. Coming off his worst shooting game (1-of-16) Sunday in a bad loss at Orlando, Lillard played fearlessly against the Heat by scoring 33 points on 10-of-18 shooting.
Teammate LaMarcus Aldridge had 29 points on 13-of-20 shooting … and was relegated to the fourth-best performer in the game.
That's the reality when sharing the court with James right now.
"I know how many great and dominant players have paved the way for me," James said. "To be able to have this streak, to be able to have it when we've won every game and to be efficient means a lot."
Where it stops, nobody knows.


NBA Writer Brian Windhorst
• On Twitter @WindhorstESPN | On ESPN.com
• Follow ESPN's NBA coverage on Twitter | On Facebook | On Google+
Dimes past: Jan. 25-26 | 27 | 28 | 29 | 30 | 31 | Feb. 1-2 | 3 | 4 | 5 | 6 | 7 | 8-9 | 10 | 11
2. Around the Association
3. Tuesday's Best
James
LeBron James, Heat:
Another game, another ultra-efficient outing for LeBron, this one resulting in an NBA record for six straight games at 30 points/60 percent shooting. King James has now connected on 60 of his past 80 shot attempts. Let that sink in.
4. Tuesday's Worst
Thunder in Salt Lake:
Despite shooting nearly 56 percent, Oklahoma City fell by 15 in Utah. Hampered by 20 turnovers -- seven from Russell Westbrook -- the Thunder couldn't overcome Al Jefferson, Paul Millsap and the Jazz's bench in the second half. OKC's win streak ends at four games.
6. Tweet Of The Night
Shaq sharing a laugh with Kobe. Or punching him in the kidney. You decide. http://instagr.am/p/Vp-hpgGPqr/

—J.A. Adande (@jadande) February 11, 2013
7. Quote Of The Night
"I'm at a loss for words. … Like I say over and over, I know the history of the game. I know how many unbelievable players who came through the ranks, who paved the way for me and my teammates. And for me to be in the record books by myself with such a stat -- any stat -- it's big-time."
-- LeBron James, on becoming the first player in NBA history to score 30 points and shoot at least 60 percent in six straight games.
8. History Is Made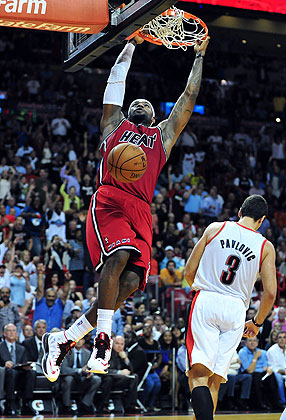 Steve Mitchell/USA TODAY SportsLeBron's final points of the game capped a record-setting night in Miami.
9. Stat Check
Bryant
Kobe Bryant made only one of eight field goal attempts, handed out nine assists and had eight turnovers in the Lakers' win over the Suns.
Only one other player had an odd statistical line like that in an NBA game -- 1-for-8 or worse from the field with at least nine assists and eight turnovers -- since the league started keeping track of individual turnovers in 1977-78: Raymond Felton, who made only one of eight shots from the field with 12 assists and eight turnovers for the Portland Trail Blazers in a win over the New Orleans Hornets on Jan. 16, 2012.
Around The Association
---
MVP: Chandler Parsons did everything and it shows in his 21-8-9 line. He drained it from 3-point territory, rebounded, attacked the rim or whipped the ball to the perimeter -- so effectively that coach Mark Jackson yanked Harrison Barnes from the game.
That was … unexpected: Near the end of the first quarter, Omer Asik received the ball at the top of the key and did what was least expected out of him: drive. Without fumbling the ball or committing a charge, he navigated his way to the basket and made a running layup.
X factor: Patrick Patterson is the perfect power forward for Houston, and he's criminally underrated. He hits corner 3-pointers and is the best big man running the floor in the NBA this side of Nikola Pekovic (1.43 points per play in transition, ninth in the NBA, per Synergy). He knows exactly how and when to cut in the Rockets' complex pick-and-roll. He torched David Lee all night to the tune of 12 points on 6-of-9 shooting.