LeBron James, With No Regard For Hoopla
OKLAHOMA CITY -- Unusual stat thresholds, complex streaks, comparisons to Michael Jordan, comparisons to Kobe Bryant, hypothetical questions about franchise player status involving Kevin Durant -- LeBron James has had enough.
"I'm not MJ, I'm LJ," James wrote with some exasperation on his Twitter feed Wednesday morning.
And he means it. In the midst of one of the most remarkable string of games in his career, James is completely uninterested in the minutiae and the suppositions that are raging about his play.
What he knows is this: He has outplayed Bryant routinely for several years now, including twice already this season. He has beaten Jordan's Charlotte Bobcats 10 straight times. And he has gotten the better of Durant six times in a row, including a 110-100 victory Thursday night in which James added another file to the anthology.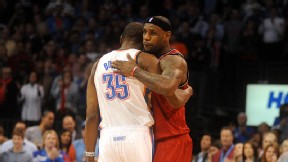 Mark D. Smith/USA TODAY SportsKevin Durant and LeBron James clashed for the last time this season. Will they meet in June?
"I'm at a point where I'm just trying to make my own way," James said. "I understand there are comparisons. Anytime someone comes in and does anything, there are comparisons. It's flattering but sometimes you just want to stay away from it."
The All-Star break, Jordan's 50th birthday, the matchup, the ongoing most valuable player race with Durant and Sunday's meeting with Bryant have turned into a swirl around James. He can't be bothered with any of it.
There's a number of elements that have aligned for him over the past two seasons that seemed to have allowed him to break through the glass ceiling that suppressed him for an uncomfortable few seasons beforehand. His mental independence is one of the most profound changes, and it's showing in his game and his perspective.
"I don't get too involved what guys say about me," James said. "If you take Kobe or take LeBron. I don't do what I do for other people's approval."
That easygoing attitude was all over his 39-point, 12-rebound, 7-assist performance Thursday night. Playing in arguably the most hostile arena for visiting teams in the league against what is probably his greatest contemporary rival in Durant, James played with a carefree mindset that could come only from a mixture of confidence and experience.
When James was in his teens and early twenties he used to say routinely that he "didn't believe in pressure." It was classic Stage 1 denial. As the expectations and demands grew, pressure pounded down on James so heavily that it threatened to derail his potential. Now 10 seasons in, he can waltz into a place such as Chesapeake Energy Arena and genuinely perform with a clear mind.
In the first half as James pulled up for a 3-pointer, a fan nearby yelled at him.
"He said, 'Shoot it, you can't shoot.' I said, 'OK' and then I shot it," James said. "I made it. Then I made another one, then I made another one, then I made another one. Then he stopped talking to me."
In a span of 1:46 of game time, James scored 10 points. The Heat led by 17 at the half.
In the fourth quarter with the Thunder desperately trying to make a comeback -- Durant scored 22 of his 40 points in the last 12 minutes, somewhat redeeming himself for a below-average first three quarters that James dominated -- James pulled up for a 3-pointer at the end of the shot clock. As it went down, pushing the Heat lead to 15 points with eight minutes to play, he waved both arms with palms down.
Was it a message to the Thunder players, their fans, his coach or his teammates? The answer was all of them.
When James came back out to the court he made eye contact with Hall of Famer Chris Mullin, who was sitting courtside doing color commentary on ESPN Radio. Mullin raised his eyebrows at the performance James was giving.
"I'm just trying to get better, Mully. Just trying to get better," James said as he slipped in his mouthpiece.
"It's a beautiful mentality that he has where he's willing to have a growth mindset and not just become complacent with greatness," Heat coach Erik Spoelstra said. "When you're the best player in the game and you've won multiple MVPs the natural tendency would be to relax. He doesn't have that in his genes."
With the game in hand and a minute to play, James tossed up a 28-foot jumper for the heck of it. The miss took him down to 14-of-24 shooting, just 58 percent, ending his streak of six games with 30 points and 60 percent shooting.
A Thunder-Heat game is one of the premier matchups on the NBA schedule. It was the centerpiece on Christmas Day. It is the oddsmakers' pick to be an NBA Finals matchup. The Durant-James and Russell Westbrook-Dwyane Wade billings write themselves. And in the final seconds, the only drama was whether James could keep up some arbitrary streak that gained national interest because it was a new way to judge James with history.
As he showed with the final flippant shot, he was numb to it. Someday, James may well be interested in getting into the tempting debates around his place and his rivals. For now, though, all that is noise he blocks out with his fancy headphones as he heads to Houston for another All-Star Weekend where he'll be the guest of honor in every room he walks into.
That is what his place in the game is for now.
"He's going to break a lot the records and have all the numbers," Wade said. "It's just going to be how many championships he wins that people are going to talk about. That's a different kind of conversation. There's not many guys who have ever played this game who have what he's expected to have. Only way you get there is take it one year at a time, and he's done that. He's approached it the right way."


NBA Writer Brian Windhorst
• On Twitter @WindhorstESPN | On ESPN.com
• Follow ESPN's NBA coverage on Twitter | On Facebook | On Google+
Dimes past: Jan. 29 | 30 | 31 | Feb. 1-2 | 3 | 4 | 5 | 6 | 7 | 8-9 | 10 | 11 | 12 | 13
2. Around the Association
| | | | | |
| --- | --- | --- | --- | --- |
| Los Angeles Clippers | 125 | FINAL | 101 | Los Angeles Lakers |
---
MVP: Blake Griffin set the tone early as the Clippers raced out to a quick 15-0 lead. Griffin was 9-of-10 shooting for 18 points in the first quarter and singlehandedly outscored the Lakers, 18-17. Even as the game briefly tightened, Griffin's message was already sent: He can do whatever he wants.
X factor: Table of three for Chauncey Billups. Mr. Big Shot accepts the award on behalf of the Clippers' blistering 3-ball Thursday night, 53.3 percent on 16-of-30 shooting. Billups himself unleashed a hailstorm of 3-pointers, going 5-for-7 en route to 21 points in a meager 16 minutes.
That was … the new normal: The Clippers jumped all over the Lakers at the start of both halves, hitting 101 points and breaking Lawler's Law in three quarters and putting the game away well before the waning moments. At least for this season, the Clippers are rising with the tide while the Lakers struggle to stay afloat.
| | | | | |
| --- | --- | --- | --- | --- |
| Miami Heat | 110 | FINAL | 100 | Oklahoma City Thunder |
---
MVP: LeBron James. Who else? The King continued his run of dominance, notching 39 points, 12 rebounds, 7 assists and 2 steals. Those numbers don't do justice to just how much he controlled the game.
Defining moment: After the Thunder had whittled the Miami lead all down to 10 points with a minute and a half to go, the Heat had the ball out of bounds under the basket. LeBron shook loose from Russell Westbrook and threw down a rim-rattling alley-oop dunk to remove any lingering doubt that Miami would win the game.
X factor: Chris Bosh started at center for Miami for the first time in a while, and continued a torrid shooting streak of his own, going 10-for-14 to finish with 20 points, while adding 12 rebounds, 2 assists, 2 steals and 3 blocks.
3. Thursday's Best
James
LeBron James, Heat:
Goes for 39 points, 12 rebounds and 7 assists in the 110-100 win over the OKC Thunder. His NBA record run of games with at least 30 points and 60 percent ended when he hoisted an end-of-the-shot-clock 28-footer with more than a minute left and Miami up 10, dropping him to 58 percent (14-of-24).
4. Thursday's Worst
Thunder's board scores:
Remember when the Heat were routinely destroyed on the boards? The Thunder don't, getting outrebounded by Miami 46-35. Serge Ibaka (zero blocks?) led the OKC big men with a mere six boards.
6. Tweet Of The Night
Me and my valentine's date exchanging our gifts. She got me cupcakes and I got her the valentine day j's.& http://instagr.am/p/Vu9rYKC8IG/

—C.J. Watson (@quietstorm_32) February 14, 2013
7. Quote Of The Night
"Five beats one every time I look at it. And not that [James] won't get five. He may get more than that, but five is bigger than one."
-- Michael Jordan, on picking Kobe Bryant over LeBron James.
8. Clash Of Titans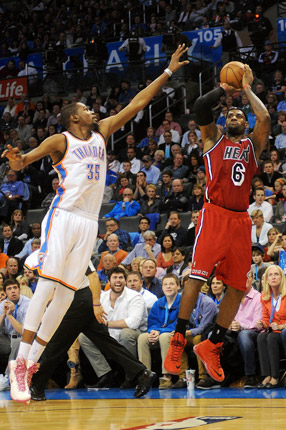 Mark D. Smith/USA TODAY SportsLeBron James and the Heat got out to a fast start, holding off a late charge from Kevin Durant (22 of his 40 points in the fourth quarter) for the win.
9. Stat Check
The Miami Heat won both games against the Oklahoma City Thunder this season. It's the first time a defending NBA champion swept a season series over the team it defeated in the previous season's NBA Finals since 2004-05 when the Detroit Pistons beat the Los Angeles Lakers in both of their regular-season meetings. From 2005-06 to 2011-12, the defending NBA champion was only 3-11 in regular-season meetings against the team it defeated in the previous season's Finals.