1. Heat Resume Hot Ways With Ninth Straight 'W'
CHICAGO -- Temperatures in the Windy City were below freezing throughout the day, and a snowstorm loomed late Thursday as the teams were leaving the United Center.
Yet it's starting to feel a bit like June for the Miami Heat.
"We're getting into that mode," Heat guard Dwyane Wade said. "We understand what it takes as a team that's been there two years in a row to the Finals. We understand what it takes to compete at a high level, especially at this time."
If there were any concerns that last week's All-Star break might have disrupted the best flow the Heat have been in all season, they appear to have been erased as Miami extended its longest winning streak of the season to nine games with Thursday's 86-67 dismantling of the Bulls.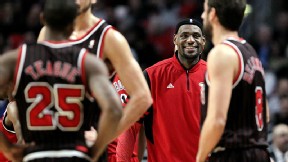 Chris Sweda/Getty ImagesLeBron James stood out once again with 26 points and 12 rebounds in a blowout win.
The Heat took another step in their process of overcoming some bad habits from earlier in the season. A team that struggled on the road has now won four straight on the road and seven of their last nine away from their home arena.
A Heat defense that was inconsistent at best through the first two months of the season is starting to routinely blitz opponents, with Thursday marking the 14th time in 18 games that Miami scored at least 20 points off turnovers. That defensive dominance is starting to fall in line with an offense that is one of the most efficient in the league.
Coincidentally, it was right around this time last season when the Heat went on a similar nine-game winning streak in February and showed flashes of the chemistry and rhythm that ultimately carried them to a championship.
It's obvious how high expectations are around the Heat these days when they force a season-high 27 turnovers, shoot better than 50 percent from the field, notch 20 assists, win by 19 points and then stagger into the freezing cold as if they'd just struggled through a disappointing effort.
"Our competitiveness was there," Heat coach Erik Spoelstra said. "But we were just sloppy. It wasn't the cleanest game. It was not the most fluid game."
Spoelstra's theme carried into the locker room after the game, where center Chris Bosh talked as the stat sheets being passed around the room reflected a different game.
"We know how our expectations are internally," Bosh said of the Heat, who held the Bulls to 37 percent shooting and just 32 points in the second half. "But you really felt we didn't play our best game. We didn't start the way we wanted and had a lot of careless turnovers."
If that's the Heat messing around and taking it lightly, the Bulls certainly had a different view of the team they faced.
"They kicked our asses," Bulls center Joakim Noah said.
The Heat are starting to get into that mode, and it's represents a discouraging look for the rest of the Eastern Conference. Miami is far from a finished product, and still has several weeks to round into playoff form. But they're starting to flip that switch and play with the confidence and dominance they had through much of last year's playoffs.
But Thursday's game didn't provide much of a postseason test, with the Bulls missing Kirk Hinrich because of an elbow injury as well as Derrick Rose, who is nearing a return from knee surgery that's kept him out all season.
Rose still dominated the night despite his absence after his older brother and manager questioned the team's direction.
"It's frustrating to see my brother play his heart and soul out for the team and them not put anything around him," Reggie Rose told ESPNChicago.com before Thursday's game, which came just a few hours after the Bulls bypassed the trade deadline without making a move. "Everyone is expecting Derrick to come back. If Derrick comes back, they're going to sell more tickets. Is the reason for Derrick to come back to win a championship or to make money? I don't believe a championship."
In response, the Bulls issued a statement from Derrick Rose just moments before the game started.
"I have always felt that the Bulls organization's goals have been the same as mine and that is to bring another championship to this city," Rose said in the statement.
Perhaps the Heat downplayed Thursday's performance because it was against a Bulls team that can't truly be measured until Rose, the league's 2011 MVP, returns. But with or without Rose, these Bulls wouldn't beat the Heat in a playoff series. They defend as well as any team in the league, but they lack consistent scoring late in close games.
Chicago will ultimately face the same dilemma when Rose returns as it did against the Heat in the 2011 Eastern Conference finals. When LeBron locks up Rose in the fourth quarter, where will the Bulls go for a clutch bucket?
And the Heat are a vastly superior team in the fourth quarter than they were last season or the year before.
An example of that improvement was seen Wednesday night, when the Heat entered the fourth quarter in Atlanta trailing by 10, but outscored the Hawks 40-17 for the win. There are other challengers to overcome, with Indiana and New York a combined 4-0 against the Heat this season. But those teams still must prove they can string together four wins over the defending champions at the most crucial time of the season.
"Our level of execution right now in the fourth quarter is at an all-time high, and that's good to have," James said. "We're putting together some good basketball right now. The way we're winning is how we want to win. We're defending, creating turnovers and winning offensively. We're the best shooting team in the league, numbers-wise. We've done a great job putting it together this month."
The Heat are 9-1 in February, and feel they're just starting to warm up. They toy with teams at times, and then they take off. That's the one bad habit Miami still has to address. If its "B" game is good enough to win by double figures most nights, what happens when they finally assemble their "A" game regularly?
"That's what we're trying to get to," Bosh said. "We haven't put a winning streak together -- a major one -- all year. Usually, we put up a couple of 10-game winning streaks by now. But now is a good time. We're just trying to continue to build. We know how it is after the All-Star break. We want to be on all cylinders when April gets here."
Right now, the Heat is just warming up.
Dimes past: Feb. 1-2 | 3 | 4 | 5 | 6 | 7 | 8-9 | 10 | 11 | 12 | 13 | 14 | 17 | 20 | 21
2. Around the Association
| | | | | |
| --- | --- | --- | --- | --- |
| San Antonio Spurs | 116 | FINAL | 90 | Los Angeles Clippers |
---
MVP: Tony Parker. It's not often Chris Paul looks slow, but Parker ran CP3 ragged by knocking down pull-up jumpers and getting to the rim with ease for 31 points on 12-for-16 shooting.
X factor: No team locks up Chris Paul quite like the Spurs do. In six of his 10 matchups against the Spurs as a Clipper, Paul has scored less than 12 points. They have his number.
Defining moment: There were 10 minutes of game time between the second and third quarters where the Clippers didn't score a single field goal. A fan hit a halfcourt shot to prove there wasn't a lid on the rim, though.
| | | | | |
| --- | --- | --- | --- | --- |
| Miami Heat | 86 | FINAL | 67 | Chicago Bulls |
---
MVP: Here's a shocker -- the game's best player was this game's best player. LeBron James posted an average-for-him 26-12-7 in just 34 minutes of burn. He's made 89 of his last 130 shots -- an incredible 68 percent.
X factor: While Miami has been a decidedly average defensive team this season, most assume they've got a second gear. Tonight validated that assumption. Miami held Chicago to 67 points, 37 percent shooting and forced 27 turnovers. Frightening!
That was ... not a good look: Midway through the third, LeBron was fouled hard and came up hobbling. The Chicago crowd responded by cheering the injury. It's one thing to boo a great player. It's quite another to cheer for injury.
3. Thursday's Best
Parker
Tony Parker, Spurs:
The point man for the team with the NBA's best record only missed four shots en route to his 31 points in 28 minutes of action. Parker had seven assists and zero turnovers in a 116-90 win over the Clippers.
4. Thursday's Worst
Chicago's turnover machine: The Bulls turned the ball over 27 times in the loss to Miami. According to Elias, it was the Bulls' highest turnover total in one game since 2004 and their highest total in a home game since March 20, 2000.
6. Tweet Of The Night
Bulls fans cheer after LeBron bangs knees and starts limping. Never too early to start recruiting for 2014 free agency folks.

— Brian Windhorst(@WindhorstESPN) February 20, 2013
7. Quote Of The Night
"It's frustrating to see my brother play his heart and soul out for the team and them not put anything around him."
-- Reggie Rose, manager and brother of injured Bulls star Derrick Rose, telling ESPNChicago about his view of Chicago's situation.
8. Elevating His Game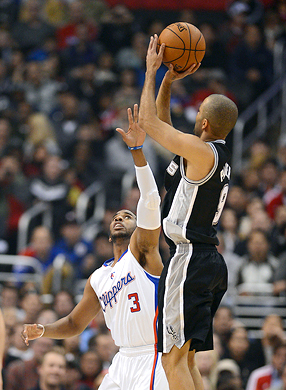 Jayne Kamin-Oncea/USA TODAY SportsFresh off his All-Star Game MVP performance, Chris Paul had his hands full trying to stop Tony Parker during the Spurs' blowout win.
9. Stat Check
James
LeBron James led Miami with 26 points, 12 rebounds and seven assists as the Heat topped the Bulls in Chicago. James also posted team highs in each of those categories the previous night when Miami won at Atlanta. No player had led any NBA team (either outright or tied) in points, rebounds and assists in each of two road wins played on consecutive days since James did it for the Cavaliers more than four years ago at Golden State and Utah (Jan. 23-24, 2009).