1. Stephen Curry Caps Night With Shorts Story
NEW YORK -- Stephen Curry needed his shorts back.
In the minutes after an historic 54-point performance at Madison Square Garden, a Golden State Warriors official had gathered up his uniform to put away for safe keeping. It might end up, after all, in some Hall of Fame or on Curry's own wall someday.
But Curry still needed his shorts so he could go for his standard postgame treatment on his delicate ankles. They had to be fetched.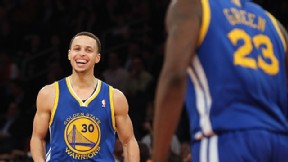 Bruce Bennet/Getty ImagesWhen Stephen Curry passed the 50-point mark, he couldn't help but crack a smile.
Those ankles have been the subject of so many questions over the past few years, especially the troublesome right one that needed two surgeries in less than a year. It made getting excited over Curry's future and his lithe shooting stroke feel risky. It made the Warriors stew over giving him a four-year, $44 million extension last fall when he'd managed to play just 26 games the season before.
Yet as Curry nailed 3-pointer after 3-pointer Wednesday night, winning the respect of the hard-to-impress Garden crowd as they broke into murmurs and gasps every time he touched the ball, it was a reminder of why it's easy to fall for Curry's immense shooting talent.
The Warriors lost to the New York Knicks, 109-105, mostly because they were without the suspended big man David Lee and the injured franchise center Andrew Bogut. Tyson Chandler had 28 rebounds, the second most in an NBA game this season, and the Knicks had 27 second-chance points to the Warriors' two. Playing on the second night of a back-to-back, the Warriors just couldn't overcome that.
Curry didn't win, but he sure left everyone who watched with a memory.
He's been called too small, too injury-prone and too one-dimensional. But he's also one of the greatest pure shooters the NBA has seen in a generation. And he was showing it off.
"I've seen a lot of great performances in this building, and that goes up there," Warriors coach and former St. John's and Knicks guard Mark Jackson said. "That shooting performance was a thing of beauty. To the viewing audience, that's getting hot. To us, that's Steph Curry. He's as good of a shooter as anybody that's played."
Curry made 11 of 13 3-pointers, one off the single-game record of 12 held by Kobe Bryant and Donyell Marshall. It was truly a compliment to the Knicks that he only got 13 of them off, completely swarming him in the second half with traps and double-teams that limited his numbers. If you can call putting up the most points in the NBA this season "limiting."
He still scored 27 points in the second half, hitting several bombs that weren't just remarkable in their difficulty but in their precision as they ripped through the net like they were launched by a machine. Curry has long been an expert at dealing with teams throwing bodies at him to do anything to stop him from making another 3.
It reminded Curry of his first-ever trip to play in New York back in 2008 when West Virginia threw everything they had at him, but he still nailed three 3-pointers in the final minutes to lead tiny Davidson College to a win in the Jimmy V Classic.
"There was a lot of energy in the arena," Curry said. "When I made a couple shots you could hear the crowd a little bit. It was electric, and I was kind of running off adrenaline down the stretch."
Curry played all 48 minutes, which probably isn't exactly the best course of action. Jackson didn't think he had a choice, and his conscience, it seemed, wouldn't let him take Curry out. Not with him on a streak like this in that building in front of that crowd.
Including Tuesday's tough loss at Indiana, where Curry ended up in a scuffle that saw him get thrown to the court in a move that got the Pacers' Roy Hibbert suspended, Curry has now made a numbing 18 of 23 3-pointers.
Curry has that kind of ability, the kind that makes you throw the game plan under the bench and just watch.
"We were just getting out of his way and letting him do his thing," teammate Jarrett Jack said. "If you had an opportunity to screen his man you did it, whether it was part of the play or not."
A couple hours before the game, Curry found out he was getting fined $35,000 by the league for "escalating the altercation" with the Pacers. His new contract doesn't kick in until next season. This season, he earns $35,000 a game.
So he essentially was playing for free Wednesday night. And playing freely.
"Once I started to see that 3-ball go down in transition and all sorts of spots on the floor, I knew it was going to be a good night," Curry said. "My teammates started jabbing at me. They were in my ear, treating me like a pitcher who was throwing a no-hitter. Not touching my right hand and all that funny stuff."
Curry has played in 53 of the Warriors' 58 games thus far. He's tweaked his ankle a couple times, causing him to miss some games. It will probably continue to be a concern for the rest of his career. He's had a few shooting slumps this season. Actually, he's having the worst overall shooting season of his four-year career at 44 percent. He was snubbed by the coaches for an All-Star selection.
But this has been, without much doubt, a completely successful season. He's leading the Warriors in scoring, assists and steals and is proving more and more that he's not just a great shooter, but an excellent all-around player. He's proven his ankle has recovered from the surgeries. He's making the Warriors' investment, which was made before he played a game this year, look like a bargain.
Wednesday, even in a loss, was the cherry. There's great shooting nights and there's great shooting nights at the Garden. Curry's had plenty of the former in his young life, but he might never again have a night like the latter.
"I knew I was knocking down a lot of shots; I knew it was a good night," Curry said. "I just didn't realize what that meant."
Dimes past: Feb. 4 | 5 | 6 | 7 | 8-9 | 10 | 11 | 12 | 13 | 14 | 17 | 20 | 21 | 24 | 25 | 26 | 27
2. Around the Association
3. Wednesday's Best
Curry
Stephen Curry, Warriors:
On the NBA's brightest stage in New York, Curry shined with an NBA season-high 54 points. He was 18 of 28 from the field, finishing one shy of the NBA record with 11 3-pointers. Curry's previous career best was 42 points. Kevin Durant's 52-point performance had been the best in the NBA this season.
4. Wednesday's Worst
Washington's gridlock: The worst is whatever caused Wizards coach Randy Wittman to utter this after a one-point loss to the Pistons. "It's bizarre to me. They didn't want to be coached. It was more about playing time, shots, rather than, 'What are we doing as a team and how am I playing while I'm out there?'"
6. Tweet Of The Night
Can you imagine if the Warriors hadn't signed Curry to that $44M extension in October? Would've hit restricted free agency like Godzilla.

—Tim Kawakami (@timkawakami) February 26, 2013
7. Quote Of The Night
"They were in my ear, treating me like a pitcher who was throwing a no-hitter."
-- Warriors guard Stephen Curry, on how he was treated by teammates en route to his 54-point night.
8. Jermaine O'Neal Revival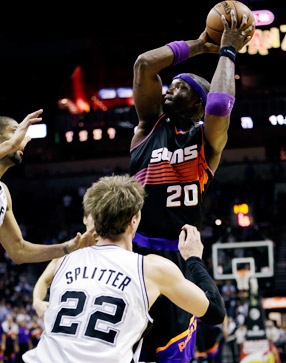 AP Photo/Eric GayJermaine O'Neal (22 points, 13 rebounds) shoots over San Antonio Spurs Tim Duncan, left, and Tiago Splitter during the Suns' overtime win in San Antonio. It was O'Neal's fifth double-digit rebound night in his past seven games.
9. Stat Check
Chandler
It was a night of magical individual performances in the Knicks' 109-105 win against the Warriors at Madison Square Garden on Wednesday night. Tyson Chandler pulled down 28 rebounds for the home team while Stephen Curry did his part for the visitors with a 54-point performance. Prior to Wednesday, the last regulation NBA game in which one player scored at least 50 points and another recorded at least 25 rebounds occurred on March 24, 1987. That night, Michael Jordan had 56 points for the home Bulls while Charles Barkley grabbed 25 rebounds for the visiting 76ers in a 93-91 Chicago victory.
Around the Association
---
MVP: This was a group effort for the Sacramento Kings. Seven players scored in double figures (John Salmons, Marcus Thornton, Tyreke Evans, DeMarcus Cousins, Jimmer Fredette, Patrick Patterson, and James Johnson), and each of them deserve to be recognized.
X factor: The Kings aren't normally known for being a passing team. In fact, they're ranked second-to-last in assist ratio (15.6), per NBA.com. But tonight, Sacramento piled up 31 assists on 46 field goals.
That was … a lot of points: After dropping 129 on the Miami Heat in their double-overtime loss on Tuesday, the Kings followed that up by hanging 125 on the Magic in regulation. If only Sacramento could play their games in Florida all the time.
---
MVP: After missing three games with a knee injury, Brandon Knight scored a career-high 32 points on 11-of-18 shooting, including five of six on 3-pointers. It was particularly telling that, with Knight on the bench most of the time, the Pistons scored just two points in the first six minutes of the fourth quarter. His offense was invaluable tonight.
LVP: John Wall had more turnovers (seven) than points (six).
X factor: If by "sorcery," Martell Webster meant Jose Calderon, he nailed it, because Calderon played like the real wizard. Calderon had 18 assists and just two turnovers, helping the Pistons assist 35 of their 39 field goals.
---
MVP: Dion Waiters attacked the rim relentlessly, racking up 23 points while shooting seven for 16 from the field and, more impressively, seven for eight from the charity stripe. He also flashed his above-average vision, chipping in six assists.
LVP: The Raptors' bench scored only eight points. Eight points! Three of the four Cavaliers who came off the bench scored in double digits.
That was … frustrating: At least for DeMar DeRozan, who had a spectacular game with 34 points on 10-for-19 shooting. Rudy Gay also contributed 24 points, eight rebounds and six assists. In the end, the Raps' bit players failed them.