1. It's Go Time Again For That Zen Mamba
LOS ANGELES -- As the losses began to mount, slowly threatening his last best shot at a championship, Kobe Bryant sat in the center of the storm, smiling.
As injuries began chipping away at a title-worthy foundation rebuilt in one flashy offseason, Bryant sat at his corner locker, game after game, feet deep in a rubber ice bucket in front of him, and preached patience.
Even when some comments pointed toward his new center caused a commotion on an important road trip -- really one of the few times the self-proclaimed best quote in the league's barbs weren't laced with a heaping dose of sarcasm -- he was quick to diffuse the situation.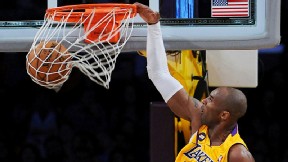 Jayne Kamin-Oncea/USA TODAY SportsKobe Bryant had 33 points as the Lakers sank the Wolves for a 21st straight time.
Given his reputation and the self-imposed ticking clock on his career, you would've expected Bryant to be less tolerant of mistakes than ever. Instead, his postgame demeanor was downright zen.
"I'm basically the Baby Zen Master," he said in November, soon after the original was passed over for the Los Angeles Lakers' head-coaching gig.
His game was more reserved, too, as he tamed his infamous bloodlust for points and instead embarked on a distributing binge. Even at the All-Star Game -- a friendly, no-defense sideshow in which the ever-competitive Bryant is notorious for going hard -- Bryant throttled it back until he got the opportunity to guard LeBron James late. (And in photos of Chris Paul hoisting his game MVP trophy, you can see Bryant smiling and laughing with his young daughter.)
But Bryant dug into his vintage stock in an easy 116-94 victory Thursday over the lifeless Minnesota Timberwolves, the fourth win in five games since the All-Star break for a Lakers team that is currently just two games back of the Houston Rockets for the eighth spot in the West.
There were dunks that almost made him seem spry again, quick rises over his defender in the midrange and a few teeth grinds and jaw juts.
Afterward, he underlined the Lakers' need for a sense of urgency, like he has been for some time now. But there wasn't much room for jokes in between.
"I've been in attack mode since the break," Bryant said. "It's go time."
He didn't waste any time on the court, either.
Less than a minute into Thursday's game, Bryant posted up on Derrick Williams on the left wing and waited until he saw Williams' eyes peek at the oncoming screen to his left. Bryant instantly darted toward the wide-open baseline and didn't stop when Nikola Pekovic threatened to close out on him, forcefully jamming the ball over the burly center's arm.
"That was surprising for me, too," Bryant said. "Normally, at the start of the game, it's kind of tough to do that. It takes a while to kind of loosen everything up despite the pregame warm-up. So, that was a little new for me."
"I felt sorry for young fella," Antawn Jamison said of Pekovic. "He had to try to block out Dwight and then try to contest a dunk on Kobe."
Bryant would get his aging legs up two more times -- once on a breakaway and again with a reverse off a Minnesota turnover on an inbound pass -- and even lucked out when he caught a missed attempt off the backboard and laid it in with ease.
He finished with 33 points in just 32 minutes, 22 of which came in a first half that saw him pull up time and time again on an unsuspecting Williams.
"You can see he's starting to get a little bit refreshed, legs starting to get back into him," said Jamison, who pitched in 17 points and 11 rebounds. "He's really starting to attack the rim of late. His jump shots are more fluent.
"I just think, maybe a week or two ago that wall was there. Now he's getting past that. He understands the importance of the rest of these games and his role on this team. He's just going out there pretty much leading by example."
Bryant spent the first half of his 17th NBA season doing everything he could trying to plug the holes in the sinking ship. By any means necessary, Bryant has said of late.
But just 23 games remain and the Lakers' playoff odds, despite a recent stretch of 12 wins over their past 17 games, are still not good enough for a postseason spot.
Go time, indeed.
Dimes past: Feb. 4 | 5 | 6 | 7 | 8-9 | 10 | 11 | 12 | 13 | 14 | 17 | 20 | 21 | 24 | 25 | 26 | 27
2. Around the Association
| | | | | |
| --- | --- | --- | --- | --- |
| Minnesota Timberwolves | 94 | FINAL | 116 | Los Angeles Lakers |
---
Most valuable player: Remember when Kobe Bryant was going to lead the Lakers into the playoffs with passing? Well, that's gone. The good news is, he's scoring more efficiently than ever. Tonight he poured in 33 points on 22 shots.
That was ... encouraging: Minnesota's Derrick Williams is working off his reputation as a bust. He's starting to ball this month, finally looking comfortable on the floor. The Arizona product has averaged a 14 points and 8 rebounds throughout February and had 15 and 8 tonight.
Least valuable player: Alexey Shved needs to follow some of Ricky Rubio's "Enjoy!" advice. The Russian is in a funk, and tonight's 1-for-8 showing certainly won't help.
| | | | | |
| --- | --- | --- | --- | --- |
| Philadelphia 76ers | 82 | FINAL | 93 | Chicago Bulls |
---
Most valuable player: Tired of losing, Joakim Noah had a spark the entire game, finishing with an unusual triple-double. Noah tallied 23 points, 21 rebounds and 11 blocks. He's the fourth player in the past 25 seasons to have at least 20 points, 20 rebounds and 10 blocks in a game.
Defining moment: With 6:24 left in the game, Noah blocked a layup attempt from Jeremy Pargo, and the ball eventually found its way to Nate Robinson, who hit a 3-pointer to put the Bulls up 80-71. After that five-point swing, the Sixers never got within seven points.
X factor: Free throw shooting. The Bulls got to the line 33 times, making 26 of them (78.8 percent). Philly took 21 free throws, five more than they average per game, but hit just 12 of those attempts (57.1 percent).
| | | | | |
| --- | --- | --- | --- | --- |
| Los Angeles Clippers | 99 | FINAL | 91 | Indiana Pacers |
---
MVP: Chris Paul. See the weakness, exploit the weakness. Without Roy Hibbert on the floor for Indiana, Paul carved up a typically tough defense for 29 points and eight assists.
X factor: Turnovers. The Pacers could have built a huge lead in the first half with the Clippers going 1-for-14 from behind the arc, but instead they coughed up their chance by turning the ball over 15 times.
Defining moment: After the Pacers raced back into the game late with an improbable 13-0 run, Paul went on one of his own by recording the Clippers' last eight points to slam the door on Indiana's comeback.
3. Thursday's Best
Noah
Joakim Noah, Bulls:
Philly fans who famously booed Santa Claus also cheered when Noah hurt his ankle in last year's playoffs. Noah
did not forget,
responding with a triple-double that included a swat-tastic 11 blocks. Of note, there are reports are Santa hasn't let it go either. Get ready for more lumps of coal, kids!
4. Thursday's Worst
Sixers' slide: After Joakim Noah sent them packing with a serial swatting, the Sixers will now try to break their seven-game slide by playing host to Stephen Curry and the Warriors on Saturday night. At least the Sixers' have Andrew Bynum's latest haircut to console them.
6. Tweet Of The Night
A King James and @DwyaneWade aka W.O.W productions. http://gohe.at/HEATHarlemShake

— LeBron James (@KingJames) February 28, 2013
7. Quote Of The Night
"You have a friend for life."
-- Hall of Famer Dennis Rodman, warming up to North Korea's Kim Jong-un on the third day of his improbable journey to Pyongyang, watching the Harlem Globetrotters with the leader and later dining on sushi and drinking with him at his palace.
8. Noah Block Party Goes To 11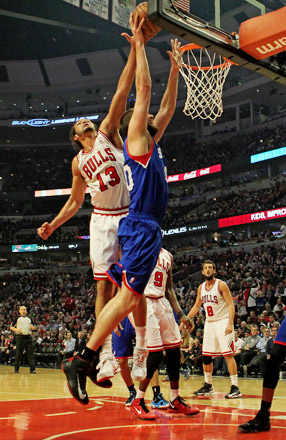 Jonathan Daniel/Getty ImagesBulls center Joakim Noah inflicts one of his career-high 11 blocked shots on Spencer Hawes during Chicago's 92-83 win over Philadelphia.
9. Stat Check
Griffin
Blake Griffin scored 18 points, shooting 7-for-10 from the field, in the Clippers' 99-91 win at Indiana. Griffin made 11 of 14 (79 percent) of his shots from the floor in his previous game, a win over the Bobcats on Wednesday night. It's the second time in his career that Griffin has shot 70 percent or better in at least two consecutive games. (He had a three-game streak last April.) All other players in franchise history have combined for only two such streaks (minimum: 10 FGA in each game): Mike Taylor in March 2009 and DeAndre Jordan in November 2012.