1. Dwight Dazzles In Return To Orlando
ORLANDO, Fla. -- There was one reason above all others that had Dwight Howard eagerly anticipating his first game back in Orlando since he was traded to the Los Angeles Lakers.
It had little to do with rekindling any warm and fuzzy feelings from nostalgia Howard may have felt from his first eight seasons as the Orlando Magic's franchise center. But it had everything to do with getting back to his roots.
"I'm in a lot better shape," Howard said Tuesday before he went out and destroyed his former team with his best game of a tumultuous season with the Lakers. "The first time we played them, I wasn't in good shape. So I was looking forward to coming here playing in better shape."
Perhaps it took returning to his former stomping grounds to regain his dominant form. What we've seen from Howard these past few games is the version of the unstoppable force who once had these games on a regular basis for the Magic. On Tuesday, he delivered one against them.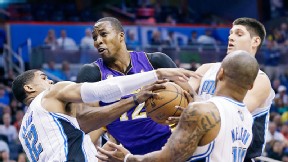 AP Photo/John RaouxDwight Howard matched his own NBA record with 39 free throw attempts in the Lakers' win.
Howard scored a season-high 39 points, knocked down 25 of a Lakers' franchise-record 39 free throw attempts, collected 16 rebounds and had three blocks in 38 minutes during a 106-97 victory against the Magic. While the major storyline from Tuesday's game was Howard's long-anticipated return to Orlando, the far more important development has been his recent return to normalcy.
The majority of the fans who packed the sold-out Amway Center came to boo Howard and wave disparaging signs to vent their frustration with how he forced his way out of town. By the time they filed out of the arena, Howard had delivered a sobering reminder of the player that got away.
Orlando was just the latest stop along Howard's path to rejuvenation. Two nights earlier against Chicago, he snagged 21 rebounds, his fourth game of the season with at least 20 boards. And in the game before that, he matched his season high with five blocks in a win against Toronto.
It's not by coincidence that Howard's best performances of the season have come during a stretch in which the Lakers have won nine of their past 11 games to get into playoff position. While the Lakers are gradually distancing themselves from a horrendous start to the season, Howard has been methodically regaining his strength, rhythm and athleticism after recovering from offseason back surgery and playing through a torn muscle in his shoulder.
"The chemistry is starting to come along and we have to keep it going," Howard said. "What people don't understand is that it takes a while to get it going and learn how to play together. We still have guys that are still hurt and trying to work their way back. We found ways to come together. I found a rhythm [and] was able to tune things out."
In the Lakers' past 11 games, Howard has averaged 17.6 points, 14.9 rebounds and 2.6 blocks. He had his most productive month of the season in February and appears to be carrying that momentum right into March.
On Tuesday, he was more motivated than anything to show he wasn't the same player the Magic saw Dec. 2 when they stunned the Lakers 113-103 at Staples Center. Lakers coach Mike D'Antoni said there are a combination of factors that have played a role in Howard's emergence.
"Dwight's getting healthier," D'Antoni said.
That was evident from the start Tuesday.
Howard was spinning in the lane, cutting and dunking early on and had already registered a double-double five minutes into the second quarter. He was so on his game that when Magic coach Jacque Vaughn instructed his players to start intentionally fouling Howard at the end of the second quarter, he made his first four free throws to combat that strategy and converted 16 of 20 foul shots in that situation.
"Kobe [Bryant]'s learning to play with the ball some," D'Antoni said as he pointed to another development in the recent push.
After missing six of his first seven shots from the field, Bryant clearly deferred to Howard and allowed the offense to run through the paint. Bryant had 11 points, 8 assists, 7 rebounds and 2 steals. His role as an assist man started well before the game, when he told reporters his message to Howard coming in was to "just come out here and kill them. Let the chips fall where they may."
Bryant has encouraged Howard to be more aggressive. Howard has stopped trying so hard to develop an understanding of Bryant's game and has simply focused on getting back to playing the way he has in the past.
Mental hurdles are being cleared for Howard.
"Everybody is accepting everybody," D'Antoni said of the biggest advancement Howard and the Lakers have made. "Just a lot of good things came together."
There was no clearer sign of that togetherness than midway through the fourth quarter. A timeout was called, and Bryant and Howard walked back to the Lakers' huddle laughing with their arms wrapped around one another.
If these Lakers continue to embrace like this, there's no doubt they'll be difficult to handle once the playoffs arrive.
Howard had to go back to familiar territory to take his next step toward regaining his old form.
"He's been great," D'Antoni said of Howard's recent play. "I think it's what everybody expected. He can go up another level [in the coming weeks]. And he will."
Howard is no longer at the center of the Lakers' demise.
Lately, he has been just as vital as Kobe in their rise.
Dimes past: March 1-2 | Sloan/MIT, Day 1 | Day 2 | 3 | 4 | 5 | 6 | 7 | 8-9 | 10 | 11
2. Around the Association
3. Tuesday's Best
Howard
Dwight Howard, Lakers:
His return to Orlando could not have gone much better. Howard finished with a season-high 39 points to go with 16 rebounds and three blocks. Hack-a-Dwight was in full effect, with D12 hitting 25 of his NBA-record-tying 39 free-throw attempts.
4. Tuesday's Worst
Celtics in Charlotte: With Paul Pierce taking the night off, the Celtics didn't have much firepower against the Bobcats, who snapped their 10-game skid with a 100-74 win at home. Kevin Garnett shooting 2 of 10 paired with 35 points from the Cats' Gerald Henderson told much of the story for the road-weary C's.
6. Tweet Of The Night
Dwight Howard whatever you did before the game, keep doing it!

—Magic Johnson (@MagicJohnson March 12, 2013
7. Quote Of The Night
"It's a privilege for us to get in our cars and hop on a plane and get into Philly at 4 a.m. after this win and do this again tomorrow night. That's the way we're going to approach it. No excuses."
-- Heat coach Erik Spoelstra, on Miami's quick turnaround against the 76ers on Wednesday night.
8. Sign Of The Times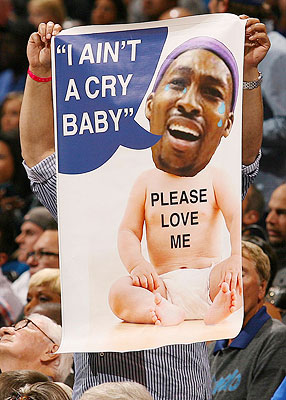 Stephen M. Dowell/Orlando Sentinel/MCT/Getty ImagesThink the Magic fans were happy to see Dwight Howard back in Orlando?
9. Stat Check
Rubio
Ricky Rubio had 21 points, 13 rebounds and 12 assists in the Minnesota Timberwolves' win over the San Antonio Spurs on Tuesday. The only other player to have at least 20 points and a "double-dozen" against the Spurs in their NBA history is Larry Bird, who had 23 points, 14 rebounds and 13 assists on Nov. 30, 1983.
Around the Association
---
MVP: Brook Lopez was hugely efficient inside, shooting 10-of-15 for 26 points along with one Twitter-exploding poster dunk on his brother Robin. A few Dirk-esque fadeaway 18-footers make the case for him as the NBA's best scoring big.
X factor: Andray Blatche and MarShon Brooks were devastating off the Nets' bench, combining for 34 points on plenty of the "Wait, don't; OK, it went in" shots they're infamous for taking and making. In particular, Brooks hit double digits for the first time since Feb. 1.
That was … Shakespearean: DeAndre Jordan's dunk on Brandon Knight was more impressive, but the brotherly element of Brook Lopez's outstretched slam over Robin Lopez will provide years of material for family therapy sessions.
---
MVP: Vince Carter. The Bucks kept thinking they were getting back into the game, but Carter politely disagreed. The dark horse for NBA Sixth Man of the Year scored 13 of his 23 points in the fourth quarter.
Defining moment: Dallas trailed 35-28 after one quarter but used a 15-0 run to spark their comeback. They outscored Milwaukee 35-20 in the second quarter en route to their fourth straight victory.
X factor: Jae Crowder played well in his homecoming (college ball at Marquette). Once again starting in place of an injured Shawn Marion, Crowder had 14 points on 6-of-9 shooting. He added eight rebounds and three assists in a team-high-tying 36 minutes.
---
MVP: Shaun Livingston's numbers don't jump off the page -- he put up 12 points and six assists -- but he was the Cavaliers' rock on offense, constantly moving the ball and directing traffic.
X factor: Tristan Thompson had a nice night, finishing with 13 points, 14 rebounds and an admirable defensive effort against the much bigger Nene Hilario. Crucially, six of Thompson's boards gave the Cavs second-chance opportunities.
That was … unattractive: Long stretches of this game were unwatchable, with neither team cracking 42 percent from the field. Both teams suffered through multiple three-plus-minute periods without a field goal.