1. Miami's Rally Caps Bizarre Night In Cleveland
CLEVELAND -- During a winning streak that started in winter and has moved on to spring, the games are starting to run together for the Miami Heat. It's gone on so long, players sometimes have to pause to remember just how many games they've bagged in a row.
But when they're old men telling stories of these truly glory days, they will not forget Wednesday night. They'll catch glimpses of it in highlight shows and flashbacks. There's a chance it'll be the intro sequence when ESPN does a "30 for 30" film on this continuing run toward history.
"This was one of the most bizarre and unique days of my life," LeBron James said after the biggest comeback of his career involving the two teams he's played every game in that career with.
And there are some pretty unique days in James' catalogue. His Heat's 98-95 victory over the Cleveland Cavs featured a carbon dioxide tank condensation delay, a fan running onto the court to deliver a message to James, and don't forget a 27-point comeback that featured perhaps 10 of the most jaw-dropping minutes that will be played in the NBA this season.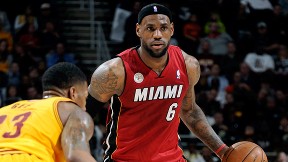 David Liam Kyle/NBAE/Getty ImagesLeBron had his fourth triple-double of the season.
There is no use forecasting how much longer this Heat streak, now at 24 games, can go. If they can survive 12 road games and come back from 16 down in New York, 17 down in Boston and then 27 down to a motivated and undermanned Cleveland outfit, good luck handicapping it.
It would be like predicting two years ago -- when the Cavs fans showered James with so much visceral hate that the date would be burned on James' mind like a child's birthday or an anniversary -- that not only would James hear some cheers playing at Quicken Loans Arena in 2013 but have a fan accept incarceration to deliver a plea for him to return in free agency next year.
"It can't get no worse that it was on Dec. 2, 2010," James said before the game.
Yet during the third quarter when a young fan sprinted onto the floor wearing a T-shirt that read "We miss you" on the front and "2014 come back" on the back, James found himself drawn to him. The Heat's veteran head of security David Holcome, a man who is not to be messed with, wrapped the fan up before anything could happen.
But James walked over and patted him on the head as he was being led away.
"He said he missed me and come back please," James said. "I didn't have much time to say much because security got to him. They've got metal detectors here, right? So I knew I was OK."
Shortly before the game, Cavs owner Dan Gilbert tweeted a message aimed at Cavs fans and, perhaps, at James himself: "Cleveland Cavaliers young talent makes our future very bright. Clearly, LeBron's is as well. Time for everyone to focus on the road ahead."
Following the game, Heat owner Micky Arison tweeted a congratulations to the Cavs team and to Gilbert himself.
Just what the heck is going on here? Mortal enemies offering public gestures of goodwill toward each other. Cavs fans breaking the law to show James love. The Heat looking at a 27-point deficit on the fifth game of a road trip and taking the lead in 10 minutes of game time. James having one of the worst first halves of the season only to end up with a triple double. The Heat going on 50 days without a loss.
"After it becomes a thing," Chris Bosh said, "you don't want to lose anymore."
The Heat dubbed these last few games as the "reunion tour." Sunday they played in Toronto, Bosh's old haunt, and won. Monday they played in Boston, Ray Allen's former home, and won in a thriller. Wednesday they one-upped them all and put together one of the most remarkable games of the season thus far in James' old building.
"I didn't want to be the only guy to take an "L" on the reunion tour," said James, who scored 11 straight points in a 40-12 Heat run during the third and fourth quarters that reversed the game. "So I had to dig down."
As the streak carries on, the Heat keep finding new ways to motivate themselves. James didn't come out of the game in the second half. He was responsible for 39 points in those 24 minutes when you included his baskets, free throws and assists. He finished with 25 points, 12 rebounds and 10 assists for his fourth triple-double of the season.
"That guy right there," said Dwyane Wade, nodding toward James' locker, "did not want to lose in this building, not tonight."
The night and the building and the city and the fourth-quarter score and the opponent and the standings and reality all aren't mattering much to the Heat anymore. The Cavs, playing without star Kyrie Irving and key rookie Dion Waiters, played brilliantly for so much of Wednesday's game as they pounded the Heat on the boards and shot the ball beautifully when running offense. Just like the scouting report says to do.
Coach Byron Scott maybe could have called a timeout earlier or made a different substitution of called a better play at the end when the Cavs had a chance to tie. But in all honesty, he just had to look down at the Heat bench and wave when it was over, his team had just been run over by a team on a numbing run with a fearless star pulling them along.
The Heat freight train just kept on going, where it stops nobody knows.
"What are we at? 24 games?" Wade said. "You kind of lose count. It's awesome to be in this position."
Dimes past: March 1-2 | 3 | 4 | 5 | 6 | 7 | 8-9 | 10 | 11 | 12 | 13 | 14 | 15-16 | 17 | 18 | 19
3. Wednesday's Best
James
LeBron James, Heat:
If only the Cavs could have built a
28-point lead
, maybe they would have held off LeBron and the Heat. Just when it looked as if Cleveland would be the last stop in Miami's magical run, the King went to work. James tallied his fourth triple-double of the season -- 25 points, 12 rebounds and 10 assists -- to will the Heat to their 24th straight win.
4. Wednesday's Worst
C's get stung: The Celtics carried a 55-45 lead into halftime in New Orleans, but managed only 31 points the rest of the way, as the Hornets stole the game with an Anthony Davis tip-in in the final second. Boston has now lost four of its last six games.
6. Tweet Of The Night
Love how @MiamiHEAT's coach looks worried in the @cavs game, they're going to the playoffs regardless - what is he worried about?

—Larry King (@kingsthings) March 20, 2013
7. Quote Of The Night
"I was out, what's the score?"
-- Cavaliers owner Dan Gilbert, at the time of Cleveland's 55-34 halftime lead against Miami. The Heat would rally to win their 24th straight game.
8. All In A Night's Work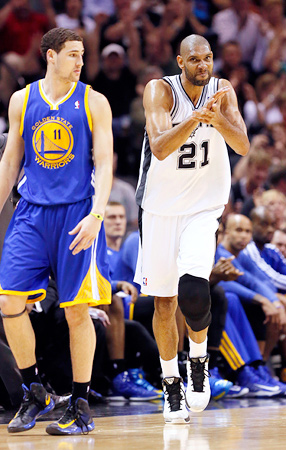 Soobum Im/USA TODAY SportsTim Duncan got his hands dirty in the paint, leading the Spurs with 25 points, 13 rebounds, six assists and four blocks against the Warriors.
9. Stat Check
The Heat overcame a 27-point third-quarter deficit and rallied to beat the Cavaliers to extend their winning streak to 24 games on Wednesday night. How rare is it to overcome such a deficit on the road? Prior to Wednesday night, 1,319 road teams had trailed by at least 27 points in the second half of a game since the start of the 2000-01 season. Only three of those teams came back to win the game: Phoenix over Boston on December 5, 2003 (trailed by 29 in the third quarter), Sacramento over Chicago on December 21, 2009 (trailed by 35 in the third quarter) and Milwaukee over Chicago on November 26, 2012 (trailed by 27 in the third quarter).
The Cavaliers were 39-0, at home or on the road, in games in which they had a 27-plus point lead in the second half during the seven seasons in which LeBron James was a member of the team.
Around the Association
---
MVP: Coming back from a right knee injury, Carmelo Anthony looked just fine against the Magic, finishing with 21 points (7-for-14 shooting) and eight rebounds. The most important thing for the Knicks was that Melo looked fluid out there.
X factor: The good J.R. Smith showed up for New York, coming off the bench and putting up a game-high 22 points (8-for-16) and seven rebounds. Smith did what he does best, which is score in bunches, and the Knicks benefitted from it.
Defining moment: Much of New York's success is reliant on their 3-point shooting and that's precisely why the Knicks beat Orlando. They were plus-30 from beyond the arc (15-for-34) and that proved to be the difference in the game.
---
MVP: John Wall only got better as the game wore on. He led the Wizards with 19 points and eight assists as a number of his dimes went to Trevor Ariza and Martell Webster getting open for 3s off pick-and-roll action.
X factor: The Wizards' bench unit helped it them a 23-2 run over nine first-half minutes to build a double-digit lead. Kevin Seraphin scored 16 points while Ariza added 14 for the game, and all but six of those came in the first half.
That was … a sigh of relief: The Wizards came into the game with a league-low of five road victories. Holding off the Suns, who cut an 18-point to three early in the fourth quarter, could prove monumental in the growth of the young players like Wall.
---
MVP: Byron Mullens scored 12 of his game-high 25 points in the fourth quarter to push Charlotte past the Raptors.
Defining moment: After Toronto cut the Bobcats' lead to one with 3:17 left in the game, Ben Gordon put together a 5-0 run, allowing Charlotte to simply trade baskets for their second straight win.
X factor: Charlotte's bench outscored Toronto's 54-13, with Jannero Pargo, Mullens and Gordon combining for eight 3-pointers on the night.