1. That's 26 Straight Wins And 1 Media Takeover
MIAMI -- Just when it seems this historic pursuit of the Los Angeles Lakers' record 33-game winning streak might be taking hefty physical and psychological tolls on the Miami Heat, a postgame scene like Sunday's unfolds.
Having sat out of Sunday's 109-77 rout of the Charlotte Bobcats to rest a sore right knee, Dwyane Wade decided to put himself -- and his stylish cream-colored blazer -- to use. He hijacked Heat TV reporter Jason Jackson's microphone, commandeered a cameraman and interviewed LeBron James after Miami wrapped up its 26th consecutive victory.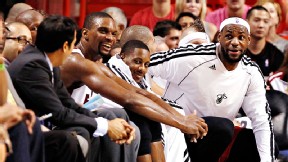 Robert Mayer/USA TODAY SportsHaving fun is part of the Heat's winning recipe.
"What does it say about this team when you have a superstar out, and guys just constantly step up," Wade, a broadcast major while at Marquette, asked James.
And with the same timing and precision they use to execute those length-of-the-court lobs for dunks, the Heat's marquee players connected on Sunday's makeshift set.
"Anytime we have a big-time superstar, Hall-of-Fame guy out, guys have got to step up," James answered.
Does this sound anything like a team burdened by any pressure that could be mounting as the Heat now move to within seven consecutive wins of tying the Lakers' streak?
Didn't think so.
In fact, it appears more like Miami's march toward the 41-year-old record is having the opposite effect on the team. The closer they come, the looser they are -- on and off the court. As more national reporters and television cameras descend on the defending champions these days, the more Heat players seem to stretch their playful personalities.
The exchange between Wade and LeBron seconds after Sunday's game was just one of several light and free-spirited moments that played out on the court and in the locker room after the Heat dispatched the Bobcats.
It started when the Heat shook out of yet another sluggish start and rallied from an 11-point deficit to end the first quarter with a 15-0 run. During that spurt, backup guard Norris Cole tossed a 55-foot lob pass to LeBron, who finished with a emphatic dunk and pointed to the stands toward Heat president Pat Riley as he ran back on defense.
During a break in play in the second half, as the referees checked on a clock malfunction at the scorer's table, Heat forward Chris Bosh bowed and laughed as a section of fans passed the time by singing him the Happy Birthday song.
After playing in front of stars from other sports who attended Sunday's game -- tennis icon Novak Djokovic and boxing heavyweight champion Wladimir Klitschko among them -- Heat players retreated to the locker room to become fans themselves as they watched NCAA tournament games.
If there was ever a stress-free major sports streak, this is it. James admitted Sunday that he's tired, that he's always a bit tired this time of the season when the games pile up amid the NBA grind with four weeks left before the playoffs. What some players won't say publicly, however, is that maintaining this streak is providing a spark that wouldn't otherwise be there in a month when they play 18 games.
"There are times when you feel that you just don't have much left," said James, who finished his night with 32 points, 10 assists, eight rebounds, three blocks, three steals and a Harlem Shake strut to the bench early in the fourth quarter. "Around this part of the season, we can feel it. You can feel a little tired, a little gassed because it's just a long season, especially with the way we play. It can be taxing. But you try to do everything you can to take care of your body ... so you can play the game at a high level."
A key part of that process involves taking care of the mind as well, creating games within the games, finding or creating humorous moments along the way and sending one another reminders to not take the streak too seriously.
Heat coach Erik Spoelstra was asked Sunday if he's starting to become intrigued by the chance to win 33 in a row.
"No, not yet," Spoelstra said, reverting to his daily mantra of not looking ahead. "Look, we haven't changed, and I know our storyline is probably a little bit too boring for you guys. You guys have a job to do. We have a job to do."
The Heat are rolling so well right now that guys like Wade are trying to do both jobs -- the team's and the media's.
But this just didn't start now. It even started well before the Heat put together that Harlem Shake video that immediately went viral on the internet about halfway through this streak. It goes back well before James tossed chest passes with that fan after a ball was deflected into the stands several weeks ago. And prior to that moment when the three-time MVP sprinted out of a timeout huddle to playfully tackle a fan who hit a half-court shot for $75,000.
This has been part of the Heat's team-wide DNA ever since James made the decision he no longer wanted to embrace the villain role and instead got back to being himself. He set the tone, and everyone else on the team followed suit.
"It's a pleasure to play with this team every day," Bosh said of the Heat's collective mindset. "We expect to win every game. But when you actually win every game, you're like, 'Damn, OK. That's cool.' But we never lose sight of what's important and how we got to this point."
That's why, despite the enormous attention accompanying the streak, Bosh and James and Wade can look over the dozens of cameras that fill the locker room and take peeks at the jumbo-screen to check on their brackets as they speak.
"We work hard, but we play hard, too," Bosh continued. "And we have fun. It's always hard to find that balance. But I think we do a fantastic job here, just knowing we have a chance to win is huge. Having a good time at the same time is what's important."
Scrutiny is nothing new for the Heat.
The victory total builds.
Apparently, not the pressure.
"We don't really focus on that. We're used to it," forward Udonis Haslem said. "The things we went through when this team was first put together, it doesn't get any worse than that. We don't really focus on what's on the outside. To us right now, it's just another day. Another game."
Another win.
And another step toward potential destiny.
Dimes past: March 6 | 7 | 8-9 | 10 | 11 | 12 | 13 | 14 | 15-16 | 17 | 18 | 19 | 20 | 21 | 22-23
3. Sunday's Best
Harden
James Harden, Rockets:
Harden sank an off-balance jumper with 4.5 seconds left to lift Houston to a 96-95 victory over San Antonio. Harden scored 18 of his 29 points in the second half to snap a four-game losing streak to their state rivals. The Rockets now sit three games ahead of the Lakers for the No. 7 spot in the West.
4. Sunday's Worst
An impending tragedy: Dirk Nowitzki and select members of the Mavs have vowed not to shave until the team reaches the .500 plateau. Those rooting for the ZZ Top-ification of Dallas grew concerned when the Mavs posted a 113-108 win over Utah. If the Mavs win their next games against the Clippers and Pacers, they will hit the .500 mark. These follicles must not fall.
6. Tweet Of The Night
What a win. Thanks to the great fans in Sac, especially the ones booing me all night!

—Spencer Hawes (@spencerhawes00) March 24, 2013
7. Quotable
"I think they're the best team in the NBA, but I wouldn't call them a great team. I wouldn't rank them anywhere near the top 10 best teams ever."
-- Knicks great Walt Frazier, putting the current Heat team in historical perspective.
8. How Harden Sees It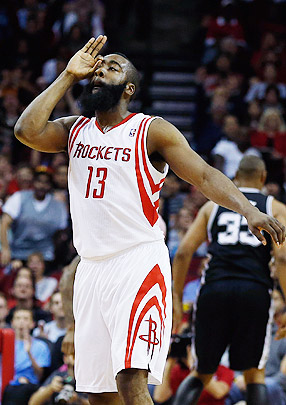 Scott Halleran/Getty ImagesRockets guard James Harden had several opportunities to celebrate en route to a one-point win over the rival Spurs.
9. Stat Check
With its 26th consecutive victory, the Heat matched the second-longest winning streak in the history of major professional sports leagues in North America. It was 97 years ago that John McGraw's New York Giants earned 26 consecutive wins (Sept. 7-30). That remains as the longest winning streak in the history of Major League Baseball -- and it was accomplished entirely in home games, with at least one win against every other team in the National League! (Nearly as remarkable, the Giants finished in fourth place that season in an eight-team National League.)
The longest regular-season winning streak in NFL history is 23 games by the Colts over 2008 and 2009; the corresponding record in the NHL is 17 wins by the Penguins in 1993. (Note: The Giants played one tie game during their 26-game winning streak in 1916, but in baseball, a tie game does not end a winning streak. The game was replayed the next day as part of a doubleheader, which the Giants, of course, swept.)
Around the Association
---
MVP: During a pregame interview, Seattle native and ex-King Spencer Hawes admitted it wouldn't "break his heart" if his old team decamped for Seattle. The Sacramento fans heard about it. But through the boos, Hawes scored 14 to go along with 10 rebounds, his seventh double-double of the month.
X factor: A key cog in last spring's unlikely postseason run, Lavoy Allen has found himself the odd man out of the Sixers' rotation of late. On Sunday, he may have wormed his way back in. He scored a career-high 20 on 9-of-13 shooting, adding seven rebounds.
That was ... what happens when a stoppable force meets a movable object: Philadelphia scores the fewest points in the NBA. Sacramento gives up the most. Something had to give. Philadelphia scored a season-high 117 points in snapping its 15-game road losing streak.
---
MVP: Russell Westbrook had 21 points and nine assists to lead the Thunder. His inspired play late ensured OKC of its sixth straight win over the Blazers.
Defining moment: After Thunder coach Scott Brooks was whistled for a technical foul, Westbrook took charge. Breaking open a tie game late in the third quarter, Westbrook's steal and dunk sparked a run that put OKC in the driver's seat.
That was ... an emerging pattern: This is the third straight season the Thunder have taken the season series from the Blazers. Last time it happened, Shawn Kemp was (partly) involved in a three-season domination of the then-Sonics over the Blazers that ended in 1998.
-- Andrew Ayres, ESPN.com