1. What's Up, Doc? Not These Celtics
BOSTON -- The New York Knicks have always brought out the best in the Boston Celtics in recent seasons. Which is why it was so startling to watch the visitors flat-out steamroll the Celtics on their home turf Tuesday night at TD Garden.
But this team hardly resembles the Celtics, in both looks and performance.
The Celtics took the floor Tuesday without Kevin Garnett, who is on the shelf for two weeks due to left ankle inflammation. Another starter, Courtney Lee, is battling a sprained left ankle that forced him to miss his second straight game. That's on top of the season-ending maladies previously endured by two other starters in Rajon Rondo (torn ACL) and Jared Sullinger (back surgery). Along the way, bench spark Leandro Barbosa was lost for the season with a torn ACL of his own.
Heck, the film from a January game here in Boston between these two teams that looped in the Celtics' locker room looked like something dug out of the archives with all the players missing on Tuesday.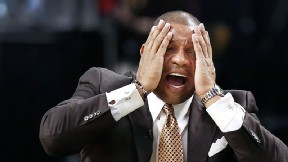 AP Photo/Winslow TownsonDon't worry Doc, the playoffs are almost here.
The Knicks laid a 100-85 thumping on the remaining Celtics, all but ensuring what we already knew: the Atlantic Division crown will trek outside the Bay State for the first time in six seasons (presumably to the Big Apple, so long as the Knicks can prevent a Brooklyn detour).
Forgive Paul Pierce if he had a flashback or two to the 2006-07 season on this night. With many of his teammates marred in slumps and the team turning in one of its least energized efforts of the year, the Celtics at times resembled the overmatched squad that predated the latest Big Three era.
"We didn't have it tonight," sighed Celtics coach Doc Rivers. "I wish I knew why."
Let us help you, Doc. Here, in no particular order, is just a handful of the reasons for this debacle, the latest dud in a five-game losing streak for Boston:
• The Celtics are playing without Garnett, their defensive anchor and, honestly, their only consistent rebounding big man. The Tyson Chandler-less Knicks turned 15 offensive rebounds into 29 second-chance points on Tuesday and, despite shooting only 43 percent overall, took 21 more shots than Boston.
• If Garnett is the defensive anchor, guard Avery Bradley is the rope tying it to the Boston boat. It's not far-fetched to say that Bradley turned around the Celtics' season with his defensive intensity when he returned in early January, but he's struggling at both ends of the floor right now. And it's one thing to miss shots (Bradley is shooting a mere 32.3 percent over his last 10 games), but when 40-year-old Jason Kidd blows past one of the league's top on-ball defenders, there's something larger at play. "I feel for him," Rivers said. "He wants to play hard, he wants to play right, but you can see it. We'll get [Bradley] going."
• Even after losing Rondo for the season, robbing the Celtics of their only pure point guard, Boston took remarkably good care of the basketball and its turnover rate actually dropped without its All-Star point guard. Over the last five games, the Celtics' turnover percentage has skyrocketed to 18 percent, which would easily be a league-worst level if maintained (the Rockets turn the ball over a league-worst 16.6 percent of the time), and is nearly three percent above Boston's season average (15.3). "I think we're trying to do too much," Rivers said.
• The Celtics are still waiting for Jason Terry, the man nicknamed JET, to take flight. Terry chipped in 10 points on 4-of-8 shooting on Tuesday, but the rest of his stat line was an eyesore as he had zero assists and one rebound over 22 minutes and was a team-worst minus-18 in plus/minus. Terry is far from the only individual on the team underperforming, but the Celtics need more from a player brought in at a steep price tag (three years, $15.7 million) with the goal of being the bench spark they've long coveted.
• The Celtics are thin up front -- super thin. Chris Wilcox played nine minutes off the bench Tuesday and didn't grab a single rebound. All while Kenyon Martin sought revenge on Boston after it passed him up this season, forcing him to wait until late February to find an NBA home. The Celtics might have to give an honest-to-goodness long look at the likes of Chinese Basketball Association imports D.J. White and Shavlik Randolph, and that alone tells you the state of this team at the moment.
Despite all their woes, Celtics know that no one is shedding any tears for them.
"We can't feel sorry for ourselves," said Celtics captain Paul Pierce. "We got a job to do, we have to compete every night and figure it out ... This is what's going to have be out there, we can't look over our shoulders [or] look for Kevin to be back tomorrow."
If they're being honest, the Celtics are just looking to survive the next three weeks. There will be nights like this where they take their lumps while waiting for Garnett to get rid of his. But Boston has a fairly strong grip on the seventh seed in the Eastern Conference, and that would be enough to avoid seeing the Heat until the conference finals (assuming, of course, Boston could get there).
A common refrain in the Boston locker room after Tuesday's loss was that the Celtics just weren't themselves. The roster changes prove that. But the Celtics are adamant that a veteran core with Pierce and a healthy Garnett can lead them to familiar postseason success.
As Rivers reflected on the impending departure of the division title, he noted, "Whether you win it or not, your season will be defined by what you do in the playoffs. For us and them."
There's a strong possibility the Celtics and Knicks will cross paths again in the postseason. Boston hopes it will look like a different team then.
Dimes past: March 10 | 11 | 12 | 13 | 14 | 15-16 | 17 | 18 | 19 | 20 | 21 | 22-23 | 24 | 25
ESPN Staff Writer
Covered Celtics since 2007
Emmy award-winning videographer
Joined ESPNBoston.com in 2009
2. Around the Association
| | | | | |
| --- | --- | --- | --- | --- |
| New York Knicks | 100 | FINAL | 85 | Boston Celtics |
---
MVP: J.R. Smith. Ever since his horrendous 4-for-20 outing against the Clippers, Smith has made it his mission to attack the tin with aplomb, with tonight's performance -- 32 points on 13-of-24 shooting -- being the apex.
X factor: Jason Kidd. Just days removed from his 40th, Kidd's 23 minutes provided a miniature basketball clinic -- timely buckets, big boards and defensive deflections galore. Seems a second wind is stirring for the 'Bocker sage.
That was … off-script: It looked for a while like New York's 14-point halftime lead would vanish as so many of theirs have at TD Garden, but a combination of timely shooting and rebounding helped keep the C's at bay.
| | | | | |
| --- | --- | --- | --- | --- |
| Los Angeles Clippers | 102 | FINAL | 109 | Dallas Mavericks |
---
MVP: Dirk Nowitzki. After surviving one of Chris Paul's best clutch performances we've ever seen, it was Dirk's turn to steal back the show in overtime. Nowitzki answered with eight straight points, and that was enough to pull off a huge home win.
Defining moment: Down three in overtime, Matt Barnes got one of the most open looks he'll ever have ... and threw up an airball. With all the clutch shots falling, Barnes' missed opportunity stuck out like a sore thumb.
That was … playoff caliber: With the Mavs on the doorstep to a .500 record and a playoff spot, Nowitzki dropped 33 points to keep the clean-shaven playoff dream more real than ever for the Mavericks.
| | | | | |
| --- | --- | --- | --- | --- |
| Minnesota Timberwolves | 105 | FINAL | 82 | Detroit Pistons |
---
MVP: Nikola Pekovic. His 23rd double-double of the season meant 18 points and 11 rebounds on 7-of-10 shooting, plus 4-of-5 from the line. It might not have been pretty, but with Pek, it doesn't have to be.
Defining moment: The Wolves came out of the half with energy and put it away with a 38-16 third quarter that left the Pistons reeling.
X factor: In that torrid third quarter, the Wolves went 7-of-9 from behind the arc -- where they have been historically bad this season -- on the way to 53.8 percent long-range shooting and a team-record 14 3-pointers.
3. Tuesday's Best

Nowitzki
Dirk Nowitzki, Mavericks:
Nowitzki tallied 33 points (12-of-21) and nine rebounds as the Mavericks survived Chris Paul and the Clippers in overtime. Dallas now sits in a tie with Utah for the No. 9 spot in the West, one game behind the Lakers.
4. Tuesday's Worst
Short-handed C's: Boston's injury-plagued lineup failed to put up much of a fight at home, as J.R. Smith and Carmelo Anthony teammed up to hand the Celtics their fifth straight loss. With Kevin Garnett expected to miss about two weeks with an ankle injury, the C's are in grave danger of dropping into the No. 8 spot in the East -- and a meeting with that team down in South Beach.
7. Quote of the Night
"Let's just be quite frank about them. We always want to beat Boston. New York in anything wants to beat Boston and when we do it's a great feeling."
-- Knicks forward Carmelo Anthony, on the Knicks' 100-85 win in Boston on Tuesday night.
8. Hairy Situation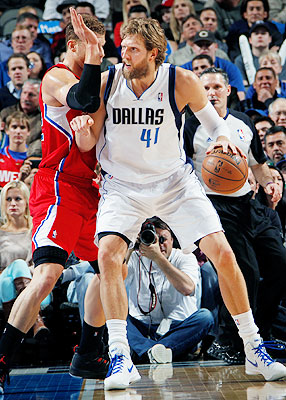 Glenn James/NBAE/Getty ImagesDirk Nowitzki got the Mavericks one step closer to the .500 mark -- and being able to shave -- after their overtime win over the Clippers.
9. Stat Check
The Timberwolves posted a 105-82 win at Detroit four days after their 117-86 victory at Phoenix. Minnesota had only two road wins by 20 or more points over the previous seven seasons combined (that is 2005-2006 through 2011-2012). The Wolves recorded a pair of 20-point road wins in the same month only once previously, at Memphis and Chicago in Dec. 2001.