1. Staying On The Court Is Half The Battle
By
Mark Haubner
| ESPN.com/TrueHoop Network
There are all sorts of stats, both basic and advanced, that accurately describe the excellence of the Oklahoma City Thunder. Yet the most underrated number might be the simplest of all: games played.
Beyond being two of the NBA's elite players, Kevin Durant and Russell Westbrook are simply out there on the floor, night after night after night. Both players have played all 75 games this season. Durant has missed only 14 games in his six-year career. And the indestructible Westbrook has never missed a game, in high school, college or the pros, where he is currently working on the NBA's longest consecutive games played streak at 387 (plus 43 playoff games).
That was really the story in Oklahoma City's 100-88 win over San Antonio on Thursday night. Durant and Westbrook were out there. Manu Ginobili was not, and Tony Parker (two points) played only 25 ineffective minutes before leaving for good midway through the fourth quarter, with what Gregg Popovich indicated could be tendinitis in Parker's shins, on top of the ankle injury from which the Spurs point guard has been recovering.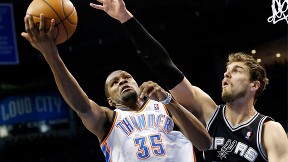 AP Photo/Sue OgrockiTony Parker is ailing. Russell Westbrook is an ironman. Advantage, Thunder.
Viewed narrowly, the matchup of the West's top two teams was a rather aberrant game that proved essentially nothing about how a Thunder-Spurs playoff rematch might unfold (other than that Oklahoma City is pretty much unbeatable if Derek Fisher manages to knock down five 3s).
But in the bigger picture, the Thunder might well have taken control of the Western Conference on this early-April night. The reeling Spurs have lost four of seven in the midst of a brutal schedule stretch and have not been the same team since Parker first went down with his ankle injury March 1. San Antonio probably won't even see a rematch with the Thunder without a healthy Parker and Ginobili.
Meanwhile, in Denver on Thursday, the Nuggets lost Danilo Gallinari to what is feared to be a serious knee injury, and they've already been playing without catalyst Ty Lawson, who has a torn plantar fascia. It's a tough blow for a team that currently holds the West's third seed and has been one of the NBA's best since Jan. 1.
And don't forget that, for all the various dramas in Lakerland this season, nothing has been more damaging than poor player health to a team that was expected to be a major contender in the West.
Yet there were Durant and Westbrook on Thursday night, combining for 52 points, 16 rebounds and 13 assists, but more than anything, they were out there. Westbrook, in particular, was able to dominate Spurs backup point guard Nando de Colo down the stretch after Parker went to the locker room.
As a result, this rather forgettable April contest could prove to be vitally important come early June, if the Thunder end up hosting Game 7 of the Western Conference finals against the Spurs at Chesapeake Energy Arena, where they are 33-5.
Thursday's game put Oklahoma City in prime position to overtake the Spurs for the top seed in the West. The Thunder (55-20) still trail the Spurs (56-20) by half a game but seized control of the tiebreaker by tying the season series at 2-2. Oklahoma City holds a 2½-game edge in the next tiebreaker, conference record, and plays a more favorable schedule down the stretch, especially considering -- play it again, Sam Presti -- the Thunder's key players will be playing down the stretch, whereas Popovich's No. 1 concern is getting his team healthy.
It is worth noting that the remarkable multiyear run of player durability in Oklahoma City extends beyond Durant and Westbrook to the entire rotation. Serge Ibaka has missed only three games over the past three seasons. Kendrick Perkins has missed only two games in the past two seasons, after recovering from major knee trouble.
James Harden missed only 10 games in his three Thunder years. Even his replacement, Kevin Martin, who had missed an average of 23 games the previous five seasons, has played in 73 of 75 contests for OKC this season.
All told, in 2012-13, Durant, Westbrook, Ibaka, Perkins, Martin, Thabo Sefolosha and Nick Collison have missed six games combined. Six! Emerging backup Reggie Jackson has not played in 12 games, but those were all of the early-season "DNP-Coach's Decision" variety.
The road to the Finals in the West now runs through the defending conference champions in Oklahoma City. And that means it runs through Kevin Durant, Russell Westbrook and Serge Ibaka, because you can be pretty confident they'll be playing.
Mark Haubner's work appears regularly on The Painted Area.
Dimes past: March 22-23 | 24 | 25 | 26 | 27 | 28 | 29-30 | 31 | April 1 | 2 | 3
2. Around the Association
| | | | | |
| --- | --- | --- | --- | --- |
| San Antonio Spurs | 88 | FINAL | 100 | Oklahoma City Thunder |
---
MVP: It's a tough call, but Russell Westbrook gets it for playing 10 fewer minutes than Kevin Durant with half as many turnovers. Westbrook put up 27 points, 7 boards, 7 assists and 3 steals in a win over the Spurs.
X factor: If you forgot Derek Fisher was back in the league, Thursday was a reminder. Fish scored 17 points in 14 minutes thanks to 5-of-7 shooting from 3-point range.
That was … probably a preview of the Western Conference finals: Not only will these two teams probably meet in the conference finals, but this was exactly the type of game the Thunder and Spurs typically have. Random players step up, and nothing goes exactly as you'd expect.
| | | | | |
| --- | --- | --- | --- | --- |
| Dallas Mavericks | 94 | FINAL | 95 | Denver Nuggets |
---
MVP: Corey Brewer was pumping life into the Nuggets' depleted roster all night, finishing with a game-high 23 points. With 7.7 seconds to go, Brewer's out-of-bounds save set up the Nuggets for their final possession: Andre Iguodala's game-winning layup.
Defining moment: With five minutes to go in the game, Kosta Koufos' blocked shot on Shawn Marion looked like it was heading out of bounds, but not if Kenneth Faried had anything to do about it. He'd save the ball to Iguodala, who followed up his teammate's hustle with a game-tying 3-pointer.
X factor: The Mavs' cold shooting. Dallas just couldn't get it going from downtown, going 4-for-18 on the night, despite shooting an array of wide-open looks. At one point, Dirk Nowitzki even air-balled a wide-open straight-away 3.
| | | | | |
| --- | --- | --- | --- | --- |
| Chicago Bulls | 92 | FINAL | 90 | Brooklyn Nets |
---
MVP: Carlos Boozer was a beast in the fourth quarter, overpowering Reggie Evans with an array of trademark rainbow jumpers to end up with a Kevin Love-like 29 points and 18 rebounds.
Defining moment: Tom Thibodeau implored his players to get more physical with Brook Lopez, who was nearly perfect from the field in the first quarter as he scored 18 points. He had just 10 after that, never getting into a rhythm.
That was … wild: Shame for the Nets to lose this after leading by so much for so long. But the Bulls are coached to never give up, even with five rotation players out, and the crazy back-and-forth ending was a blast to watch.
3. Thursday's Best
Brewer
Corey Brewer, Nuggets:
With Danilio Gallinari lost to a knee injury, Brewer scored 23 points and got a hand on Anthony Morrow's last-second shot to preserve the Denver Nuggets' 19th straight home win, 95-94 over the Dallas Mavericks on Thursday night.
4. Thursday's Worst
Gallinari
Danilo Gallinari's injury: The Nuggets forward appeared to suffer a serious injury to his left knee in the first half of the win over Dallas. Also suffering a serious blow were Denver's hopes for a deep postseason run. Gallinari is the second-leading scorer at 16.3 points per game. The Nuggets ended the night holding third in the West in their quest for home-court advantage.
6. Tweet Of The Night
Check out my bro @JLin7 Day and the Life on Gameday! #OmeletFlow Hahaha. http://www.youtube.com/watch?v=pQaP9-8YQAE &

—James Harden (@JHarden13) April 4, 2013
7. Quote of the Night
"There's no doubt that in our lifetime, there will be a woman NBA player."
-- Shane Battier, Heat forward, on the possibility of a first female NBA player.
9. Stat Check
Iguodala
Andre Iguodala, despite making just three of 13 field goal attempts, scored the game-winning basket with 2.8 seconds remaining in the Nuggets' 95-94 home win over the Mavericks. It was Iguodala's fourth career game-winning field goal in the final five seconds of the fourth quarter or overtime. His first three were in a 76ers uniform, against the Timberwolves (January 2006), Grizzlies (December 2007) and Lakers (March 2009).