1. Clippers' Future In Hands Of Paul, Griffin
LOS ANGELES -- It's always dangerous to regard games as nothing more than formalities, because there's far too much randomness at work in basketball to guarantee anything. NBA players are transcendent talents, and there's no insurance against a supernova such as Damian Lillard going unconscious and laying waste to the best-laid playoff plans.
But the active rosters announced prior to the Los Angeles Clippers' 93-77 win over the Portland Trail Blazers told the story. While LaMarcus Aldridge, Nicolas Batum and Wesley Matthews sat as Portland plays out the string, the Clippers put their marquee names on the floor. In what has become RestFest '13 for the vast majority of the NBA in the final days of the regular season, the Clippers are counterprogramming -- there's far too much to lose not to.
Playing at full strength, the Clippers checked Lillard and the Trail Blazers' taxi squad, and closed in on home-court advantage for the first round of the playoffs. With a win Wednesday night at Sacramento, the Clippers will host a Game 1 at Staples Center this weekend for only the second time since moving to Southern California in 1978.
"There were a lot of possessions tonight where we executed," Paul said. "I really got excited we ran some of our actions to perfection and really paid attention to that detail. That's what you have to do in the playoffs."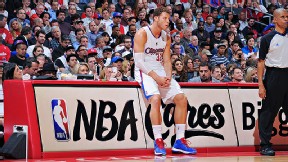 Andrew D. Bernstein/NBAE/Getty ImagesBlake Griffin, resting up for the Clips' playoff run.
During the final weeks of the regular season, desirable playoff seeding is the holy grail for the NBA's upper class, but once opening weekend arrives, the storylines shift. For the Clippers, the spotlight that has been focused on the conference standings page (whether to hang evidence of a division championship and the relative appeal of various playoff matchups) will be turned on Chris Paul and Blake Griffin.
For the better part of a year, the mere sight of Paul and Griffin in Clippers gear was enough to thrill the Clippers' fans, front office and marketing execs. The team exceeded expectations last spring with a series win over Memphis that culminated in a gutty road victory in Game 7. The sweep at the hands of the San Antonio Spurs in the conference semifinals was disappointing, but not devastating considering the injuries Paul and Griffin brought in to the series. At worst, the Clippers were exposed as less tactically polished than their seasoned counterparts -- but we already knew that.
Time has a way of tempering novelty, and this go-around, there will be no disclaimers for the Clippers, Paul or Griffin. A few minor bumps and bruises aside, the Clippers' two All-Stars are healthy. They've had nearly two full seasons and a playoff series to hone the choreography. Progress has been made since last season, something that's discernable when you study the dance steps.
"They've come a long way," Clippers guard Chauncey Billups said. "At this point they know where each other is going to get the ball and where each other like it. Chris is really good at knowing when Blake is a little too high [on a pick]. He'll hold it, let Blake get his feet set and get into position, then throwing it to him. Blake has done a better job of reading Chris, and knowing when he wants to attack and when to slide down a little further in the gap."
Nuances such as these are what differentiate sticky offenses that paralyze themselves at big moments from those such as San Antonio's, in which the telepathy between Tony Parker and Tim Duncan produces results. That's a lofty standard for the Clippers' two stars, but Paul has long expressed his admiration for the Spurs, as has Griffin for Duncan's perfectionism.
Griffin finds his individual exploits that are looped on every digital platform intoxicating, but he's eager to establish himself as a cerebral power forward who also understands the subtleties that go with the job. He wants to prove that to himself -- and to Paul -- because that success of the two-man game will be the best predictor of the Clippers' fortunes over the next eight weeks.
Like Billups, Clippers guard Jamal Crawford has identified spots in which Griffin has grown, specifically in the pick-and-roll (and often re-pick) with Paul that initiates so much of the Clippers' offense.
"[Griffin] knows the angle CP wants to take and the angle CP knows can get Blake open," Crawford said. "So if a screen is coming one way, Chris will give an eye, and Blake knows to flip the screen -- just from the look. Blake will flip it, and the play will develop. They're a lot better from the beginning of the season until now, and I can only imagine from last year to this year."
When Paul and Griffin move quickly into their action and Griffin dives hard, defenses get flustered. Back line defenders scamper to Griffin on the roll. Wings come off shooters such as Billups, Crawford, Caron Butler and Willie Green, leaving Paul with a menu of options. That's the Clippers' half-court offense at its best, but almost everything is predicated on that waltz between Paul and Griffin.
Asked about the evolution of his pick-and-roll with Griffin, Paul challenged the idea that team success was an exclusive endeavor.
"It takes five people on the court, not just two people to make it happen," Paul said. "People think it was just [John] Stockton and [Karl] Malone, but it was [Jeff] Hornacek, it was those guys around them that made all of that possible."
Point taken, but it was stocktonan'malone that became commonplace in the basketball vernacular, not stocktonan'malonean'hornacekan'russell. The Clippers have plenty of candidates to play the part of Hornacek, but only two who can fulfill the lead roles when the curtain goes up this weekend.
Dimes past: April 1 | 2 | 3 | 4 | 5-6 | 7 | 8 | 9 | 10 | 11 | 12-13 | 14 | 15
ESPN Staff Writer
NBA writer for ESPN.com since 2008
Former contributor and editor at NPR
2. Around the Association
| | | | | |
| --- | --- | --- | --- | --- |
| Portland Trail Blazers | 77 | FINAL | 93 | Los Angeles Clippers |
---
MVP: Caron Butler. Portland's listless play defensively allowed Butler to spot up in the corner and shoot wide-open jumpers to his heart's content. Butler's game-high 22 points felt merciful, as at least they weren't dunks.
Defining moment: What happens when LaMarcus Aldridge and Nic Batum sit out, and one of the worst benches in NBA history gets more time? Try one made field goal during a brutal 10-minute span in the second quarter.
That was … business and pleasure: The Clippers needed a win and some rest first and foremost, but they still satiated the Staples faithful with a few eye-popping highlight plays.
| | | | | |
| --- | --- | --- | --- | --- |
| Toronto Raptors | 113 | FINAL | 96 | Atlanta Hawks |
---
MVP: DeMar DeRozan was amazing with 30 points in only three quarters of play. He got off to a hot start and never let up. When he and Rudy Gay are hot at the same time, the Raptors can play with anybody.
X factor: Toronto's toughness. The Raptors easily could have folded to end the season but have won four straight versus playoff teams. When they're at their best, they're a fun team that runs the floor well and gets to the hoop. You have to salute their entire staff for ending the season on a good note.
That was … what happens in April in the NBA: Larry Drew said before the game that his primary concern was getting out healthy, and that's all the Hawks accomplished. They played like a team that doesn't care whether it plays Indiana or Brooklyn. Hopefully the Hawks got enough rest, because they're going to need it.
3. Tuesday's Best
Red-Hot Raptors:
Playing a Hawks team that is in full "rest for the postseason" mode, the Raptors took advantage, as DeMar DeRozan and Rudy Gay combined for 52 points in a rout in Atlanta. That's six wins out of seven games for Toronto, which is clearly clicking at the perfect time ... well, maybe not.
4. Tuesday's Worst
Poor Portland:
The Blazers have one game remaining in their season -- Wednesday night against the Warriors -- but it might as well be over. Portland's late-season woes continued, as the Blazers dropped their 12th straight game for the franchise's worst losing streak since the 1985-86 season.
7. Quote of the Night
"I was happy to be out there running around. I was a little too excited with my shots."
-- Clippers guard Chauncey Billups, who shot 0-for-5 from the field in his return to the starting lineup.
8. Homeward Bound?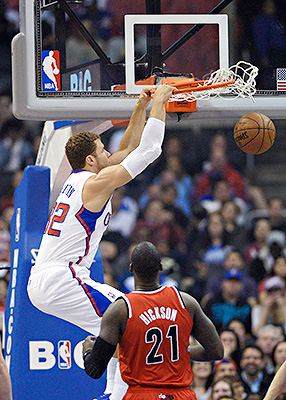 Richard Mackson/USA TODAY SportsWith a blowout of the Blazers, Blake Griffin and the Clippers moved closer to securing home-court advantage in the first round.
9. Stat Check
The Clippers ran off to a 93-77 victory over the Trail Blazers for their 55th victory this season, joining the Thunder (60 wins), Spurs (58), Nuggets (56) and Grizzlies (55) as the fifth Western Conference team with at least 55 wins this season. It's only the third time in NBA history that there have been five 55-win teams in one conference in the same season. There were five in the West in 1997-98 and again in 2007-08; the East has never had five such teams in the same season.