1. Melo Reaches Unfamiliar Territory In Game 1
NEW YORK -- The record is as stunning as the context.
Heading into Saturday afternoon, Carmelo Anthony was 17-37 in playoff games in his career, the worst of anyone in NBA history who had played in more than 50 postseason games. Consider that for a moment. Of the 451 players ever to step on the court in 50 playoff games -- a career's worth for many -- none had ever been less successful than Anthony.
The worst.
Yes, yes, basketball is a team sport. Of course any statistic listing a career record is loaded with caveats and circumstances. Tracy McGrady could tell you about that. Anthony's been on some playoff teams in Denver and New York that were outclassed by their competition. Two years ago, the Knicks were whitewashed by the better Boston Celtics 4-0. Last year, they were dusted by the NBA champion Miami Heat 4-1.
In Denver, Anthony couldn't seem to help running into the San Antonio Spurs and Los Angeles Lakers as first-round speed bumps to the Finals, and they were outclassed. Had Bill Russell and Oscar Robertson switch places in the 1960s, Russell probably doesn't win 11 rings playing for the Cincinnati Royals.
But let's be honest, if you're a superstar, you're not 20 games under .500 in the playoffs. Superstars are not truly defined by getting voted to start All-Star Games. Superstars tilt postseason games in their teams' direction. Superstars carry teams in the playoffs, even as the underdog. On this career-defining reality, Anthony is woefully underdeveloped.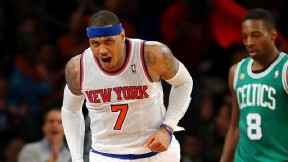 Elsa/Getty ImagesCarmelo dropped 36 in the Knicks' Game 1 win.
Anthony is now on a strong team. He's on a favored team -- one that ironically includes two old Nuggets teammates, J.R. Smith and Kenyon Martin, playing key roles -- at least between now and the conference finals. Anthony just had the best regular season of his career. He says he's healthy, a midseason knee draining apparently doing wonders for his lift and agility. There are no excuses.
Saturday, Anthony played an excuse-free game and he led his team to an excuse-free win when the Knicks beat the Celtics 85-78 to take Game 1. Anthony had 36 points. He had eight of them in the fourth quarter plus a steal and a key assist to finish off the game. It was a superstar-type performance.
Anthony took 29 shots to get there. Afterward, Celtics coach Doc Rivers said that was an acceptable ratio. Anthony is a volume scorer, he's not going to take 15 official shots and score 33 points like LeBron James and Kevin Durant do. But the Knicks are the No. 2 seed in the East, and Anthony is probably going to finish higher than ever in the Most Valuable Player vote because he's the best volume scorer in the league.
"When we got into a tough stretch, he made the plays we needed him to make," Knicks coach Mike Woodson said. "That is what the great ones do; they figure it out, and Melo has done that all season." This is indeed his style. In this game, he played average. And his average was good enough to win. That's a definition of a superstar, too. He wasn't as hot as he was a few weeks ago, when he scored 50 points in a game in Miami and didn't make a single shot inside the paint. In the past, his average has been good enough to lose in the playoffs.
The next few weeks will tell us if this truly is a different Anthony, one whose "average" means the Knicks can scratch out wins and whose "great" means they can beat anyone in any arena. Anthony does have that within him, it's just been rare to see in the spring.
Saturday, he made his first four shots to help calm the nerves of his obviously jittering teammates. Then he made four of his last five, including a clutch jumper at the end of the shot clock that pretty much sealed the game with 1:21 remaining.
After the Celtics' Jeff Green scored 20 points in the first half, Anthony got much more physical with him in the second half, as he was Green's primary defender. Anthony pushed Green off his spots and got in his space when he did catch the ball, taking advantage of the referees' decision to let the teams be aggressive defensively.
"I wanted to get off to a good start, make the game easier for everyone else," Anthony said. "[This series is] going to be a battle."
The Knicks haven't been ahead 1-0 in a playoff series since 2001. Anthony hasn't been up 1-0 in three years and he lost that series. These are, believe it or not, unusual times. It is Anthony's main job -- one of the biggest reasons he earns more than $19 million per season -- to make a 1-0 series lead the normal course of business.
That is what superstars do.
So far in these playoffs, Anthony is on schedule. He's now only 19 games under .500 in the playoffs. That's the correct direction.
"It's a wonderful feeling to know we got our first win of the series on our home court," Anthony said. "It was real important."
It certainly was; it's not something Anthony or the Knicks are used to.
Dimes past: April 1 | 2 | 3 | 4 | 5-6 | 7 | 8 | 9 | 10 | 11 | 12-13 | 14 | 15 | 16 | 17
ESPN.com
ESPN.com NBA writer since 2010
Covered Cleveland Cavs for seven years
Author of two books
2. Around the Association
3. Saturday's Best
Miller
Andre Miller, Nuggets:
The 37-year-old, in his 13th NBA season, poured in 28 points off the bench for Denver. None were more important that the two he dropped with a driving layup with 1.3 seconds remaining, saving the Nuggets from a Game 1 upset at home against the Warriors.
4. Saturday's Worst
Celtics disappear:
Fourth-quarter points: eight. Fourth-quarter turnovers: eight. That's not a recipe for success on the road -- or anywhere for that matter -- against a Knicks team firing on all cylinders.
7. Quote of the Night
"Boston will rise and run again."
--Paul Pierce, who, along with Carmelo Anthony, spoke in a pregame ceremony recognizing the tragic Boston Marathon bombings.
8. Early Exit For Lee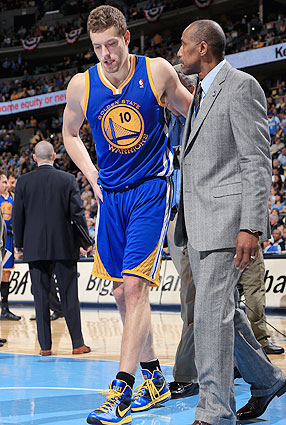 Doug Pensinger/Getty ImagesWarriors forward David Lee left Saturday's 97-95 loss to the Nuggets early in the fourth quarter with a strained hip flexor. He'll have an MRI on Sunday.
9. Stat Check
Seven Clippers players scored in double-digits, tying a franchise record, and the Clippers ripped the Grizzlies' vaunted defense for 112 points, including 37 in the fourth quarter, to send Memphis to defeat in Game 1. The only other time seven Clippers have scored 10 points or more in a playoff game came on April 29, 2006, when Corey Maggette led the team with 19 points in a 100-86 win over Carmelo Anthony and the Nuggets.
Memphis had only one game this season in which it allowed as many as 112 points (a 121-96 loss at Houston on Dec. 22) and it had only one game in which it surrendered as many as 37 points in a fourth quarter (a 39-point fourth quarter by the Trail Blazers at Portland on March 12).