1. Chris Paul Keeps His Controlling Interest
LOS ANGELES -- Control freaks make other people uneasy.
They're usually bossy, pig-headed, hyperactive and constitutionally incapable of deferring to anyone else. A control freak never stops planning, rarely leave things to chance -- and he's exactly who you want in charge in a crisis. With 13.9 seconds left and the Los Angeles Clippers and Memphis Grizzlies tied at 91-91 in Game 2 of their first-round series, the Clippers called on the NBA's leading control freak, point guard Christopher Emmanuel Paul.
This surprised exactly nobody. Paul had scored the Clippers' previous six points in a nail-biter against a resilient Memphis team that had rallied from a 12-point fourth-quarter deficit. Had the Clippers bench called anyone else's number, Paul would've undoubtedly overruled the play, and it wouldn't have been about ego or savoring glory for himself, or any instinct other than control.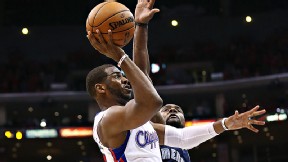 Stephen Dunn/Getty ImagesChris Paul's drive kept the Clips out front.
If Paul was going to drill a game winner, he'd have to beat Tony Allen, one of the game's premier on-ball defenders, a guy every bit as obsessed with preventing shots as Paul is with finding them.
"What we tried to do was get [Memphis guard] Mike Conley to switch on me, so that's why I screened for Jamal [Crawford]," Paul said of the initial plan, which was unsuccessful. Despite the best attempts of Paul and Crawford, Paul couldn't shake Allen, who took a swipe at a pass from Crawford in the half court before pouncing back on Paul.
"They switched for a second, and Jamal threw it back to me, then Tony came back to me. [Allen] played as good a defense as he could have. I looked up at the clock and thought to myself, 'I better get a shot off,' so I tried to attack, and luckily I made the shot."
The shot was a lurching, off-balance heave from the right edge of the paint that Paul kissed off the glass as the buzzer sounded and Staples Center fell into delirium. A mere tenth of a second was added to the game clock to give the Grizzlies one final and futile opportunity, but to no avail. The Clippers won Game 2 93-91.
After the game, Allen was hardly able to lift his moist eyes from their downward gaze. Paul might've praised Allen's defense, but Allen was inconsolable by what he regarded as his total personal failure.
"I was supposed to get in him and drive toward the left side of the floor," Allen said. "I kind of put Mike [Conley] in a tough position to help off Crawford, who'd been hitting those corner 3s like crazy. Like I said, I let my team down by not sending [Paul] right."
Allen would relive the possession several more times as reporters filed into a cramped, somber Grizzlies locker room. I could've sent him left. Had I sent him left and he made that shot, I could've lived with the result. I just feel like I should've sent him left.
Paul scored 24 points on 9-for-17 shooting from the field and 6-for-6 from the line. Given a pick in the middle of the floor anywhere inside 20 feet, Paul would convert that open space into a silky midrange jumper. He fed Blake Griffin early, empowering the big man to notch 13 points in the first quarter with a steady stream of post feeds. Griffin would finish with 21 points and eight rebounds, and avoided the foul trouble that plagued him in Game 1.
In practical terms, the Clippers accomplished what they sought to do in Los Angeles. In what projected to be a grueling, competitive first-round series against the Memphis Grizzlies, the Clippers won twice and now tank up the plane to Memphis with a 2-0 advantage.
But there's a larger takeaway from these first two games, one that has more profound implications: The Clippers have restored themselves to their December grandeur, when they went undefeated for a calendar month, ran off 17 consecutive wins and pulled up a chair to the adult table in the Western Conference.
Game 2 had all the hallmarks of December -- the controlled chaos of the bench, the half-court synergy of Chris Paul and Blake Griffin, the unconscionable exploits of Jamal Crawford and the seamlessness with which everyone who was assigned a specific task performed it.
"I think that's what's special about this team," Crawford said. "In the first quarter, Blake had it going. Second quarter, I had it going. The third and fourth, Chris had it going. When we're going like that, with all three of us especially being the leading scorers this season, and we shoot a high percentage like that, it's tough for any team to deal with."
There's an ebb and flow to an NBA season, but very few teams enjoy what the Clippers experienced when they were playing their best basketball over the winter. It was the kind of success that builds confidence -- and breeds expectations.
The Clippers started to believe. They had played well enough for long enough to stake their claim as a contender, which made it all that much harder to cope when that euphoria wore off, the defense lost its bite and losses became commonplace.
Trying to recapture December has been a lengthy process for the Clippers. They dropped hints during the final two weeks of the regular season, a stretch that included a crucial win at Memphis to effectively determine home court in this series, but we still needed some more evidence.
Maybe it was the heroics at the buzzer or the displays of freakishness by Eric Bledsoe or defensive activity from DeAndre Jordan or the renewed confidence from midrange by Griffin, but something about Monday felt like a turn for the Clippers.
It felt like December.
Dimes past: April 1 | 2 | 3 | 4 | 5-6 | 7 | 8 | 9 | 10 | 11 | 12-13 | 14 | 15 | 16 | 17 | 20
ESPN Staff Writer
NBA writer for ESPN.com since 2008
Former contributor and editor at NPR
2. Around the Association
| | | | | |
| --- | --- | --- | --- | --- |
| Memphis Grizzlies | 91 | FINAL | 93 | Los Angeles Clippers |
---
Defining moment: Tie score. Clippers' ball. You knew Chris Paul was going to get it, and you knew Tony Allen would be sticking to him. Allen defended wonderfully, but great offense beat great defense, as Paul kissed in an impossible floater to give the Clippers a dramatic victory.
MVP: It wasn't just about the game winner. Chris Paul scored the Clippers' last eight points, once again asserting himself in the second half with jumper after jumper. Don't discount his one turnover in 36 minutes, either.
X factor: Before the heroics, Eric Bledsoe, Matt Barnes and the rest of the Clippers' second unit built up a double-digit lead by playing swarming defense. Memphis clawed back in it behind Mike Conley's slicing and dicing, but losing the bench battle 30-11 has to be tough for the Griz.
| | | | | |
| --- | --- | --- | --- | --- |
| Chicago Bulls | 90 | FINAL | 82 | Brooklyn Nets |
---
MVP: Chicago's defense. In a contest in which the scoring was terribly ugly on both sides, Chicago's real advantage was their locked-in D, which fed off its well-trained schematic principles to hold the Nets to 36 percent shooting and just 11 points during a game-shifting third quarter.
X factor: Joakim Noah was a rejuvenated force after a hobbled Game 1, hustling down the stretch and playing his most minutes since mid-March.
That was … familiar: After ratcheting up expectations with a Game 1 blowout, Brooklyn fell back to their exhaustively stagnant routine in the third quarter and failed to build on a nascent home-crowd advantage. They'll have to rediscover their energy as the series heads to Chicago.
3. Monday's Best
Paul
Chris Paul, Clippers:
Paul carried the Clippers in the final 3:46, scoring eight straight points, including the game-winning basket. Paul finished with 24 points and nine assists in the Game 2 win over Memphis.
4. Monday's Worst
Williams
Deron Williams, Nets:
What happened to the reverse-jamming D-Will from Game 1? Williams went 1-for-9 from the field and scored only eight points in his team's 90-82 loss to Chicago in Game 2. "I'm not going to play like this again," Williams said.
6. Tweet Of The Night
JR Smith was a worthy winner, but right now I'm feeling 0 regret about voting Jamal Crawford 6th man of year.

— J.A. Adande (@jadande) April 22, 2013
7. Quote of the Night
"I've been known to make so many mistakes I haven't been making recently."
-- Knicks guard J.R. Smith, on some of the reasons he won the NBA's Sixth Man Award.
8. Noah's Reign Of Pain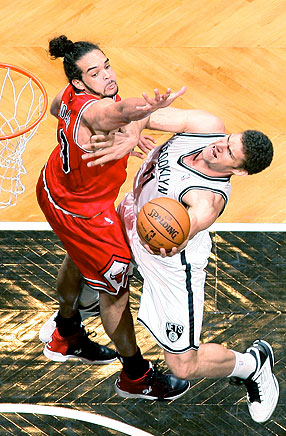 Nathaniel S. Butler/NBAE/Getty ImagesJoakim Noah returned to action despite plantar fasciitis and had 11 points and 10 rebounds. He also lent a big hand battling Brook Lopez.
9. Stat Check
Chris Paul hit the game-winning basket with less than a second remaining in the fourth quarter to give the Los Angeles Clippers a 93-91 win over the Memphis Grizzlies in Game 2 of their first-round series Monday night. In his career, Paul was only 3-for-19 (15.8 percent) on potential go-ahead field goal attempts with less than two seconds remaining in the fourth quarter or overtime prior to that shot (all attempts came in the regular season).