1. Martin Move Paying Dividends For Knicks
NEW YORK -- In early January, the New York Knicks knew they had a problem.
Rasheed Wallace had a bad foot injury, so bad that team doctors were reasonably convinced he was done for the season. The Knicks were going to give him the chance to rehab in the long shot that he could heal (he never did) and they'd lost a guy who had surprisingly been a highly valuable defensive big man and enforcer.
Meanwhile, they were dealing with a suspension of Carmelo Anthony because Boston Celtics' rival Kevin Garnett had gotten under his skin so intensely in a game at Madison Square Garden that Anthony had inexplicably gone to confront him at the team bus.
Knicks owner James Dolan was so incensed that he ordered high-powered microphones to the sidelines because he thought, in a bizarre schoolmarm maneuver, it was a way to protect Anthony from those who might trash talk him. The Knicks needed more than technology to protect Anthony, though. They needed a player like Wallace.
It was then the Knicks began the process of acquiring Kenyon Martin, who'd gotten such a bad rep for being difficult to deal with an unaccepting of a role over his previous few seasons that he'd apparently been deemed unemployable, even at a minimum salary across the league.
That included the Celtics, who passed on Martin several times even though they too were looking for their own veteran big man to play key late-season minutes.
"It was never about basketball," Martin said. "(The Celtics) might be kicking themselves now."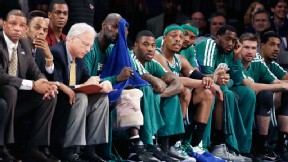 AP Photo/Kathy WillensThe Celtics haven't had an answer at MSG.
If Martin still had something left, the Knicks pondered, maybe Garnett couldn't get away with bullying their star. Plenty of things could be said and had been said about Martin, but him being soft or not willing to step to the aid of a teammate was not one of them.
With Martin, the Knicks considered, they might get lucky and get a player no one else wanted who could help them in a playoff game or two. And play some of the role Wallace had in their excellent start to the season in November and December.
It took a while. They had to give Martin and his troublesome knee a good look, they had to investigate the trade market and then clear a roster spot, which took until February. Mostly, general manager Glen Grunwald had to vet Martin and talk the move over with his coaching staff and players. But finally, within hours of trading Ronnie Brewer to the Oklahoma City Thunder on deadline day, Martin had a job.
All of that is now relevant because of the impact Martin is having on the series with the Celtics. Neither Garnett nor any of his teammates are pushing the Knicks around. The Knicks are winning the physical aspect, an area the Celtics usually dominate come playoff time, and they are getting a major lift from Martin.
In Tuesday's 87-71 Game 2 win, Martin had 11 rebounds and four blocks in a masterpiece defensive performance. He had all the blocks and seven of the rebounds in the second half, when the Knicks shoved the Celtics out of their offense and held them to 19 percent shooting. That, by the way, is correct; 19 percent in a half.
Martin's ability to defend the rim has proven vital so far in the series. Not just in the support role he was signed for, but because Knicks defensive anchor Tyson Chandler is dealing with a neck injury. Chandler, who also recently had a knee issue, says he's fine but clearly is not moving well and coach Mike Woodson has had no choice but to slash his playing time in favor of Martin.
The Celtics, who are wheezing offensively without a true point guard to rely on, keep running into Martin at the rim. He's able to switch out and defend guards in the Knicks' unusual pick-and-roll schemes. He can deal with Garnett at center or whenever the Celtics go small with their variety of forward options.
And the value of Martin's midseason addition continues to grow.
"He has been great," Celtics coach Doc Rivers said of Martin. "Every time they bring in a guy (from the bench) he gets older and older and better and better. He's smart and playing great."
Boston has managed just 48 points combined in the second half in the two games in the series. The Knicks are flicking at the Celtics' weakness by applying pressure and pushing their offense way out of position.
Tuesday, in-over-his-head fill-in Jordan Crawford was starting plays while standing on the midcourt logo and Paul Pierce, who has made a career of operating at the elbow, was catching the ball beyond the 3-point line. Mired in foul trouble, Garnett was barely an option.
Martin will not play this way every night in the playoffs. Garnett may get the better of him a time or two before it's done. Anthony, J.R. Smith and Raymond Felton will need to do the heavy lifting. Chandler will probably need to recover at least a little and playing more of his standard role for the Knicks to maximize their potential.
But the Knicks got Martin at the NBA equivalent of a roadside market at the end of the harvest. And he's helping them win playoff games. This is not a frequent occurrence at this level, needless to say. But it's one of the reasons the Knicks are ahead 2-0 with thoughts on much bigger accomplishments.
Dimes past: April 3 | 4 | 5-6 | 7 | 8 | 9 | 10 | 11 | 12-13 | 14 | 15 | 16 | 17 | 20 | 21 | 22
ESPN Senior Writer
ESPN.com NBA writer since 2010
Covered Cleveland Cavs for seven years
Author of two books
2. Around the Association
| | | | | |
| --- | --- | --- | --- | --- |
| Golden State Warriors | 131 | FINAL | 117 | Denver Nuggets |
---
MVP: After struggling in Game 1, Stephen Curry atoned for his performance by making himself unstoppable with his unconscious shooting and brilliant playmaking. His 30 points and 13 assists were simply too much for the Nuggets to overcome.
X factor: The Warriors converted an absurd 14-of-25 (56 percent) shots from 3-point range and had the Nuggets' defense running all over the court trying to close out on shooters. The shooting opened up the lanes and allowed the Dubs to score 44 points in the paint.
That was … exciting: The final margin might suggest the contest wasn't entertaining, but that's far from the case. This game had everything: dunks, rejections, ballhandling wizardry and impressive long-range shots. We have a competitive series on our hands, folks.
| | | | | |
| --- | --- | --- | --- | --- |
| Boston Celtics | 71 | FINAL | 87 | New York Knicks |
---
Defining moment: After a flat second quarter, the Knicks came out on fire at the start of the third, jumping all over the Celtics with a 25-4 outburst. Boston was unable to recover over the game's final 18 minutes.
MVP: Carmelo Anthony. Melo carried a heavy load yet again for the Knicks' offense, and he did it with great efficiency against a tough Celtics defense. Anthony scored 34 points on just 23 shot attempts. He's averaging 35 points per game in the series.
That was … déjà vu: One game after setting a franchise low for points in a half during the postseason, the Celtics had a repeat effort in Game 2. They shot a putrid 19 percent from the field after intermission, and managed to score a mere 23 points in the second half.
| | | | | |
| --- | --- | --- | --- | --- |
| Milwaukee Bucks | 86 | FINAL | 98 | Miami Heat |
---
MVP: Dwyane Wade. The Heat need a healthy Wade to repeat. With 5:16 left in the third, they got the best indication yet that they'll have one. The guard with the allegedly balky knee soared through traffic and cleaned up a Mario Chalmers miss with a two-handed finish that was equal parts power and grace. He finished with a robust 21/7/3 line.
Defining moment: With the scrappy Bucks hanging around through three quarters, the defending champs opened the final period with a 12-0 run to put the game away. That wasn't surprising. This was: 10 of the 12 points were scored by Norris Cole and Chris Andersen.
That was … a change: Brandon Jennings scored 26 in Game 1, while Ersan Ilyasova misfired to the tune of two points on 1-of-7 shooting. On Tuesday, the script, as they say, was flipped. The guard scored just eight points on 15 mostly unwise shots, while Ilyasova posted a team-high 21 points.
3. Tuesday's Best
Efficient Warriors:
Led by Stephen Curry (30 points, 13 assists), Golden State put on a shooting clinic in Denver. The Dubs poured in nearly 65 percent of its shots in its Game 2 win, including a 14-for-25 clip from long range. The trio of Curry, Jarrett Jack and Harrison Barnes combined for 80 of the Warriors' 131 points.
4. Tuesday's Worst
Déjà vu for C's:
It was Game 1 all over again for the Celtics at MSG. But this time around, they watched the game slip out of their hands one quarter earlier. After leading by six at the break, Boston was outscored 45-23 in the second half and was unable to crack New York's now-impenetrable late-game defense.
7. Quote of the Night
"They didn't let us throw a knockout punch and I thought in the second half they turned that on us and they threw a knockout punch. Several."
-- Celtics coach Doc Rivers, on his team's second-half struggles in Tuesday's Game 2 loss to the Knicks.
8. Don't You Know About The Bird?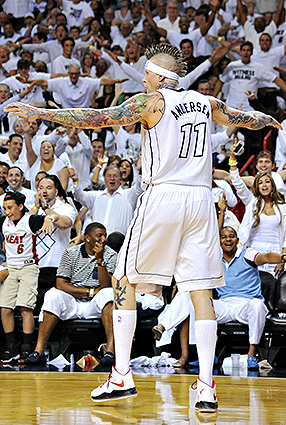 Steve Mitchell/USA TODAY SportsChris Andersen tallied 10 points, six rebounds and one impressive block in Miami's Game 2 win. He helped spark the Heat's 12-0 run that kicked off the fourth quarter and sealed the victory.
9. Stat Check
James
The Heat defeated the Bucks on Tuesday to take a 20 lead in their series, while LeBron James was held to 19 points. That ended James's streak of consecutive postseason games with 25 or more points at 16, one shy of his career long of 17 games, in 2008 and 2009.