1. Forget The Cake: Duncan Eyes Best Present
SAN ANTONIO -- Tim Duncan's turn-back-the-clock season will be temporarily interrupted Thursday. Not much Duncan can do to fend off his 37th birthday.
Not much he can do to celebrate, either.
When one media wiseacre (yes, me) stopped him on the way out of this 102-91 undressing of the battered and tattered Los Angeles Lakers, asking if he had anything of note lined up to commemorate a personal milestone that almost always falls during the first round of the playoffs, 2013 Timmy had (what else?) a snappy comeback.
"Absolutely," Duncan said. "Jump on a plane and fly to L.A. Those are my special plans."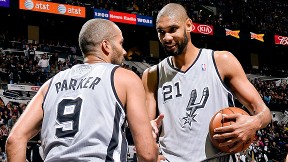 D. Clarke Evans/NBAE/Getty ImagesTim Duncan's turning 37 with renewed hope, thanks in large part to Tony Parker.
Yet it should be noted that Old Man Riverwalk, as TNT's Reggie Miller dubbed him early in the season, was smiling pretty broadly when he said it. Noticeably broad when you figure that Duncan hits the big Three-Seven still needing 14 more wins over the next six or so weeks to end the longest title drought of his professional life.
Something tells me that has more to do with the sudden flashes of spryness coming from Tony Parker and Manu Ginobili, his two longtime sidekicks, than the 2-0 series lead than the Spurs will be taking to Hollywood for what looks like a doomsday Game 3 for the Lakers on Friday night now that both Steve Nash and Steve Blake look poised to join Jodie Meeks and a tweetless Kobe Bryant on Mike D'Antoni's list of injured and unavailable guards.
It's a dangerous thing to inflate the significance of what Parker and Ginobili produced in this Game 2 against an injury-ravaged team that showed has shown roughly zero ability to generate elite, championship-worthy defense when it was a lot closer to full strength than L.A. is today. The Spurs, though, couldn't quite help themselves after watching Ginobili inspire two killer flurries at the end of the first and second quarters, followed by the welcome throwback sight of Parker going anywhere he wanted in a 15-point third quarter that was also marked by a sub-parDwight Howard quickly and rashly picking up his third and fourth fouls.
Said Ginobili: "Now he's getting healthy and we're going to see a more old school Tony. Like the November, December and January Tony."
Said Parker: "Slowly but surely. … If myself and Manu can stay healthy, I like our chances."
Said Duncan: "They both look really good."
We repeat: Success against a team this vulnerable doesn't mean you're cured. More proof is undeniably required when Matt Bonner is clearly frustrating Howard for long stretches … and when Ginobili is matching the Lakers' entire bench in the scoring department after these first two games.
There's no denying that it's all coming for the Spurs at the expense of a group that, in Nash's words, is limping to the end of "far and away the worst season for injuries that I've ever been a part of … personally and collectively."
The two fellow Spurs leaned on most by Mister Duncan nonetheless insisted afterward that they really are getting healthy. Whatever the circumstances.
Duncan's summation: "We're getting our rhythm back."
The 82-game grind to get here was so long that the Seven Seasons Or Less Lakers always seemed to have time to greet a bad run with the declaration that they were starting completely over in search of their rhythm. Doesn't work that way in the playoffs, though.
Doesn't work that way with Kobe, holed up in seclusion somewhere back in Southern California on a self-imposed Twitter ban, unable to bail them out.
Doesn't work that way with Nash in so much pain that it hurts to watch him land after layups. Or with Metta World Peace struggling to get by after one of the quickest returns from knee surgery in the recorded history of basketball. Or with Blake amazingly (predictably?) tweaking a hamstring after he mustered a game 16 points and six boards starting in Kobe's place.
The Spurs, by comparison, look like they sport a boundless reserve of complementary contributors around Parker (24 of his 28 points after halftime), Ginobili (13 points, seven assists and five boards in 19 minutes) and Duncan, who dueled fiercely with Howard in the first half and wound up with 16 points thanks to the back-to-back demoralizing jumpers he drained in the fourth quarter with the Lakers still hanging around at 84-74. Kawhi Leonard and Matt Bonner gave the hosts plenty, too, with Bonner in particular making himself prominent for the first time since the 3-point contest at All-Star Weekend by annoying/unnerving Dwight.
"They're just much more efficient than we are," D'Antoni said.
If Duncan was right about the rhythm stuff -- if abusing the helpless Lakers really is the start of something -- his hopes for a fifth ring might also be back on. Unlikely as it sounds, especially given how good he's looked as a legit threat to crack the top five in MVP voting in his 16th season, Duncan hasn't won it all since that long-ago sweep of Cleveland and a kid named LeBron James back in 2007.
"He's just a mentally unique individual in that he's able to sustain the year-round workout regiment -- both physically and intake wise -- and he has an unbelievable feeling of responsibility for his place in the program and wants to sustain that performance that he brings night after night," Spurs coach Gregg Popovich said in tribute to the birthday boy.
"And when he doesn't think he can (do it any more), he'll stop. It might be in the middle of a game and I could see him walking off the court and saying: 'No, I can't. I'm not pulling my weight anymore. I'm gone.' And he'll walk and I'll be right behind him."
Even San Antonio's Red Mamba, on what probably ranks as the most significant playoff night of his life, fell prey to some Timmy Envy.
Said Bonner: "I've gotta find out his [anti-aging] secret."
More from ESPN.com

With Kobe Bryant lost for the season after an Achilles tear, the Lakers simply can't lose, writes J.A. Adande. Daily Dime
---

For the first time in a long while Sunday, the Lakers were not Kobe Bryant's team. His presence was not felt. His spirit was miles away, writes Ramona Shelburne. Story
• Arnovitz: The Kobeless Approach
• Radio: Mike & Mike weigh in
• Lakers Index | ESPN Los Angeles
Dimes past: April 4 | 5-6 | 7 | 8 | 9 | 10 | 11 | 12-13 | 14 | 15 | 16 | 17 | 20 | 21 | 22 | 23
ESPN Senior Writer
• Senior NBA writer for ESPN.com
• Began covering the NBA in 1993-94
• Also covered soccer, tennis and the Olympics
2. Around the Association
| | | | | |
| --- | --- | --- | --- | --- |
| Los Angeles Lakers | 91 | FINAL | 102 | San Antonio Spurs |
---
MVP: Tony Parker. After a first half in which he shot 1-for-6, Parker scored 24 points on 8-for-14 shooting in the second half en route to a game-high 28 points. Parker also had seven assists in some of his best basketball since spraining his ankle on March 1.
X factor: Dwight Howard played less than 3½ minutes in the third quarter after picking up his third and fourth fouls. Howard also picked up a technical foul during the frame. His absence inside defensively led to a 15-point quarter from Tony Parker.
Defining moment: With 1:14 left, Manu Ginobili found Parker open in the corner for a 3-pointer with a behind-the-back pass. It was a play reminiscent of one in Game 2 of the 2012 West finals and signaled that the Spurs offense is starting to return after injuries slowed it recently.
| | | | | |
| --- | --- | --- | --- | --- |
| Houston Rockets | 102 | FINAL | 105 | Oklahoma City Thunder |
---
MVP: Kevin Durant. After coming out on fire in the first quarter, Durant was quiet for much of the fourth quarter ... until his team really needed him. With the lead erased, on consecutive plays, he nailed a 3 and kicked out to Thabo Sefolosha for an open 3. Ballgame.
LVP: Carlos Delfino. He hit a big 3 late, but went 3-for-10 overall from 3. With the Rockets needing to go small, they needed much more from Delfino.
X factor: Patrick Beverley. Kevin McHale gave Beverley the nod at starting point guard, going small, and the sixth man responded with 16 points, 12 boards, 6 assists, 2 steals and a block, even getting under Russell Westbrook's skin at points. Beverley gave his team a chance.
| | | | | |
| --- | --- | --- | --- | --- |
| Atlanta Hawks | 98 | FINAL | 113 | Indiana Pacers |
---
MVP: Paul George backed up his triple-double with 27 points, eight rebounds and four steals in this game. This time, however, George did the damage from the field, going 11-for-21 from the floor.
X factor: Indiana's 3-point attack. The Pacers started 7-for-13 from behind the arc, and ended the game with 10 total 3s. The dagger was a four-point play by George Hill at the start of the fourth quarter that gave Indy a 16-point lead.
That was ... offense only: The Hawks lost by a large margin, but still shot almost 50 percent from the floor and made nine 3s of their own. Can't say that this this type of offensive matchup was expected from two teams that largely rely on their defenses.
3. Wednesday's Best
Parker
Tony Parker, Spurs:
The point man looks healthier by the day. He helped quash the Lakers in Game 2 with 28 points, 7 assists and no turnovers. Still a long way to go, but if the core from 2007 is healthy, then these Spurs can't be written off.
4. Wednesday's Worst
Lakers prospects:
With both Lakers guards named Steve battling pains, the outlook for playoff success grows dimmer by the day. Down 0-2, it's too late to dust off Smush Parker. Maybe what this team needs is a good tweet from Kobe.
6. Tweet Of The Night
Hope prenatal care is covered in Lakers' health insurance RT @Sherry1090: LA injury report: Nash to get epidural Blake to get ultrasound

— J.A. Adande (@jadande) April 24, 2013
7. Quote of the Night
"Yeah, it was a mistake. Sure it was a mistake. We have the benefit of hindsight right now, and in hindsight it was a mistake. That summer we went through three years ago was a unique time for us as a franchise and the uncertainty on a lot of levels. We are very happy that we get to rectify any position we took back then."
-- Cavaliers owner Dan Gilbert, on rehiring Mike Brown, who was fired after the 2009 playoffs.
8. Mussing Russ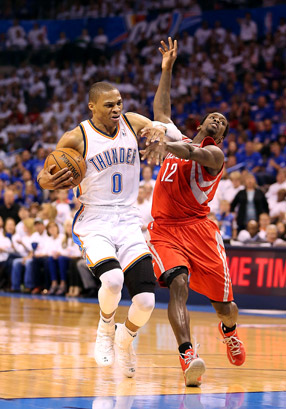 Christian Petersen/Getty ImagesRussell Westbrook and Patrick Beverley tangled often during the Thunder's Game 2 win. The 6-foot-1 Beverley had 12 rebounds while making his first career start.
9. Stat Check
Harden
James Harden scored 36 points in the Rockets' loss at Oklahoma City on Wednesday. That was the highest point total in an NBA playoff game by a player facing a team for which he played in the previous season since 2005. Eight years ago, Steve Nash had games of 48 and 39 points for the Suns against the Mavericks. Nash played for the Mavs from 1999 to 2004.