4. First Look: C.J. McCollum

McCollum
Despite a poor shooting night, C.J. McCollum wanted to take the big shots late in regulation as the Blazers tried to come back against Chicago, which speaks to his confidence. He made a pair of free throws after drawing a shooting foul and then knocked down the game-tying 3-pointer with 10.8 seconds remaining, which speaks to his ability. McCollum reads the floor well and finds open space, though he can get in trouble at times by overpenetrating and leaving himself few options when the defense closes in. His mindset also remains to score rather than to pass, and he'll have to look for teammates more when playing point guard behind starter Damian Lillard.
Kevin Pelton is an NBA Insider for ESPN.com.
6. Tuesday's Best
Vesely
Jan Vesely, Wizards: It's never good to be a third-year player at summer league, even if the lockout deprived you of your first one; for example, Bradley Beal, the Wizards' rookie last season, is now watching the action in street clothes. But, if only for one night, Vesely looked like the lottery pick that he was, scoring 18 points on 11 shots in 21 minutes.
• Vegas Summer League: Schedule/Results
7. Tuesday's Worst

Henson
The Bucks' starting lineup: It's truly a miracle that the Summer Bucks hit 73 points given that they could barely hit anything from the field. As a team, Milwaukee shot 28.6 percent from the floor, but their starting lineup was even worse: 26.7 percent with 13 turnovers. John Henson, who impressed in his first game, somehow turned it over eight times all by himself.
8. Shining In Defeat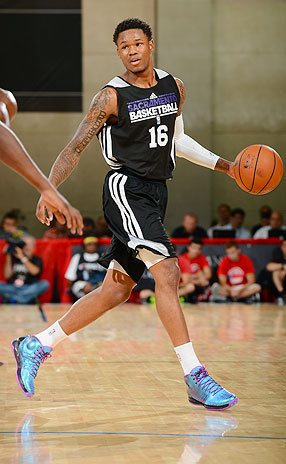 Garrett W. Ellwood/NBAE/Getty ImagesBen McLemore had a big game, shaking loose for 26 points, but it wasn't enough to keep the Kings from falling to the Raptors.
9. Tweet Of The Night
When the D-League Select Team wins the Summer League I look forward to the TV movie: "Playing to Win"?

— Kevin Pelton (@kpelton) July 17, 2013
10. Quote Of The Night
"I'm not going to play the victim. I'm a grown man. I didn't come into the league with the right mindset and it messed me up a little bit. There's no fault on Sacramento or Houston."
--Thomas Robinson, on his struggles last season