1. Durant, OKC Solve Recurring Bear Problems
OKLAHOMA CITY -- For the Oklahoma City Thunder, there's been a pretty persistent, common theme when they've played the Memphis Grizzlies the past year, particularly without Russell Westbrook.
They've lost.
But with each time, it's been increasingly more agonizing, with a play or two seeming to always go the Memphis way in the final two minutes. Four straight games in May eliminated the Thunder in the second round as Memphis advanced to the Western Conference finals. And two weeks ago, a 90-87 slugfest in Memphis tilted the Grizzlies' way.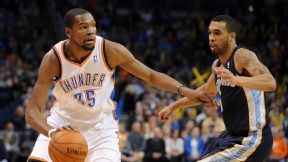 Mark D. Smith/USA TODAY SportsKevin Durant dropped 31 points on the Grizzlies in a win for the West's leaders.
All five games played out mostly the same way. Kevin Durant, bracketed and shadowed by a hounding Memphis defense, couldn't engineer enough to carry the Thunder himself. Because of it, Westbrook never looked more valuable to the Thunder machine.
This time around, the Grizzlies felt the Thunder's pain, in more ways than one, playing without their own stud point guard (Mike Conley), and coming out on the wrong end of the scoreboard 86-77. The playing field was leveled in that regard, but it's also undeniable: The Thunder have matured, developed and grown since that postseason series, and even since that game in Memphis on Jan. 14.
They went on a 10-game roll, winning games against the Rockets, Warriors, Trail Blazers, Spurs and Heat. They saw the rise of Durant as an unstoppable lone wolf, taking his supporting cast to a higher place while doing more himself. And maybe more importantly, they learned how to adjust and flex. Against the Heat, Thunder coach Scott Brooks made the overdue change of sitting Kendrick Perkins and playing exclusively small.
Against the Grizzlies tonight, the Thunder showed off their ability to play big, matching the formidable Memphis frontline, holding Zach Randolph and Marc Gasol to just 26 points combined on 11-for-26 shooting.
"One of the strengths of our team, obviously, is our versatility," said Brooks. "I think tonight it was shown that sometimes you have to play different styles of basketball to get a win ... On the road, we won small. Tonight, I thought we did a good job of winning big. When you play teams in this league, you've got to be able to play different ways. I thought that was very clear tonight. We can play different styles of basketball and still come away with a win."
What really provides Brooks those lineup options, though, is having an absurdly versatile player like Durant, who can flow between four positions like he's flipping through channels on his TV. Tonight against Memphis, Durant stayed mostly between the 1 and 3 positions, posting a ho-hum line of 31 points, eight rebounds and eight assists.
With the month of January he had, Slim Reaping his way across the country, devouring every defensive scheme in his path, this game felt mildly pedestrian for Durant. Really, it's a perfect illustration of where Durant's game has evolved to, where a 31-8-8 can be kind of meh. I think that's called the LeBron Zone. The last few weeks, Durant's dominance has been loud, in your face and obvious, but really, the name of his game has typically been in more of a covert prepotence.
"I think we've seen a lot of our players for the last 5-6 years now and sometimes you forget all the developments they've had over the years," Brooks said. "Kevin is the same way, he's a much better player from the first month that we had him to today. That doesn't just happen through osmosis. That happens through all the work that our guys put in."
What the Thunder accomplished in a fairly methodical win over the Grizzlies was exorcise a few demons, but like Brooks said, they also showed an impressive adaptability. The Western Conference is filled with different matchups, and the thing about the postseason is, you don't really get to pick who you play. If it's someone big like the Grizzlies or Clippers, the Thunder have that covered. If it's someone small and speedy like the Blazers or Warriors, they have an answer there too. Or extrapolate a little further and look at the two likely options coming out of the East: One is big (Indiana) and one is small (Miami).
It's all part of an impressive internal development of the organization, right down to Brooks as he grows as a game manager. Making the decision to pull the plug on Perkins against the Heat was certainly a difficult call, but a necessary one. Monday against Memphis, it was business as usual for Brooks and his rotations.
But as he mentioned tonight, Brooks recognizes the versatility he's been afforded, though the thing is, he has to show a willingness to use it. Because that flexibility, that willingness to adjust, is what can make the Thunder such a special team, and one that's a major problem for whoever they find themselves matched with in a few months.
Royce Young's work appears on Daily Thunder, part of the TrueHoop Network.
Dimes past: Jan. 12 | 13 | 14 | 15 | 16 | 19 | 20 | 21 | 22 | 23 | 26 | 27 | 28 | 29 | 30
ESPN Staff Writer
Covers the Oklahoma City Thunder for ESPN.com
2. Around the Association
3. Monday's Best
Faried
Kenneth Faried, Nuggets: Faried made 11 of 13 shots en route to a career-high 28 points and 11 rebounds for the Nuggets, who beat the Clippers when Randy Foye hit a 3-pointer from the top of the key at the buzzer for a 116-115 win.
4. Monday's Worst
New York Knicks: Losing to the NBA's worst team is no way to right this ship. When you get relatively efficient offensive nights from Melo and J.R. Smith (combined 11-for-21 from 3-point range), it would seem to be winning time. Instead, the Bucks picked up win No. 9 by a tally of 101-98.
7. Quote Of The Night
"I said to my wife when that happened, 'Watch this, I'm going to make Twitter go nuts.' She was like, 'Don't do it!' I said, 'I've got to do it,' so I did it."
-- Mark Cuban, explaining why he falsely tweeted that he won $20 million on a Super Bowl bet about the rare opening safety.
8. Knight's Time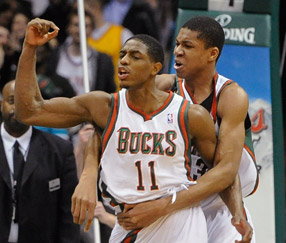 Benny Sieu/USA TODAY SportsBrandon Knight celebrates with Giannis Antetokounmpo after sinking a 3-pointer with 1.4 seconds left, as the Bucks snapped a six-game losing streak with a 101-98 win over the Knicks.
9. Stat Check
The Wizards beat the Trail Blazers to improve their record to 24-23 this season. It's the first time Washington is over .500 within a season since they beat the Nets on Halloween in 2009. The Wizards played 355 consecutive games in which their record was at or below .500, the longest such streak for any NBA team since the Clippers played 387 straight games without a winning record from 1996 to 2001.