1. LeBron James' Rushmore Tour Shakes Dallas
DALLAS -- As LeBron James walked off the court and toward the visitors' tunnel in the wake of another 2014 masterpiece performance, a throng of fans were tugging at his jersey, begging for his game-worn gear and doing just about everything imaginable to get his attention.
Then, just as James stepped off the hardwood court, one admirer reached out and stopped the Miami Heat superstar in a way the Dallas Mavericks only wish they could Tuesday night.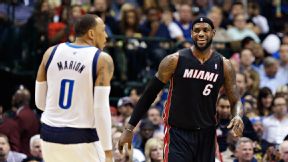 AP Photo/LM OteroLeBron James couldn't be slowed by Shawn Marion en route to 42 points.
That fan was Dallas Cowboys quarterback Tony Romo.
James, an avid Cowboys fan, has been one of Romo's biggest defenders in the face of relentless scrutiny and massive criticism over the years for failing to lead Dallas to the Super Bowl. Romo is one of the few professional athletes on the face of the earth who can empathize with what James endured in the NBA over his first seven seasons before he arrived in Miami in 2010 and won the last two championships.
Long after James obliterated the Mavericks with a season-high 42 points in Miami's 117-106 victory, he declined to tell reporters the details of his brief conversation and embrace with Romo. But approached earlier by ESPN.com immediately after he spoke with James, Romo didn't hesitate to share his message.
"Hey, I just told him, 'You go get [championship] number three for y'all, and I'll go get number one for us," Romo said. "He's an unbelievable player, and I just enjoy watching him."
Evidently, so did many of the capacity crowd of 20,461 at American Airlines Center. One would hardly know that this was the same building where the James and the Heat were repeatedly humbled three seasons ago when they ultimately lost to Dallas in six games during the 2011 Finals.
But so much has changed for James and the Heat since then, and they hope to use Tuesday's victory coming off the All-Star break to reignite their stretch-run push toward a third consecutive title. James insisted before and after the game that he was physically tired and needed to search for energy.
Then the lights came on, the game started and James essentially picked up where he left off before the break when he led the Heat to victories on consecutive nights in Phoenix and Golden State. The Heat are now 4-1 on an extended road trip wrapped around All-Star Weekend in New Orleans that wraps up Thursday in Oklahoma City for a highly-anticipated showdown with Kevin Durant and the Thunder.
Just call it the Mount Rushmore Tour.
Along the way, James has drawn as much attention and criticism for what he's either done or said off the court as he has for the recent spike in his production on the court. Before Tuesday's game against Dallas, James was still dealing with reactions from current and former players who took issue with some of his current selections of Michael Jordan, Larry Bird, Magic Johnson and Oscar Robertson as his Rushmore Four greatest players to ever play the game.
In that same interview with NBA TV that finally aired Monday after snippets were released over the weekend, James also suggested he'd ultimately deserve a consensus spot on that mountain.
Mavericks forward Shawn Marion was the latest critic to get himself caught up in the media-instigated crosshairs. Marion, who was James' defensive nemesis in the 2011 Finals, told Dallas reporters during Tuesday morning's team shootaround that "as of now" he doesn't believe James has cemented a spot among a legendary Rushmore Four. Marion also said James still has plenty of time to get there.
By the time Marion's comments made it to James hours later in the Heat's locker room before the game, they were presented by a Dallas-area reporter as if Marion straight dissed him. James was asked to respond to Marion saying he doesn't have him on his Rushmore.
James was already in a serious mood before the game, in part, to send a message to his teammates that the break was over and that Miami was still in the midst of a business trip. Having dealt with Bill Russell's response a day earlier to TNT for being left off James' list, the Marion question only sent James deeper into a more dismissive mood.
"It doesn't matter what Shawn Marion says or what anybody says," James said. "It's about the way I play basketball. I don't need bulletin board material. My bulletin board material is the name on the back of my jersey and the name on the front of my jersey."
The Mavericks grew tired of watching that jersey come and go throughout the game. James made 16 of 23 shots from the field, was 6-of-8 from the free throw line and 4-of-8 from the 3-point line. He added nine rebounds, six assists and two steals in 38 minutes.
James engineered a Heat offense that shot 57.1 percent, generated 29 assists and scored 33 points in the fourth quarter to pull away from Dallas despite being outrebounded by 22 on the glass. James has now scored at least 30 points in 12 games since the start of the New Year, with the more aggressive approach coming as teammate Dwyane Wade continues to work through nagging injuries.
Wade had 13 points and seven assists but took just seven shots Tuesday. The Heat also got 22 points from Chris Bosh, 10 points and nine assists from Mario Chalmers and 18 points from Chris Andersen.
"Throughout the course of the game, he made a lot of two-way, impactful plays -- setting guys for easy baskets, scoring himself when he needed to," Heat coach Erik Spoelstra said. "He did it on both ends."
And he's done it better against Dallas than any other team this season.
James has scored a total of 79 points in two wins against Dallas.
The motivation against the Mavericks comes from the struggles he endured when Marion and Dirk Nowitzki stormed back from a 2-1 Finals deficit to knock off the Heat in 2011. James seemed in a daze throughout the final games of the series and lacked the aggressiveness he's played with since then.
"This team has been a reason why I am the player I am right now, because they beat us," James said. "When they beat us, I went into a place I hadn't been before in a long time. I went back to the fundamentals of the game. I went back to breaking down every aspect of my game to get better, because I didn't perform at the level I could have or should have during those Finals."
That level of soul searching and retooling eventually led to James down a path to redemption.
Which brings it all back to the Romo discussion. James was asked before the game what advice he would give the polarizing quarterback in his quest to experience a championship breakthrough.
A few days ago in New Orleans, James sidestepped questions about Romo out of concern of having his comments widely debated and possibly taken out of context. But in Dallas on Tuesday, James bit.
"Just don't care [about] what everybody thinks," James said of the approach Romo should take. "If you work on your craft and, at the end of the day you went out there and gave it all you have, you laid it out on the line for you and your teammates, then you can sleep comfortable at nights."
James said he had to learn to stop paying too much attention to the debate shows and sports talk radio that give platforms to "everyone who knows what to do but they never put on a uniform."
Dallas had been a place where James absorbed plenty of blows.
Now he's delivering them, all while dishing advice -- from Rushmore to Romo.
Dimes past: Jan. 23 | 26 | 27 | 28 | 29 | 30 | Feb. 3 | 4 | 5 | 6 | 9 | 10 | 11 | 12 | 13 | 16
ESPN Staff Writer
ESPN.com NBA reporter
Blogs regularly on the Miami Heat
14 years covering the ACC, SEC, NFL and NBA
2. Around the Association
3. Tuesday's Best
James
LeBron James, Heat: Seems like the Mavs are never going to beat the Heat again as long as LeBron's around. LeBron put on a show, sinking 16 of 23 shots en route to 42 points in the Heat's 117-106 win in Big D.
4. Tuesday's Worst
Stuckey
Rodney Stuckey, Pistons: One day, you're riding high. Next, you're shot down. On Feb. 10, Stuckey dropped 20 in a win over the Spurs. Facing the Bobcats eight days later, he scored two, making just 1 of 11 shots in the 108-96 road loss.
6. Tweet Of The Night
I hate rats... Especially New Orleans rats. Little guy just creeped up on me and tried to join me for dinner outside. Yes... I freaked out

— Ryan Anderson (@ryananderson33) February 19, 2014
7. Quote Of The Night
"Hey, I just told him, 'You go get [championship] number three for y'all, and I'll go get number one for us."
-- Cowboys QB Tony Romo, on what he said to LeBron James on Tuesday
8. Green Power For Suns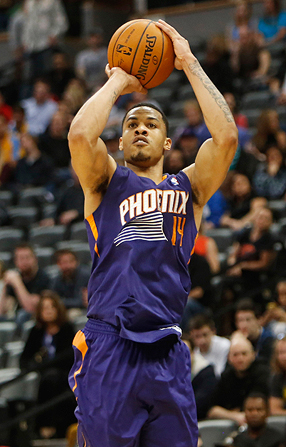 Chris Humphreys/USA TODAY SportsSuns guard Gerald Green, an NBDL player as recently as 2012, scored a career-high 36 points, including eight in overtime, and the Phoenix Suns beat Denver 112-107 on Tuesday night to hand the Nuggets their fifth consecutive loss.
9. Stat Check
By
ESPN Stats & Information
Mills
Patty Mills came off the bench to score 25 points while contributing five rebounds and five assists in the Spurs' 113-103 road win over the Clippers. Since Gregg Popovich became San Antonio's head coach in 1996, the only other Spurs substitute to record at least 25 points, five rebounds, and five assists in a game is Manu Ginobili, who's done it seven times. The last Spur other than Ginobili to do this was Lloyd "Sweet Pea" Daniels in an overtime loss at Denver on Nov. 7, 1992 (26 points, eight rebounds, six assists).
Around the Association
---
MVP: Tyler Zeller was able to make the most of his minutes, as he set a career high with 15 rebounds, and added 18 points for the Cavs. His six offensive rebounds provided Cleveland with several second-chance opportunities.
That was ... ugly: The Sixers were on an eight-game losing streak heading into Tuesday's game against Cleveland, and looked every bit like it. The Sixers didn't have a single lead once the game reached double digits, and they spent most of the evening trying to dig themselves out of a deep ditch.
LVP: Spencer Hawes. Considering that it could have been Hawes' last game with the 7-6, he certainly didn't make it a very memorable one. The SIxers' defense is non-existent, so they needed some offensive output, and Hawes did not deliver. He was only 1-for-6 from the field for 2 points.
-- Michael Kaskey-Blomain, TrueHoop Network
---
MVP: Patty Mills. With Tony Parker out for the time being, the Spurs will lean on Mills for a perimeter scoring punch. Against the Clippers, Mills posted a standout line of 25 points on 9-for-15 shooting, five rebounds and five assists.
X factor: Chris Paul's rough night. Not far removed from a shoulder injury, Paul struggled from the field, shooting 1-for-10 from the floor for just 11 points in almost 38 minutes against the Spurs.
That was ... finally a win over a contender the Spurs can build on: It's no secret that San Antonio has struggled against the league's top teams this season. For the Spurs to steal a game at Staples against the Clippers without Tony Parker and Kawhi Leonard, it means a lot.
---
MVP: It's been a season of resurgence for Gerald Green, and tonight was one of his best games all year. He scored a season-high 36 points, including six 3-pointers. Most importantly, Green came up huge late, sinking key free throws that either tied the game or secured the lead for the Suns.
X factor: Since there can't be two MVPs, Goran Dragic and his 21-point, 14-assist night gets relegated to X factor status. Dragic, as he's been all season, was the engine that drove Phoenix's offense, pushing the ball at any and every opportunity, knifing into the lane and hitting several nasty step-backs.
Defining moment: With 7 seconds left and the Suns down two points, Channing Frye misses a 19-foot jumper. However, Markieff Morris comes in from the left side, snags the offensive board and hoists the ball back up toward the basket. It falls, and the Suns send the game into overtime.