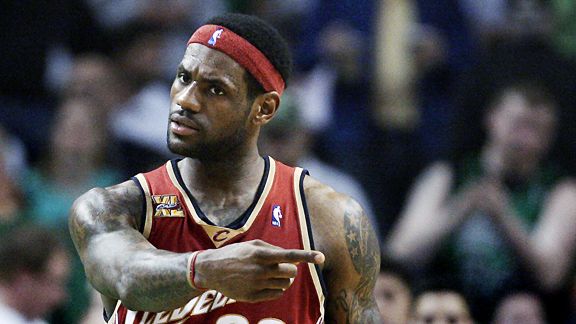 Getty Images Which way to go? Cleveland might have an "edge," but LeBron isn't tipping his hand just yet.
1. LeBron's Message Off-Key In King Interview
By Brian Windhorst
Special to ESPN.com
By the book, it seemed like an excellent public relations idea. A high-profile yet likely soft interview with Larry King during the broadcaster's 25th anniversary celebration week.
LeBron James joined the likes of Bill Gates and President Obama in sitting down for an interview with King this week, and got to do it on his home turf -- literally. (The interview took place in James' backyard.)
James thrives in these situations. He's comfortable on camera and knows exactly how to handle non-sports interviewers. Last year, he charmed the usually hard-hitting Steve Kroft during a cozy "60 Minutes" piece. The most memorable moment was James making an underhanded 60-foot shot as Kroft did a pirouette. Not a single question or answer from the program included much drama.
There was his interview with Oprah Winfrey in 2005, when James talked about his mother and provided anecdotes about his first meeting with Michael Jordan. But instead of conducting what could have been one of the most important sports interviews of the year, King gladly listened to those same stories again.
Once more, James managed to make headlines despite being the same vague and flirtatious self he's been for the last year. And from a PR standpoint, there is nothing wrong with that.
But while he padded his Q rating by stealing attention during the NBA Finals, James' presentation in the CNN interview may have been a misstep.
He was never going to reveal his free agency plans to King, though the 76-year-old broadcaster tentatively tried by reminding James "If you want to commit, you could do that here." James has no intention of doing anything but leaving every avenue open, as has been his plan for as long as he can remember.
In initially releasing details about the interview for promotional purposes, CNN plucked out James' statements that the Cleveland Cavaliers have "the edge" -- a phrase put into James' mouth by King -- as the most salacious comments from the hour.
Because James has said so little about his free agency since November, him talking directly about suitors was somewhat interesting. Especially at one point, when he unexpectedly praised the current roster of the Los Angeles Clippers.
But the Cavs having the edge is the most basic of the NBA's salary-cap rules -- they can sign him to a longer contract and for more money -- and hardly needed recapping. Even if fans in Cleveland were quick to cling to the comment, even as New York media outlets dismissed it as insignificant.
In truth, the most salient thing James said was "I'm far from close" to making a decision.
He wasn't far from making an impression, though. As he laughed, smiled and traded rhetoric with King, James seemed to be completely unaffected by the playoff loss to the Boston Celtics just a couple of weeks before.
And that is what might be most remembered from the interview during a time when James' desire to win is being questioned for the first time.
Even as the Los Angeles Lakers and rival Kobe Bryant were preparing for their third consecutive NBA Finals, and the Celtics were hoping to win their second title in three years, James was at ease bantering about free agency. There was barely a reference to the loss to Boston in the Eastern Conference semifinals, easily the greatest disappointment of his career up to this point.
Just as the average fan cannot comprehend how James doesn't have his mind made up on where he's going to play next season by now, it might be just as puzzling that James could have moved past the loss so quickly. It might not be true on the inside, but that's the impression he gave, whether he wanted to or not.
While so many have questions about what happened to him in a Game 5 blowout loss to the Celtics, King was generally mute on the topic, and James was not expansive.
Instead, he's talking about reshaping the league by getting together with other free agents to decide where they should play, virtually brushing off a moment that threatens to reshape his reputation that's just a couple of days old.
While it seems that a few weeks have eased James' disappointment, it doesn't seem to have given him much perspective. Rumors have exploded across the Internet in an attempt to fill the vacuum of information as to what happened to James in that Game 5 loss. And, for that matter, his completely non-MVP persona in Games 2 and 4.
Instead -- just as he did the day after Game 5 -- he brushed it off by saying "One game is not going to define who you are."
Right now, that one game is threatening to do just that, and James' playfulness about free agency during the Finals is not helping. Especially when James, again letting King put words in his mouth, said he planned to be the "ringleader" of the conversations about where all the free agents might sign.
That part appeared to even get under commissioner David Stern's skin, who took a jab at the free agents during his news conference before the Finals started.
"They'd be better off watching these Finals to see how you construct a team and how you play and the like," Stern said.
It is not untrue, of course. Most believe that all the top free agents will follow James' lead, or at least wait for him to make a decision. But flaunting it, as James seemed to do with King, even if it wasn't his intention, rang hollow just days after his worst performance as a pro.
It's possible this interview will eventually be forgotten, part of the din of the unprecedented interest in the huge free-agent summer. Considering some of the messages he sent out directly or indirectly, James might hope that is the case.
Brian Windhorst covers the Cavs for the Cleveland Plain Dealer. You can read more of his coverage at cleveland.com/cavs.
Free Agency Dimes past: Wade | Bosh | Playoffs | Coaches | LeBron | Lottery | Sidekicks
2. King And I: Larry King On James Sitdown
3. King-King Sounded Good In Clipperland
By D.J. Foster
ESPN TrueHoop

Clipperblog looks at LeBron James' appearance on "Larry King Live":
Pardon the eternal optimism, but LeBron James' commenting on the Clippers in a positive manner on national television can only be considered a good thing. Maybe it's a case of hearing what you want to hear, but LeBron's saying the Clippers have some "really good players" and some "nice, solid pieces" is a great endorsement from the most influential free agent the NBA has ever seen.
LeBron could have left it at the obvious; that Los Angeles was a nice city with even nicer weather. Maybe he could have gently mentioned shaky ownership, or that the Clippers losing tradition has equated to just two winning seasons in 26 years in Los Angeles. Frankly, he could have laughed at the question and no one would have thought him worse for it. No one really expects LeBron to give the Clippers a whole lot of thought come July 1.
But instead of doing that, LeBron made sure to mention Blake Griffin, Chris Kaman and Baron Davis by name. LeBron is held in such high esteem that even the mention of the Clippers' core group makes them seem more appealing. Let's face it, most media conversations about Los Angeles' other team begin and end with the old familiar line, "It's the Clippers." LeBron's remarks didn't, and even that alone means something.
4. Are You There, LeBron? It's Me, Chicago
By Gene Wojciechowski
ESPN.com

To: LeBron James and his team of advisers
From: Chicago
Re: Your next team
On behalf of sane people everywhere, an apology. Our obsession with your free-agent status has flown the tracks. It's juvenile. It trivializes a very personal, life-altering decision. You deserve better.
A little empathy on our part would be nice. After all, you're in the same situation many of us have faced during our own careers: Sign a six-year, $127 million deal or a five-year, $97 million contract. So to think you could be influenced by any subliminal forces is an insult to your intelligence (Cleveland = bad).
It's obvious you're under extreme duress. Why else would you appear on "Larry King Live" (Larry thinks you play hockey)? What's next, sauteing broccoli rabe on the "Rachael Ray Show"? NBA fans and Mark Cuban (tamperer) are begging you to sign with their respective teams.
You have your choice of Cleveland (been there, done that), New York (cares only about 2014 Super Bowl), Los Angeles (the non-Kobes), Dallas (Dirk staying?), Miami (hurricanes, snowbirds, pastels overload), East Rutherford (it's East Rutherford) and Chicago.
Here in Chicago we don't resort to desperate recruiting tactics (free cheezborgers for life at Billy Goat Tavern). If you want to leave the Cavs and sign with the Bulls, we'd love to have you. If not, we'll live (our quiet lives of desperation).
This city stands on its own merits. There's no need to remind you that Chicago actually wins things (a World Series in 2005; NBA championships in 1991, '92, '93, '96, '97 and '98; a Super Bowl in 1985; perhaps a Stanley Cup by the end of the week; a presidential race). Nor is it necessary to mention Cleveland's sports struggles. (Yes, it is: no Super Bowls, no NBA titles, no World Series title since 1948.)
Of course, you have strong ties to Ohio. You were born and raised in Akron and have spent the past seven seasons with the Cavaliers (who have no coach). It would be difficult (easy) for you to leave home (fractional jet ownership, 70-minute flight to Chicago).
This isn't to suggest that you should leave Cleveland. (Leave Cleveland.) It is a wonderful city with lots of wonderful, hardworking people. The lakefront and downtown developments have been impressive (wants to be Chicago when it grows up).

Obama
"I think it would be a wonderful story if LeBron says, 'You know what, I'm going to stay here in Cleveland.' He's from Ohio. That's a town that's had some tough times. For him to say, 'I'm going to make a commitment to this city,' I think [it] would be a wonderful thing."
-- President Barack Obama to Larry King
---

Bloomberg
"New York City is fit for a king -- there's no better place in the world to live, to play or to win.
"New Yorkers want LeBron to come to the greatest city in the world, and we're launching the 'C'mon LeBron' campaign to capitalize on their energy and creativity in making their own cases for why he should choose New York. There are terrific cities all over the country, but none match the excitement of the greatest city in the world."
By Rob Parker
ESPNNewYork.com

James
"Absolutely. Because, you know, this city, these fans, I mean, have given me a lot in these seven years. And, you know, for me, it's comfortable. So I've got a lot of memories here. And -- and so [Cleveland] does have an edge."
-- LeBron James to Larry King
Thanks.
Thanks for nothing.
If someone can read into that quote and determine that James is staying in Cleveland, they're just engaging in wishful thinking, at best.
If anything -- sorry, Cavaliers fans -- it shows that James is searching for the best way to let everyone down easy when he finally decides to leave the comforts of the Midwest for the bright lights and a new challenge in the big city.
New York has the best chance, with both the Knicks and Nets angling to sign this summer's prized free agent in possibly the NBA's most talent-rich free-agent pool ever.
The King interview marked the second time James has been presented with a chance to tell the world he's sticking around and wants to win a championship in a city that hasn't won one in any sport since 1964.
He said nothing.
The first time came after the Cavs were surprisingly knocked out of the postseason by the Boston Celtics in the second round of the Eastern Conference playoffs. In his postgame comments, James refused to say he was staying put and that his goal was to bring a championship home.
It would have been so easy. He would have been hailed as a hero of Lake Erie.
Instead, James -- as he has for nearly four years now -- danced around questions about what free agency would bring.
8.

Only Going To Get Wackier
By Chris Broussard
ESPN The Magazine

James
It always promised to be a circus -- with billboards around the country proclaiming their undying love for LeBron, with politicians putting aside weightier matters to sell their city as the place to be, with teams recruiting The King with enough pizzazz to make a 17-year-old's trip to Chapel Hill seem as boring as a nap.
So I guess we shouldn't be surprised by all the rumor-mongering, the partial housecleaning in Cleveland, the TV reruns fixed up and finagled to make them appear current, or the fact that folks are deciphering LeBron's every syllabic utterance with the intensity of a Bible verse.
As eventful as Friday was -- Cavs GM Danny Ferry resigned; a report basically accused LeBron of being the ubernarcissist -- this "Summer of LeBron" will get only wackier and wackier.
LeBron Tracker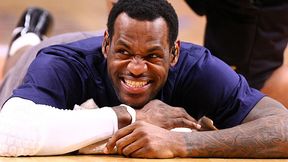 Getty Images
COUNTDOWN TO FREE AGENCY
Where will LeBron land? We're keeping tabs on the King. Here's the latest. LeBron Tracker »
9.

If LBJ Leaves Cleveland …
Waiting Game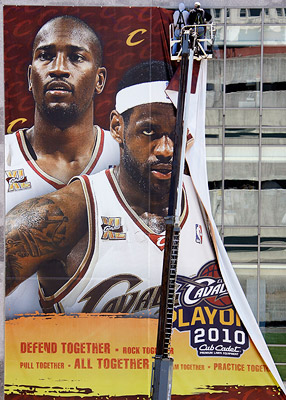 (AP Photo/Mark Duncan)
The Cavs took down a playoff banner adorned with LeBron's face in May, but King James isn't far from the minds of most Cleveland fans.
Complete 2010 Free-Agent List
10.

Impact Of Ferry's Resignation

How will the resignation of Cleveland GM Danny Ferry affect the Cavaliers and their chances of keeping LeBron James? Mike Breen shares his thoughts on that and more on the "Scott Van Pelt Show."
• Listen: Breen with Van Pelt