NBA Fastbreak: Keys To Game 2
Label Maker: Gasol Shedding Soft Image
By Ramona Shelburne
ESPNLosAngeles.com

He's different. That much you can tell the first time you meet him. You're trying to introduce yourself to Pau Gasol, and he's the one shaking your hand and asking your name as though it's important to him.
The first time the Los Angeles Lakers passed through Memphis after the league-changing trade that brought him from Beale Street to Hollywood in 2008, he was asked about the homecoming. He picked out Ron Tillery, who had covered him for the Memphis Commercial Appeal, in the back of the crowd and said, "Well, as Mr. Tillery and I were discussing earlier ... "
It was nothing really, just a simple show of familiarity and respect, and yet it was different from just about anything I'd ever seen a professional athlete do in such a setting.
You don't meet athletes like Gasol every day. He's human and real, smart enough to go through a year of medical school before turning professional as a basketball player, well-read and multilingual. On off nights, he's as likely to be at the Dorothy Chandler Pavilion in downtown L.A. watching an opera as he is to be out at a hip restaurant in Manhattan Beach.
On the court, he's developed into the most skilled big man in the NBA with the brains and vision of a point guard.
Thibodeau's Work Not Done Yet
By Peter May
ESPNBoston.com

Much of what Boston assistant and soon-to-be Bulls head coach Tom Thibodeau and the Celtics face is obvious and correctable. They were shockingly listless in Game 1, allowing the Lakers to abuse them inside and out. Garnett has been flagellating himself for the past two days after allowing Pau Gasol to stomp all over him.
"We've got to get stops," Rivers said, responding to a question about how Rajon Rondo can get untracked. "Rondo is not going to get going if we don't get stops. Our offense is directly connected to our defense. Every team's is for the most part if you want to run. If we're going to take the ball out of bounds, if they're going to shoot free throws, if they're going to get second shots, Rondo is not going to be in the open court. If we can get multiple stops, we can get multiple runs. So we've got to get stops."
And it falls on Thibodeau to devise the schemes and for the players to execute them. Rivers reminded everyone Saturday that energy and effort are not enough. There's a third "E," and that is execution.
NBA Finals Schedule: June 6


Game 2: Celtics 103, Lakers 94

Preview | Series | City Brawl


• More live coverage: Bill Simmons Live
• Sunday's Celtics-Lakers game is also available on ESPN Radio and
ESPNRadio.com
.
Back At It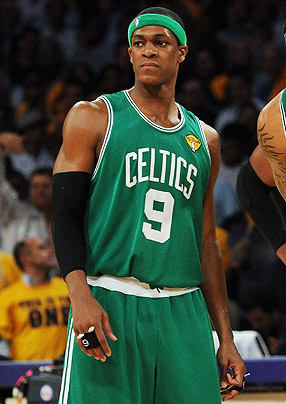 (Getty Images)
Will an injured back continue to affect Rajon Rondo's impressive run through the postseason?
Pregame Primer

Bryant
• Kobe Bryant has scored 30 or more points in 11 of his past 12 playoff games. Only three other players in NBA history have scored 30-plus points at least 11 times in a 12-game stretch in one postseason: Elgin Baylor in 1962, Jerry West in 1966 and Michael Jordan in 1989.
• The Lakers defeated the Celtics by 13 points in Game 1 of this series. Before the 2010 playoffs, 29 teams won the first game of the NBA Finals by 10 or more points. Of those teams, 24 went on to win the series (82.8 percent). The five teams that lost the series: Philadelphia versus Baltimore (1948), New York versus the Lakers (1972), Boston versus the Lakers (1985), Detroit versus the Lakers (1988) and Dallas versus Miami (2006).
• Only 27 percent of the teams that have lost Game 1 of the NBA Finals have come back to win the series. But the Celtics have been in this situation in the NBA Finals six times and have gone on to win the series in four of those instances (66.7 percent), with three of those comebacks coming at the expense of the Lakers (1966, 1969 and 1984).
• Ray Allen is shooting 50 percent from 3-point range in the NBA Finals in his career (22-for-44). That is the highest career 3-point field goal percentage in NBA Finals history for any of the 66 players with at least 20 attempts from beyond the arc.
All A-Twitter
P. Pierce walks out of Lakers practice gym to a big photo of Chick Hearn. Pierce with a huge grin: "Oh, man! Chick Hearn!!"less than a minute ago via web
Kevin Arnovitz
kevinarnovitz