Finals Showdown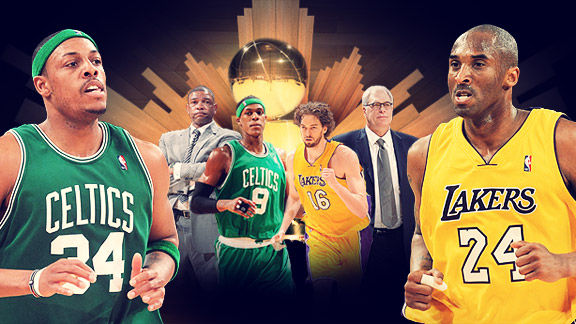 ESPN Illustration The two greatest franchises in league history clashed once again in an epic Game 7 NBA Finals finale.
Lakers Need Repeat Effort From Bench
By Dave McMenamin
ESPNLosAngeles.com

LOS ANGELES -- As the shiny purple-and-gold streamers floated down from the Staples Center rafters Tuesday night after the Lakers' 89-67 win to force a Game 7 of the NBA Finals, Lakers reserve guard Shannon Brown felt as if he were reliving a scene from his past.
"After the game, walking to the locker room, it was like I had been there before," Brown said after practice Wednesday. "I promise. It happens to me a lot. I don't know really what it means, but I know it's something.
"I have déjà vu a lot."
Brown made his way through the tunnel after contributing four points, two rebounds and two assists and serving as a catalyst for a Lakers bench that took it to the Celtics' second unit in Game 6. The déjà vu Brown was experiencing couldn't have been related to success in that way, however.
Through the first five games of the series, Boston's bench averaged 23.0 points, 10.6 rebounds, 4.0 assists, 2.4 steals and 1.4 blocks. L.A.'s reserves were getting lapped in every category, putting up 16.8 points, 9.4 rebounds, 3.8 assists, 1.8 steals and 0.6 blocks.
The Lakers' second unit surprised the Celtics' subs Tuesday, winning in points 25-13 (it was 24-0 after three quarters when L.A. ran out to a 25-point lead), assists 5-3 and steals 5-4, and they kept pace in the stats that Boston won (rebounds were 21-16 and blocks were 4-3).
• Read the rest from McMenamin at ESPNLosAngeles.com.
---
NBA Finals Schedule: June 17


Game 7: L.A. 83, Boston 79
Box score | Series | City Brawl


More live coverage: Bill Simmons Live
• Thursday's Celtics-Lakers game is also available on ESPN Radio and ESPNRadio.com.
GAME 7 CHAT LINEUP
2 ET: Chad Ford, ESPN.com
3 ET: David Thorpe, Scouts Inc.
4 ET: John Hollinger, ESPN.com
5 ET: Kevin Arnovitz, TrueHoop
6 ET: J.A. Adande, ESPN.com
7 ET: Chris Sheridan, ESPN.com
8 ET: Henry Abbott, TrueHoop
9 ET: In-game chat
12 ET: Postgame chat
Watching From The Sidelines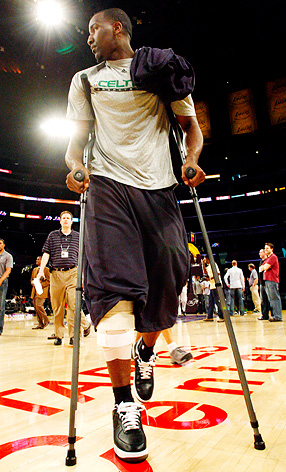 (AP Photo/Reed Saxon)
After tearing two ligaments in his right knee Tuesday, Celtics big man Kendrick Perkins will miss Game 7 against the Lakers.
Celtics Face Day Of Reckoning
By Peter May
Special to ESPNBoston.com

LOS ANGELES -- Twelve years ago, Phil Jackson saw his days in Chicago coming to an end and called the Bulls' final title drive "The Last Dance." Twenty-two years before that, the rock group The Band gathered for a final performance at the Winterland Ballroom in San Francisco and called it "The Last Waltz." Martin Scorsese made the concert into a terrific movie two years later.
On Thursday night in Los Angeles, the Boston Celtics will try to win their 18th championship in what some are calling "The Last Roundup." The times, they are a-changin'. The head coach may be going. The top assistant is going. The starting shooting guard is one of a number of free agents.
To read the full column, click here
1984 Finals: Their night, their town
By Bill Woten
Special to ESPN.com


Editor's note: The following is reprinted from "Game 7: Inside the NBA's Ultimate Showdown" by Bill Woten.
EAST COAST VS. WEST COAST. Blue collar vs. glitz and glamour. Celtics vs. Lakers. Power vs. Showtime. Bird vs. Magic.
The 1984 Finals divided the sports world. Game 7 determined the champion.
To read the full excerpt, click here