---
Sizing Up Brazil
By Alfredo Berrios
ESPNDeportes.com

Coach: Ruben Magnano
Key players: Tiago Splitter, Anderson Varejao
Analysis: If there's one team that could be seen as a solid favorite in this tournament, it's Brazil.
The team earned a gold medal in the FIBA Americas championship of 2009 and returns intact; Nene Hilario, one of the most powerful centers in the NBA and in the hemisphere, was added to the team but will miss the event because of an injury suffered during a friendly game in Spain.
Even with the talent displayed by Marcelinho Huertas, Leandro Barbosa and Splitter, Varejao is still the key to this team, no matter which way we look at it. In his participation in a recent friendly tournament in Logroño, Spain, Varejao's defense was the factor that kept Brazil in the game after the absence of Nene and Splitter.
In the highly physical international play, there may be no one better than the Cleveland Cavaliers power forward to keep a team together and provide scoring opportunities for Splitter and Barbosa.
Team USA Runs Past Slovenia
What To Watch For At Worlds
By Henry Abbott
TrueHoop

Splitter
Meet Timofey Mozgov, Omer Asik, Semih Erden and Tiago Splitter
As Jay Aych points out on The Painted Area, those first three are the "international big men of mystery" and they'll all be coming to the NBA this upcoming this season. Mozgov is on the Russian team for the next moth or so, then he'll be a Knick. Asik and Erden play for the host Turks. Asik will be a Bull and Erden will be in Celtic green.
Splitter, meanwhile, is better known, and is due to play alongside Tim Duncan in San Antonio. Aych writes that Splitter will be Brazil's featured interior player: " Tiago's deft footwork gets him quality looks around the bucket. Has an effective righty hook and Tiago can finish with his left hand as well. Expect a few sweet up/under step-thru moves as well. Tiago's touch can be dodgy but it seems to be more hit than miss these days. Sometimes his post-up attempts look fluid, other times his scoring attempts look ragged. His shooting stroke is still not easy on the eyes and his touch remains his main flaw. His shot comes off flat which is a factor in below-average free throw shooting. We have mentioned Splitter's strong passing skills before but we feel it's necessary to reiterate what a terrific passer he has become. Not to mention, Tiago can make passes off the move and delivers the ball quickly when he sees an open teammate. His lateral movement on the defensive end is as good as any big in the NBA. Not to mention, he runs the floor hard."
Will they be impact players in the NBA? This tournament is as good a chance as any to make up your mind.
• Check out Abbott's nine other things to look out for in Turkey.
---
Starting Lineup: FIBA Worlds


Slovenia 91, Croatia 84
ESPN3.com | Box Score
Serbia 112, Jordan 69
ESPN3.com | Box Score


Australia 78, Germany 43
ESPN3.com | Box Score

Iran 71, Tunisia 58
ESPN3.com | Box Score


USA 70, Brazil 68
ESPN3.com | Box Score


Argentina 91, Angola 70
ESPN3.com | Box Score
• Scoreboard | Schedule | Standings
DDL Schedule: Team USA In Action

Here's Team USA's schedule for the 2010 FIBA World Championship slated for Aug. 28 to Sept. 12 in Istanbul, Turkey.
Join ESPN and Daily Dime Live for each game:
PRELIMINARY ROUND
• Saturday: Team USA 106, Croatia 78

• Sunday: Team USA 99, Slovenia 77
• Monday: USA vs. Brazil
at Istanbul, Turkey; 2:30 p.m. ET, ESPN, ESPN3.com (reairs ESPN2 at 11 p.m. ET)
• Wednesday: USA vs. Iran
at Istanbul, Turkey; Noon ET, ESPN, ESPN3.com (reairs ESPN2 at 11 p.m. ET)
• Thursday: USA vs. Tunisia
at Istanbul, Turkey; 9:30 a.m. ET, ESPN2, ESPN3.com (reairs ESPN2 at 12:30 a.m. ET)
Cleaning The Glass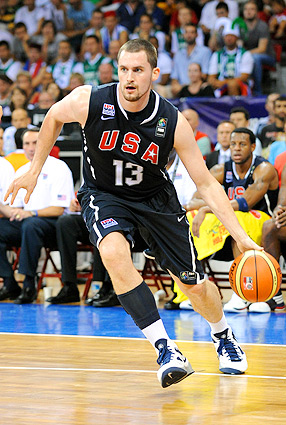 (Garrett Ellwood/NBAE via Getty Images)
Kevin Love played just 13 minutes against Slovenia, but that was enough time for the rugged forward to pull down 11 rebounds and score 10 points as Team USA rolled.
Limited Minutes For Durant
By Chris Sheridan
ESPN.com

Durant
ISTANBUL -- The question needed to be asked, so it was asked: Why, Coach K, did you pull Kevin Durant from the game just past the midpoint of the first quarter?
Durant had gotten Team USA off to a torrid start against Slovenia with 7 points, 3 steals, 2 rebounds and 2 assists in the first 5½ minutes as the U.S. jumped out to an 18-6 lead.
But after he was subbed out, the Americans struggled noticeably, falling into an offensive drought in which they failed to make a field goal during the first 6½ minutes of the second quarter as their lead dwindled to five.
"Well, it's a long tournament, and we need to develop our entire team," U.S. coach Mike Krzyzewski said. "My position is based on running a marathon and not a sprint. That's something I've learned over the last five years. We need 12 guys to win. As we keep going along, it's not one guy. Not one guy."
Fair enough, but the team's difficulties when Durant was not on the floor were something of a worrisome afterthought following Team USA's 99-77 victory over Slovenia on Sunday, the second day of FIBA World Championship competition.