---
Expert Predictions: Utah Jazz
ESPN.com

J.A. Adande, ESPN.com: Has Deron Williams been that good or has Al Jefferson been that unlucky? Deron has won four playoff series in four years. Big Al's never won a playoff series. Williams' way will win out. Oh, and can we get a coach of the year award for Jerry Sloan?
Chris Broussard, ESPN The Mag: They lost one of the top bigs but shouldn't miss a beat. Al Jefferson cancels out the loss of Carlos Boozer. Mehmet Okur's health is a huge key, and Paul Millsap should step up to the challenge of replacing Booz. They'll miss Kyle Korver's shooting. Will a contract year spark Andrei Kirilenko?
Tim Legler, ESPN: Paul Millsap steps up as a 20-10-caliber player, and may be more productive than Carlos Boozer. Deron Williams is the best PG in the NBA -- a better defender than Steve Nash, and better offensively than Chris Paul.
• Click here to read the rest of our NBA experts' outlooks for Utah.
NBA Roundtable: East Challengers
Hollinger's Forecast: Washington Wizards
By John Hollinger
ESPN.com

The Wizards have been given a bit of a reprieve. Winning the lottery and earning the rights to John Wall should make the rebuilding a less painful process than it might have been. Washington also took quick action to dump payroll once last season went off the rails by dealing Caron Butler, Antawn Jamison and Brendan Haywood before the trade deadline.
The only toxic contract remaining is that of Gilbert Arenas, who still has four years left on a ridiculous six-year, $111 million deal. (Amusing side note: Articles at the time stated, without a hint of irony, that Arenas accepted less money than he could have in order to help the Wizards.) His contract is so unpalatable that it appears the Wizards are stuck with him.
Overall, Washington has hit the restart button fairly successfully. New owner Ted Leonsis purchased the team from the family of Abe Pollin and appears to be taking a much more realistic approach to building it. The Wizards stayed out of the free-agent market despite having cap space, notably eschewing the quick-fix mentality the team employed the previous few seasons. The only eyebrow-raiser was his decision to retain general manager Ernie Grunfeld, whose serial mistakes got Washington here in the first place.
• Click here to read of Hollinger's outlook on and projections for the Wizards.

Starting Lineup: Oct. 28
THURSDAY CHAT LINEUP
3 ET: Jeremy, Roundball Mining Company
4 ET: Michael Schwartz, Valley of the Suns
5 ET: Andy Kamenetzky, ESPN Los Angeles
6 ET: Ethan Sherwood Strauss and Beckley Mason, HoopSpeak

---


Magic 112, Wizards 83
Recap | Conversation


Suns 110, Jazz 94
Recap | Conversation
Time To Make A Point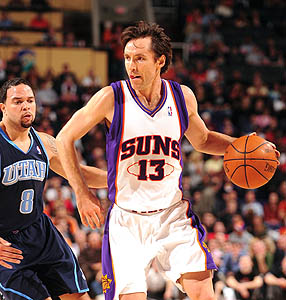 (NBAE/Getty)
In a battle between two of the league's top point guards, Steve Nash leads the Phoenix Suns against Deron Williams and the Utah Jazz.
Watch Out For The Magic
By John Hollinger
ESPN.com

Virtually every set of predictions lists one of three teams as champion: the Los Angeles Lakers, Miami Heat or Boston Celtics. I'm wondering if this consensus is missing the boat on reality, and I'm not just saying that because the Heat and Lakers looked somewhere south of dominant Tuesday night.
In light of the fact that the Orlando Magic dominated the preseason after dominating the second half of last season, I find it particularly hard to swallow how dismissive most people seem of the their chances.
Apparently lots of people saw last season's Eastern Conference finals and decided the Magic can't be trusted in the playoffs. ... Which might be a better argument if they hadn't won the East a season earlier (with Rafer Alston playing point guard, for Pete's sake). If the effects of Dwight Howard-stopper Kendrick Perkins' knee injury linger into the postseason, the Magic might be able to outlast Boston in a potential meeting. Alternatively, they may not need to play the Celtics at all.
• Read the rest of Hollinger's PER Diem.