---
Chicago Fire: Johnson A Spark For Bulls
By Nick Friedell
ESPNChicago.com

Johnson
DEERFIELD, Ill. -- As his team languished in the second half of Saturday night's home opener against the Pistons, Bulls coach Tom Thibodeau desperately searched his bench for a spark, an answer. He found one in the most unlikely of places: at the end of the bench in the form of James Johnson.
The second-year swingman came in late and gave his teammates a big boost, scoring eight points, dishing out four assists and grabbing three steals as well as nailing a clutch 3 late in the fourth quarter.
The irony that Johnson, a player many had written off after a disappointing rookie season, was the man who helped get the Bulls back on track in Saturday's 101-91 comeback win was lost on nobody Sunday afternoon at the Berto Center. Especially when you consider that Thibodeau told Johnson he would not be part of the rotation to start the season and would struggle to find consistent minutes.
"It's hard when the head coach comes up to you and tells you you're not going to be playing that much because we've got so many good players, different players, at his position," Bulls point guard Derrick Rose said. "He's young, and he came out ready even though he didn't know he was going to play. But he came out there, boosted us up, and gave us a lot of energy to go out there and win that game."
• Click here to read the rest from Friedell at ESPNChicago.com
All A-Twitter
The Big Three with Big Papi Happy Halloween and The rest of crew http://yfrog.com/nd7k8dj http://yfrog.com/86w4ayjless than a minute ago via Twitter for iPhone
Paul Pierce
paulpierce34
Starting Lineup: Nov. 1

Bulls 110, Blazers 98
Box score | Conversation


Raptors at Kings, 10 p.m. ET
Preview | Conversation


Spurs at Clippers, 10:30 ET
Preview | Conversation
Blazing A Trail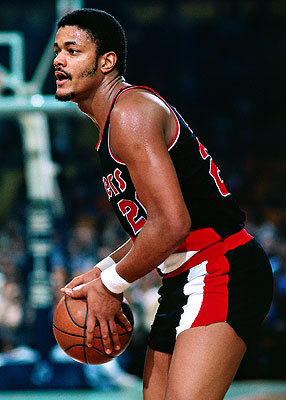 (Dick Raphael/NBAE/Getty Images)
Maurice Lucas, one of the key players on Portland's 1976-77 title team, died Sunday after a battle with bladder cancer. His Blazers coach, Dr. Jack Ramsay, says goodbye to "The Intimidator."
Trend Watch: Fair Or Foul?
By Kevin Pelton
Basketball Prospectus

Cousins
In his first week in the NBA, DeMarcus Cousins has lived up to expectations that had him in the race for rookie of the year honors. The Kings center has been solid, recording his first career double-double in Saturday's win in Cleveland and even handing out five assists in his professional debut.
Cousins' play has also been as advertised in a more problematic area: foul trouble. Basketball Prospectus' SCHOENE projection system suggested, based on his translated college stats, that Cousins would have the laughable average of 5.7 fouls per game in his rookie season. Through two games, Cousins was coming close. Five fouls limited his playing time in the season opener against Minnesota, and he fouled out Friday in New Jersey after just 21 minutes. Even in the preseason, Cousins fouled out twice and had five fouls in two other games.
• Read the rest of Insider's "Trend Watch."