Oden, Blazers Face Big Questions
By John Hollinger
ESPN.com

Oden
It's hard to call somebody a "victim" when they've made $20 million and mostly been an observer, but as has often been said over the past few years, none of this could have happened to a nicer guy. Moreover, he's a very self-aware one -- which many pro athletes aren't -- and that's made this worse for him than it would be for virtually anyone else.
The defining moment, for me, remains a little less than a year ago in a game against Houston. Greg Oden was lying on the Rose Garden Arena floor, with his kneecap several inches lower on his leg than kneecaps are supposed to be, and his first instinct was not to wonder, "Why me?" or to angrily curse the basketball gods.
It was to tell Roy, "I'm sorry."
• Click here to read the rest of Hollinger's PER Diem.

No Nash Tonight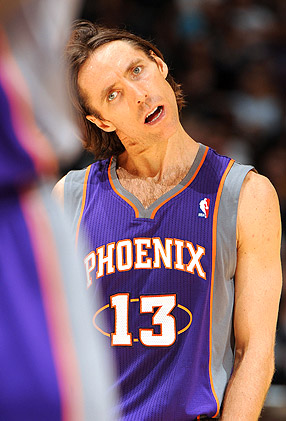 (Andrew D. Bernstein/NBAE via Getty Images)
A night after the Suns were scorched by the Heat, Steve Nash will
miss the game
when the Suns have to face the 7-3 Magic.
Fantasy Focus: Point Of Order
By Seth Landman
Special to ESPN.com

Collison
• It's probably because they're starting a rookie at the position, but the Clippers have been getting handled pretty brutally by opposing point guards so far this season. (Even the Timberwolves' Luke Ridnour managed 12 points and eight assists in 25 minutes against them Wednesday night.) That should mean a big night on Thursday for Darren Collison and the Pacers. Collison, it should be noted, is questionable to play, but if he's able to go, he's definitely worth getting into your lineup.
• With the Suns facing the Magic, we've got a matchup of the league's second-most efficient offense against the league's best defense. I'm not sure what's going to happen, but given the way the Magic have eaten up opposing centers this season, I would definitely not expect Channing Frye to have a big night against Dwight Howard.
LaMarcus Aldridge has been pretty mediocre of late for the Trail Blazers, but the Nuggets don't seem to have any answers for opposing power forwards, so I'd expect him to improve upon his four-rebound performance from Tuesday night's game against the Grizzlies without much trouble.