Big Week For LeBron And Heat
Believeland: Cleveland Coping Without LeBron
By Wright Thompson
ESPN.com

CLEVELAND -- There is a burly, angry man with a Chief Wahoo tattoo on the inside of his left forearm, and he knows I work for ESPN. That makes me the devil. We are standing inside the Cleveland Cavaliers locker room not long after their first game without LeBron James. The guy's name is Scott Raab, and besides being a native Clevelander, he's also one of America's best writers. His current project? A book that is part recount of James' breakup with the town and part meditation on the misery that comes with loving this place and its teams. Except he doesn't call him James. He calls him The Whore of Akron. You obviously see what's coming next.
He accosts me for my company's role in "The Decision" -- I actually understand his anger, though I won't say that to his face -- and I tell him what he can do to himself. He likes this answer, which is as Cleveland as his rage at the four letters on my press pass. Raab motions me over to the side of the locker room and digs around in his backpack until he finds it, safe in a plastic bag: a ticket stub. It's from the 1964 NFL Championship Game -- the last title the city won. He passes it to me carefully. Section 7, Row Z, Seat 19. Carrying this stub doesn't make him strange. It makes him a Cleveland sports fan.
Later that night, we head to a downtown bar. There, he begins telling a story. It was the day of Game 7 of the 1997 World Series. The Cleveland Indians were favored to finally end the Curse of Rocky Colavito, to bring a title back to northeast Ohio. Raab's friend wanted to make sure all the forces of the universe were aligned with them, so he formulated a plan. A crazy, unhinged plan. Only in Cleveland could one demented citizen come up with something so desperate and strange. He'd visit the grave of Ray Chapman -- the only major league player ever killed by a pitched ball and, naturally, a Cleveland Indian -- and on the tombstone, he'd place a coin.
• To read the entire column, click here.
Follow The Leader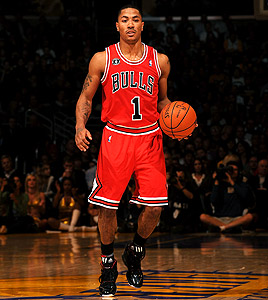 NBAE/Getty Images
Carlos Boozer has been out all season because of injury, but the Bulls are still in first place in the Central Division thanks to the play of D-Rose.
Panic Time For The Lakers?
By John Hollinger | ESPN.com

Gasol
MEMPHIS, Tenn. -- I guess we'd better hit the panic button. A preseason championship contender has lost three straight and five of its past 10 games, including a loss at the buzzer in Memphis, a home loss to Indiana and a big blown lead against Utah.
Sound familiar?
Only this isn't Miami we're talking about -- it's the Los Angeles Lakers. And you'll forgive them if they're not exactly flustered by the recent mini-slide, even though they've betrayed some bad habits in the process. Suffice it to say nobody is wondering whether Mitch Kupchak will replace Phil Jackson.
• To read the entire column, click here.