Blake Griffin Eclipsing Expectations
Trend Watch: The Rise Of Point Guard Scoring
By Kevin Pelton
Basketball Prospectus
This could be called the year of the point guard. A quarter of the way into the season, New Orleans' Chris Paul and Utah's Deron Williams might be the two leading contenders for MVP. Oklahoma City's Russell Westbrook has played his way into that mix as well, and they represent only the cream of a large crop of thriving young point guards.
What this group of players has done is increased the role of the point guard as a scorer. In fact, as a group, point guards are using a higher percentage of their teams' plays than any other position. That was also true last season, but this season's average (21.1 percent of plays) is the highest for point guards since the 1999-2000 season. This high point represents the culmination -- for now -- of a trend toward increased roles for point guards, who used around 20 percent of their teams' plays at the turn of the century.
Led by Westbrook and Chicago's Derrick Rose -- both of whom rank in the league's top 10 in points per game -- there are 10 point guards among the 40 players who are using at least a quarter of their teams' plays (since there are five players on the court, average is 20 percent). By themselves, scoring point guards are nothing new. However, what sets this new generation apart from predecessors like Gilbert Arenas and Steve Francis is that they are point guards who can score rather than scorers who can play the point. That is especially true of Paul, who is defying the trend. A top-10 scorer as recently as 2008-09, Paul has seen his scoring average drop by 6.6 points per game since then. If anything, Paul might need to look for his offense more frequently.
Maybe he can look to his peers for inspiration.
• Check out the latest NBA trends on ESPN Insider

NBA SCOREBOARD
POSTSEASON
TOP PERFORMERS
- 04/28/16
New York State Of Mind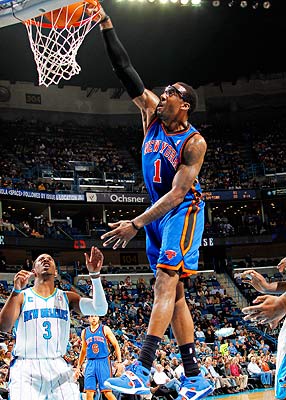 Nick Laham/Getty Images
Amare Stoudemire's Knicks are looking like a playoff team and rising in our rankings. Can they continue their winning ways Monday against the Timberwolves, who beat New York on Nov. 12 behind Kevin Love's remarkable 30-30 effort?
Heat At Bucks: What To Watch
By Kevin Arnovitz | ESPN.com


Few teams execute their half-court defensive schemes as precisely as Milwaukee. The Bucks' overriding goal on each half-court possession is to wall off the paint and they're usually successful -- they're the only team in the league allowing fewer than 30 shot attempts per game within 10 feet of the rim. They anticipate almost every weakside action and step-up screen. Meanwhile, their defensive rotations are airtight behind their hard-showing pick-and-roll coverage.
On Saturday night against Atlanta, the ball stagnated for Heat. They can't afford a repeat performance, or the Bucks will put a stranglehold on the offense. If the Heat expect to generate anything more than open looks on the weak side for Carlos Arroyo or Mario Chalmers, they're going to have to work for it.